Welcome to the Transition Year 2012 webpage.

Here is a glimpse of the of range activities the group participated in all year long. A special thanks to the Co-ordinators and Teachers who put their time and effort into making Transition Year such a memorable experience!

Kate, Deirdre & Laura
TY Photo Memories.
Created by the Photography Committee.
Here is a glimpse of the range of activities the group participated in all year long. a special thanks to the Co-ordinators and Teachers who put their time and effort into making Transition Year such a memorable experience!

Gaisce

Throughout the year, the girls have been participating in Gaisce, The Presidents Awards. During the May Bank Holiday weekend they headed to Carlingford to complete their 25k hike! They had a fantastic weekend and successfully completed their walk.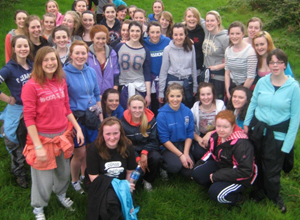 Driving Course

The year group had the opportunity to have a taste of life on the road. They went to Mondello Park on Tuesday 17th & 24th of April. The girls had a fantastic time and it was a great experience for them all.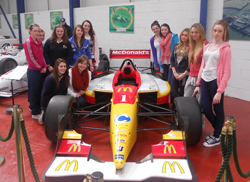 Business & Country Crest

The Business classes have been working with Country Crest all year as a promotional project. They have been promoting the local company to raise awareness of the company for customers.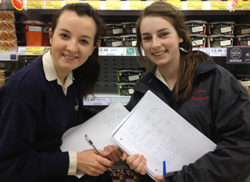 Italy

During the second week of the Easter hoildays, the Senior Geography classes traveled to Italy. They climbed Vesuvius, visited Pompeii and went to Rome. They had a fantastic time and made lots of lovely memories.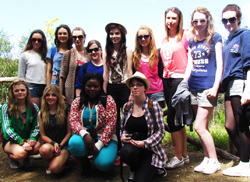 Power Of One

4c have been working hard all year on their Power Of One projects. Pictured below are Emily Purtell, Eimear Reilly & Julie Hamilton with their project, Lean Green Cooking Machines.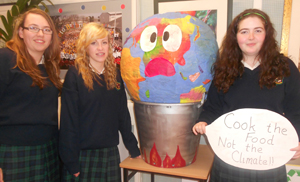 Politics

The politics module groups took a trip to the Dáil in March and are returned in May. During both trips, they went on a tour of the building and also got to see the Dáil in session.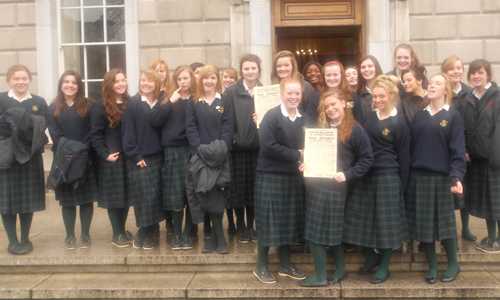 Local History

The local history classes, 4G & 4H went on various trips around Balbriggan throughout the year.


Film Studies Course:
For two weeks (16th of April to the 28th of April) 4A and 4E took part in a film studies course as part of their year long class project. We'll put a link to their short films as soon as we can!
Trip to CityJet

In light of International Women's Day, CityJet invited TY students to have a go in the airplane simulators and to see what is involved in the job of an engineer. Here is a video of how we got on!
City Jet International Women's Day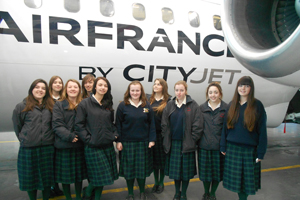 Musical

127 girls participated in our musical, The Sound Of Music! It ran for 4 nights, from March 27th-30th. Congratulations to all involved as it was a great show. A special thanks to Ms. Barnett, Ms. Ferris, Ms. Flynn, Ms. Tynan, Ms. Curly, Ms.Fagan, Ms. Conor and Ms. McEvoy.


Cooking Course

The Transition Year students attended a Cookery Course in Sarah Baker's Cookery School in Cloughjordan, Tipperary on 23rd and 24th February. The made some delicious food, harvested their own vegetables, visited Ireland's first ecovillage and even stayed over night in Ireland's first ecohostel!

Work Experience

From January 23rd to February 10th the entire year group went on work experience. Here was where we learned valuable lessons and skills and got a taste of future careers. It was an amazing experience for everyone!

Mini Med School

5 students from the year went to the Royal College of Surgeons for a week long course. Here they witnessed 2 live operations, recieved lectures and had a talk with the state pathologist Marie Cassidy. It was a great opportunity for all students!

Gael Linn

On 12th - 16th December, 11 students from Ms. Ní Gréacháin's Irish class went to Gael Linn on Dame street. The course consisted of creating and recording a radio segmant, interviewing the public, and writing, filming and editing movies all through Irish!

Butler's Chocolate Factory
The two Home Ec. classes took a trip to Butler's Chocolate Factory. Here they learned how the chocolate is manufactured and packaged and even got to make their own 'Butler Bears'.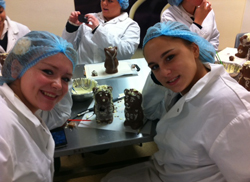 Santa Flight
Some of the girls went on a Santa Flight with children who are in hospital over the Christmas break. They dressed up and played games with the children. It was a wonderful opportunity for the students.
Public Access to Law

On December 2nd 2011, around 50 girls participated in a public access to law course. It was here, where two barristers came in for the day and thaught us about the law and gave us an insight into their jobs. During the afternoon we staged a mock trial where each student played a part being it the jury or the defendant! Afterwards we all sat an exam and we are all hoping to pass when we recieve our certificates on our graduation night.


Fashion Show.

In November the majority of our year group put together the annual Fashion Fusion Fashion Show. The theme was Grimm Fairytales, and the show went on for three fantastic nights. A special thanks to Ms. Fagan and Ms. Lennon who helped the girls put it together! We couldn't have done it without them!



Causey Farm

As a bonding trip, the entire year went to Causey farm, Co. Meath in October. We enjoyed a range of activities including sheep herding, bread baking, irish dancing, bodhrán playing, the haunted house and splashing in the mud!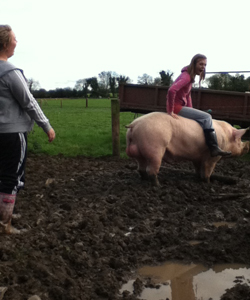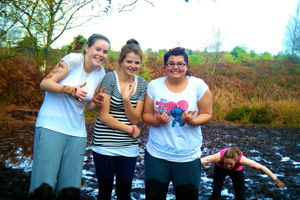 Song School Workshop.

In October 20 of the girls participated in a music workshop. Here is
what Emma Leggett 4G thought of the experience:

"Songschool was a great experience. There were 20 of us there and we had a great time. In the morning, we sang lots of group songs and games. We were then split up into groups of 5 to write a song and come up with the music. It was great because the musicians got to work with each other, adding harmonies and the songwriters let their imaginations flow. The two days were amazing and all of the songs were recorded,mixed and we even got a cd including all of the songs at the end. It was such a great course and I'm really glad I did it!"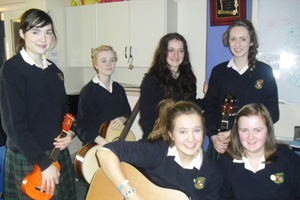 Photography Course.

Throughout the year, we took part in several photgraphy courses with Tim Durham. They were two day long courses which consisted of theory, taking photographs of Balbriggan and presenting our work to the rest of the group. Each group consisted of approximately 12 people. *links to follow*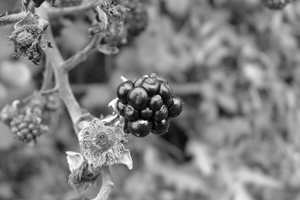 Outdoor Pursuits Trip.

On Wednesday 21st September some of the Transition Year group, travelled to Wicklow for an Outdoor Pursuits trip. They returned on Friday 23rd. It was a fantastic weekend for the group to bond!



Congratulations to the girls on their Junior Certificate results! Below is a photograph of some of the girls and our principal, Mr. Fynes