Transition Year
All our students participate in Transition Year. In addition to studying the core subjects and four optional subjects, they also engage in a wide variety of educational activities. These include
A programme of nine-week modules that are constantly revised and updated. Example of modules include Self Defence, Health and Beauty, Substance Abuse, Digital Image Editing, Dance, Legal Studies, Environmental Studies, Film Studies, Legal Studies, Care in the Community, Italian, Theater Make-up, Spanish and Crime Studies.
Educational trips to a wide variety of destinations including Delphi in Co. Mayo and Co. Monaghan, birthplace of P. Kavanagh, Mountjoy Prison, Armagh Planetarium and the Four Courts.
Guest speakers talking on a variety of issues such as drugs, politics, the environment and consumer rights.
Participation in specialist activities such as Public Access to Law course, Photography and Video Production courses and Rosemary Smith's Driving Course.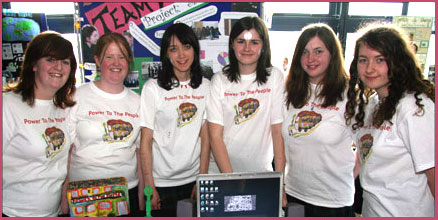 Power Of One Competitors - Team Awesome
Work Experience where students go on three weeks work placement in areas related to their possible career paths. This experience has been invaluable in helping students prepare for life after school.
A main focus of the year is the Drama production that the students work on for the full year. Recent drama productions have included the Mikado, Calamity Jane and The Pirates of Penzance, Oklahoma and South Pacific.
Our Transition Year Programme offers students the opportunity to broaden their educational experience, enhance their skills and develop greater ability in decision making and in personal responsibility. It also provides a strong foundation for the two-year Leaving Certificate programme and enhances examination results.
All subjects are offered subject to personnel and resources being available
Computers and Information Technology
We are committed to developing the skills of our students in this area. Accordingly, we have invested heavily in new computers, networking and internet access. European Computer Driving Licence is offered to all our Transition Year students.
In 2010 we became one of the Pilot Schools in the 100Mb Schools Broadband initiative, funded by the Department of Energy and Natural Resources.