March 31st, 2014
Congratulations to Maria Louise Fufezan and Diana Bura on winning the Junior Life Sciences category at SciFest DIT for their project "Do Irish teens betwen the ages 12-15 have enough fibre in their diets?". The girls worked very hard on their project feeding their volunteers sweetcorn, sweet potato, beans and bran flakes every week! Well done girls.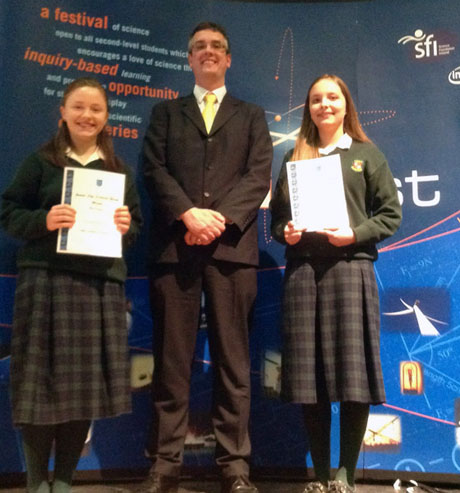 Syllabi
First, second and third year syllabi, for our school, are available from the menu at left.
Class tests and end of year examinations are based on these syllabi.
As you revise, it may be helpful to have a printed copy open, and to tick each item as it is revised. There's a printer friendly pdf version on each page.
On these webpages there are links to other websites that will help you understand the topic and are worth viewing (undoubtedly, of greater educational benefit to you than the equivalent amount of time spent on facebook!). Be aware that, in some cases, these links may contain a little material not directly on the syllabus, but it won't hurt you.
Please let your science teacher know if any of the links fail.