Young Scientists - Jan 2016
Best wishes to our four projects in the BT Young Scientist Competition this week. They are:

Renuka Chintapelli who has carried out research on a predictive tool for the spread of oesophageal cancer.
Khadija Gull and Emily Tierney also targeted cancer research. Their project aims to identify mutation in members of the "Protein Tyrosine Phosphatase".
Maria Wyzykowska has researched the effects of high intensity interval training on cognition and academic performance in female Leaving Certificate students.
Maria Fufezan and Diana Bura focused on the enzymes which are added to animal feed. They researched the impact these enzymes have on micro organisms and in turn soil fertility.
Best of luck to the girls in the competition.

Right; Maria Wyzykowska explains her project to Mr. Brendan Ryan, TD, at the BT Young Scientist and Technology Exhibition in the RDS, Dublin.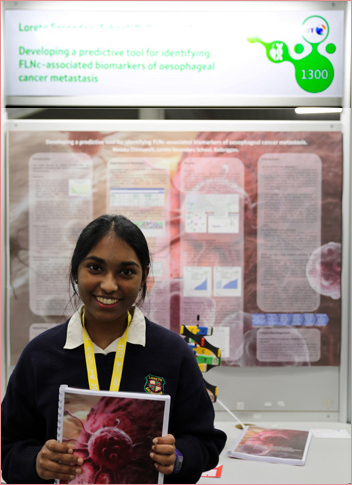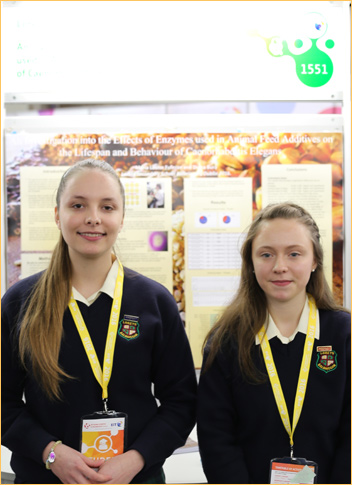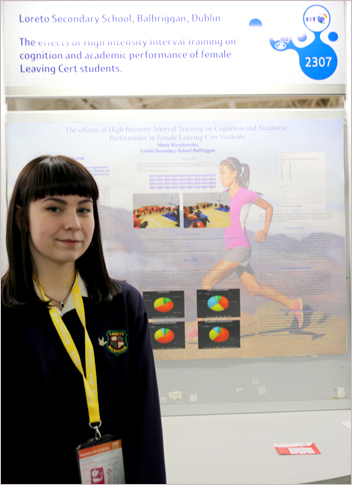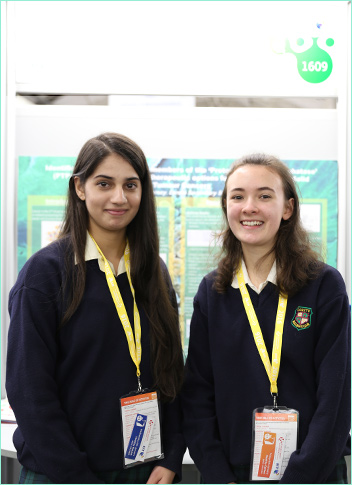 Budding Poet and Scientist
Best wishes to Erinn Campbell, 1D, in the Christmas Poetry Competition, 2015.
Elements Poem

I must admit it's an arduous task,
To complete what Ms Woodlock asked.
See Beryllium, Argon, and Lithium,
Are rarely noticed by anyone.

We swim in H2O with Chlorine,
And brush our teeth with added Fluorine.
Helium can make me float,
 Sodium Bicarbonate can make me bloat.

If I want to be an astronaut
Plenty of Boron must be bought.
If Plants must grow I should use
Phosphorus nitrate or animal poo.

If my head is banging or muscles ache,
Magnesium or Potassium I must take.
If my skin is really bad,
Cream with Sulphur must be had.

Aluminium or silicon can take the heat,
When I bake something nice to eat.
Neon lights can really shine,
Beryllium makes my gemstones shine.
 Calcium's symbol is Ca,
If I don't take it my bones decay.       
Syllabi
First, second and third year syllabi, for our school, are available from the menu at left.
Class tests and end of year examinations are based on these syllabi.
As you revise, it may be helpful to have a printed copy open, and to tick each item as it is revised. There's a printer friendly pdf version on each page.
On these webpages there are links to other websites that will help you understand the topic and are worth viewing (undoubtedly, of greater educational benefit to you than the equivalent amount of time spent on facebook!). Be aware that, in some cases, these links may contain a little material not directly on the syllabus, but it won't hurt you.
Please let your science teacher know if any of the links fail.