Welcome from Head Girls 2021-2022
Dia dhaoibh agus fáilte ar ais roimh gach duine. Tá súil againn go mbeidh bliain den scoth agaibhse go léir agus go mbainfidh sibh taitneamh agus tairbhe as an scoil bhliain atá romhainn. Go n-éirí an t-ádh libh! We would like to wish everybody a warm welcome back to school. We hope this year is filled with learning, love and laughter for all staff and students.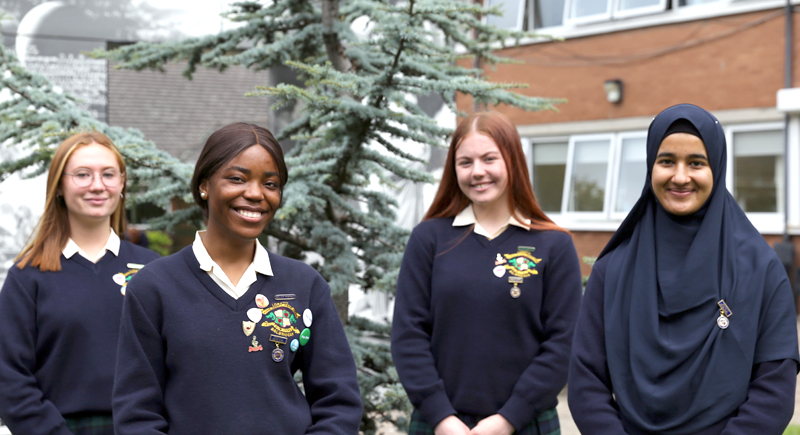 Aisling, Deborah, Kate and Mizna
To the first years, congratulations on making it this far. Change is never easy but you have embraced the change and are now a very valued part of our school community. We extend a special welcome to all of you and we hope you are settling in well. We understand that your start to secondary school is not what you had expected or hoped for. However, we are immensely proud of you all.  For the next six years, you'll be given countless opportunities for leadership and personal growth. Take each opportunity you can to embrace every aspect of life here in Loreto Balbriggan. Loreto Balbriggan will change you, challenge you and inspire you. However in turn each of you will transform and revitalise this place. And while you may not notice those changes everyday, they will happen slowly and surely over time. We're very excited for all of you to start this journey. Loreto is lucky to have you, and we can't wait to see how your ideas, energy and passion rejuvenate the school and then the world. We wish you the very best of luck in all your future endeavours here in Loreto Balbriggan.
To the second years, we understand that you were never given the chance to properly settle into the routine of a normal school year.  We know that the last year was full of change, but we hope that you found support and comfort within these walls. However, it is a new academic year and as things begin to return to normality, we wholeheartedly encourage you to take every opportunity to get involved in school life.  We assure you that these activities will widen your horizons and allow you to build strong and happy relationships with your classmates and others within your year.  We hope that you will strive to find your voice amongst your peers and we are excited to see what the year ahead holds for you.
To the third years, we know that you have a tough year ahead of you, and we know you may be feeling scared about the future, but remember to enjoy yourselves. This is a time for you all to band together and unite as a year group, to help each other when you see someone in need and to smile at someone in the corridor because that could truly make someone's day! Remember,  it is the small things that happen on very ordinary days that leave us with the happiest of memories. It's the arguments with the seagulls and the silly things that you said in class that you will remember many years from now. Put in the best effort that you can into your studies this year so that you will have no regrets, and remember the rest of the school community is here for you the entire way!  The year ahead will certainly bring challenges but can I remind you that you should always strive to be kind to each other, because kindness begins with the understanding that we all struggle…
To the fourth years, we understand that last year was particularly difficult as we navigated the pandemic.  But we ask you to take the utmost advantage of the year ahead.  Transition year is the year for you to develop new skills, try new things and evolve as a person.  The opportunities you will have in the upcoming year will allow you to gain and develop both confidence and independence.  We encourage you to take this year as a challenge that will help you to blossom in ways you have yet to imagine.  We wish you all the very best in this new academic year.  
To the fifth years, we know that Transition Year may not have been the experience you had hoped for because of pandemic restrictions, and we understand that Senior Cycle can seem very daunting but don't give up, keep working hard and moving forward and remember you can only do your best everyday!  No one expects anything more, so go easy on yourselves and look out for each other. We believe in you and we will back you all the way. As you are growing into more mature, well-rounded people, appreciate the journey and be proud of your achievements! Give yourself a break and a treat whenever you need one. We wish all of you the very best of luck in the year ahead.
To the sixth years, here we are in our last year of school, our final school mass. And although this is not quite how you or I would have imagined our final year of school, I am hoping that we can all make the most of it. Covid-19 has not been easy for any of us but I know that there is no group of people more supportive, uplifting and inspiring than you all and I am so lucky to be spending my last year here with every single one of you. I am hopeful that we will all have a big Debs and plenty of sixth year holidays to look forward to by the end of the year. But in the meantime let's support each other through the tough year that lies ahead and let's make this year just as enjoyable as our last 5 have been! Despite everything, let's decide to make this year our last one as Lorbal girls, a really good one.
And finally, we would like to wish everybody the very best of luck for the year ahead, especially to all our new staff and students, whom we hope will feel at home here with us. We know that this year is going to present new challenges for us all but in these unprecedented times, we wish to carry on with our lives as normally as possible. To do so we are relying on each other to keep us all safe. Practice social distancing throughout the school day, sanatise your hands and wear your mask. 
We will leave you with some wise words.
"We are all stars so the sky isn't the limit"
Best of luck to all,
Kate Leahy (Head Girl), Aisling Comisky, Deborah Fidel and Mizna Shahid (Deputy Head Girls).