Overview
The school is committed to the development of the full range of each student's artistic, cultural and sporting talents and aptitudes. To promote this development, a wide selection of activities, outside the regular school time-table is offered.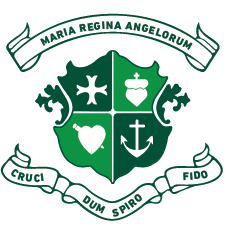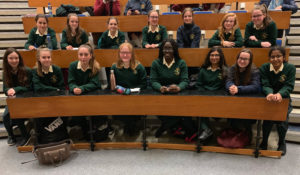 'MORE THAN A SCHOOL'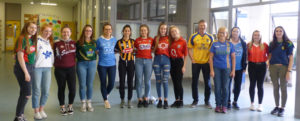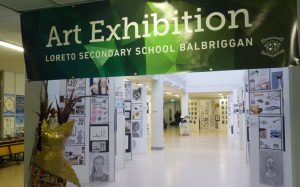 NEWS
Extra Curricular Updates – May 2021
While a cautious approach to easing restrictions has been adopted nationwide on account of COVID-19, Loreto Balbriggan continues to offer students the opportunity to engage in a wide array of extra-curricular activities, albeit in a revised capacity:
School is open and we are already planning for next year. In January 2020, a school audit found there were a whopping 19 sports clubs and 23 non-sports clubs in Loreto Balbriggan. Next year, the same levels of extra-curricular activity returns.
We are just days away from announcing Senior Sportsperson of the Year 2021. Who will it be? Last year, we applauded the sporting achievements of Ella May and Chloe Johnson when they took home this prestigious award.
On Monday, 17th May 2021, the PE Department in Loreto Balbriggan, in association with Athletics Ireland, welcomed a 'Girls Squad' film crew to our school campus . The 'Girls Squad' programme promotes female leadership, participation and equality of access in the field of athletics and for number of weeks, training sessions have taken place both in school and after school. The programme included body weight circuits, injury prevention classes as well as Pilates and Yoga and participant students celebrated their showcase day by wearing specially designed pink t-shirts.
TY student, Zara Stafford, was one of three co-hosts from Ireland to organise an international 'Agent of Change' Youth Summit. The two hour event took place on Friday, 23rd April, 2021 and over 200 students from Transition Year attended the event virtually.
On 20th April, 2021,  a group of TY students took part in the National Bebras Computational Thinking Challenge in conjunction with Maynooth University and ICS Skills. The students finished in the top 10% and secured a place in the National Final. The TY participants were Muna Ajaebo, Emillie McCann, Tara Murphy, Catherine Noorlandt, Clodagh O'Dwyer, Emma Ryan, Róisín Smith and Hannah Tighe.
Congratulations to Emily Carroll, Lucy Barnwell and Hannah Barnwell on the success of their mini-company 'Bee Happy.' The girls won the Intermediate Category at the Fingal Enterprise Awards and will go on to represent Fingal at the National Final on the 14th May. Nicole Ford and Caoimhe McCann were runners-up in the Senior Category for their mini-company 'Daisy Chains.'
On Friday 19th March, all senior prefects began their LIFT (Leading Ireland's Future Together) Facilitators' Programme.
On 11th March, Jessica Chen and Bushra Alameen Betro (2nd year) took part in the semi-final of the UCD Junior Schools debate competition. This was the first time Loreto Balbriggan made it to this stage of the competition.
On Wednesday, 10th March, TY prefects and vice-prefects prepared and presented a 'Resilience' badge to their year group as part of a virtual TY assembly.
Mr Brian Higgins continues to offer a weekly masterclass series on sound and podcast production for all TY Communications members. The group of three teachers and 25 students meet via Zoom every Wednesday after school. The group will play host to a special podcast showcase event on 18th May.
The TY Communications Student Committee continues their work remotely in a bid to update TY students, teachers and parents of all events and activities currently taking place in fourth year. They continue to work on VLOG and BLOG projects with parents and student peers based around the TY Theme of Resilience.
Congratulations to TY students Isabella Watts and Hiba Shahzad who were awarded an Order of Merit for their project entitled "The Effects of ASMR on Stress Levels and Loneliness in Teenage Girls." An Order of Merit was also awarded to Adriana Ciot, Lily Anderson and Preethigaa Kumaresan for their project entitled "Would Displaying Information Through a Virtual Interactive Story Affect How People Perceive Information Relating to Immunization?" TY student Jess Joy and Niamh McManus were awarded 3rd prize for their project "Could Vertical Farming be Used as a More Efficient Method than Conventional Arable Farming in Ireland?"
Fourth Year student Aisling Patterson was one of the top 3 finalists of the TY Takeover 2021 with her FM104 radio show 'Traveling Through Tunes.'
Members of TY Film Club met for the final time of the school year on Thursday, 6th May. They watched 'The Peanut Butter Falcon' directed by Tyler Nilson, a story where a boy with Down Syndrome pursues a dream to become a professional wrestler.
The school's first 'Women in Sports' panel interview was recorded on Wednesday, 2nd December 2020 as a way to promote female participation in sport and as part of the national 20×20 'if she can't see it, she can't be it' campaign. Three high profile Irish athletes – Ms Sarah Rowe (Mayo Gaelic Football and Collingwood Australian Rules player), Ms Muireann Atkinson (Monaghan Gaelic Football player) and Ms Michelle Claffey (Irish and Leinster Rugby International) – play at the highest level in their respective sporting fields. They are also Loreto Balbriggan teachers who agreed to be interviewed by passionate sporting members of our TY Communications Team. A huge thank you to all three teachers for giving over 200 TY students a real insight into the highs and lows of being elite athletes. The TY Communications Podcast will be released to the wider school community on Friday, 18th December, 2020 on Spotify and our TY Blog.
The 'Women in Sports' podcast event coincided with a TY 'Stepping Out of Lockdown' charity walk in aid of Jigsaw. Balbriggan District Gardaí, who ran the mental health awareness initiative, challenged all TY groups in the area of Balbriggan to reach the target of 380,160 steps in one day as this was the number of minutes the country has been in lockdown since 13th March 2020. Our Loreto Balbriggan students smashed this one-day target and counted a whopping 971,488 steps as a TY group.

The Junior English Debating Club continues to meet in socially distanced pods every Tuesday and Thursday at lunchtime. Debating coordinators for 2020/2021 are Ms Doherty and Ms Byrne.

Ms Garraway and Ms Darcy are this year's First Year English Debating coordinators. This club meets during lunchtime every Tuesday.

Computer Room 2 is home of this year's TY Communications Team. This group meets every Wednesday to update TY students, teachers and parents of all events and activities currently taking place in fourth year. Mr Daly and Ms Kearns are the TY Communications coordinators.

Our BT Young Scientist & Technology students continue research work on all their innovative projects. Many of the proposed entries for this year's competition appear on the school's TY Blog page. Ms White and Mr Higgins are this year's coordinating teachers

The Green-Schools team is currently working on the acquisition of a second Green Flag for Loreto Balbriggan. A core TY team of 28 students are currently collecting data and a progress report on the theme of water conservation will be drafted next year.

Much more news in the area of extra curricular to follow in August 2021.
Quote for May: 
"Be a good teammate. Let your actions portray the actions you want girls to follow."

(Ms Muireann Atkinson,

TY Communications Podcast,

released on Spotify and Amazon – 18th December 2020) 

WOMEN IN SPORTS PODCAST
Episode 1:
Ms Sarah Rowe (Mayo LGFA & Collingwood AFLW), Ms Muireann Atkinson (Monaghan LGFA) and Ms Michelle Claffrey (Ireland and Leinster Rugby) are sports athletes playing at the very highest level in International Rugby, Gaelic Football and Australian Rules Football. They are also teachers in Loreto Balbriggan who embody this year's 20×20 'Women in Sports' vision. Join the TY Communications conversation as we talk about resilience, role models, the impact of COVID-19 and the importance of a good mental game. This event took place on Wednesday, 2nd December 2020.
LISTEN TO OUR FULL TY PODCAST INTERVIEW ON THE TRANSITION YEAR PAGE
OR
ON SPOTIFY & AMAZON
"MORE THAN A SCHOOL"