News update, June 27th, 2018
Congratulations to all of our students who participated in The Big Bang, Northern Ireland Young Scientists & Engineers Competition at the Ulster University in Jordanstown on Tuesday, June 26th. We are very proud of their successes, which include, Junior Young Scientist Overall winners; Mizna Shahid, Jennifer Bura and Alana Foy-Nicolleau, Intermediate Northern Young Scientist Overall winner; Ailis Odell, and Runner Up, Senior Northern Ireland Young Scientists and Aepona Best Girls IT project, Emma Finnegan and Ella Cooper. Well done to the girls and their teachers (pictured below with their teacher, Ms. McNally).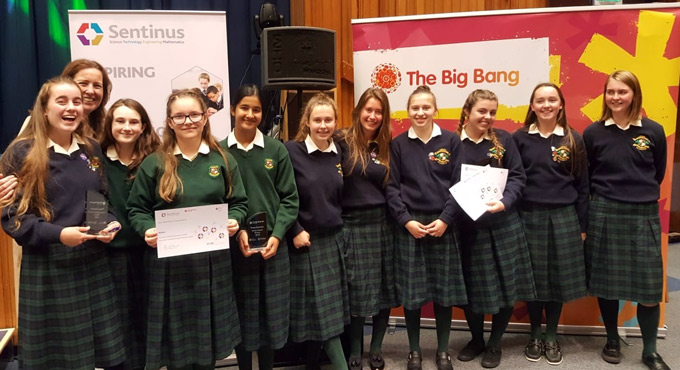 News update, June 1st, 2018
• Congratulations to Aoife Conroy, 5th Year, who was recently awarded the 'Best Speaker' medal by the Alliance Française for not one but two of the French debates this year!
• Congratulations to Lara Maritz who has been selected for  the  Irish  Women's Senior  Cricket Squad to play New Zealand, Bangladesh (in Dublin) and the World Cup Qualifiers in the Netherlands.
• Congratulations to Ella Masterson, Hannah Dalton, Ella Dalton and Ellie Mulhall who will represent Ireland in Sitges, Barcelona at  the Dance World Cup Finals
As we approach the summer we reflect on what has been yet another fantastic year here in Loreto Balbriggan. From academic excellence to sporting victories and a myriad of other activities we are constantly reminded of the diligence, tenacity and talents of our students. In Loreto, we are proud of each and every girl who contributes to school life, creating the wonderful happy atmosphere which we all enjoy. We would also like to take this opportunity to thank all the staff who work tirelessly to encourage and support the girls in all their endeavours. Their constant presence and affirmation is greatly appreciated. We hope that everyone has a lovely summer and returns refreshed in August, ready to begin another school year.
• Best of luck to all our Junior Certificate  and Leaving Certificate students who begin the state exams next week.
Senior Student of the Year: Niamh Kirby Sullivan, Sarah Ryan
Senior Mary Ward Award: Melanie Fidel, Hannah O'Neill
Senior Business Award: Sarah Ryan.
Senior Science Award: Eibhlin McCarthy, Kimia Esmaeilzadeh, Diana Bura & Maria Louise Fufezan.
Senior Music Award: Ellen O Driscoll.
Outstanding Academic Achievement, 6th Year: Chloe Tap, Manny Choudhry, Maria Louise Fufezan.
Senior Sports Person: Alix Buckley, Eibhlin McCarthy, Erin Healy.
Outstanding Academic Achievement, 5th Year: Anna Sowray, Aoife Conroy, Zarmeen Gull, Kelsey Wilson, Hannah Rudden, Julia Okoye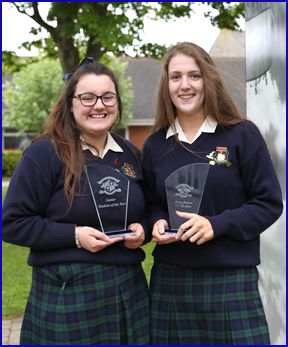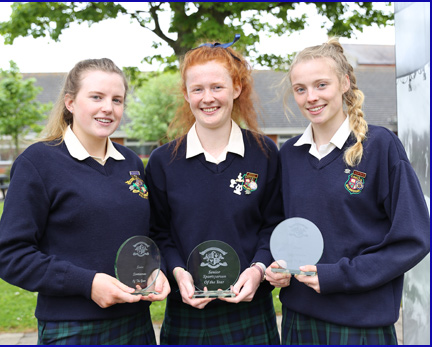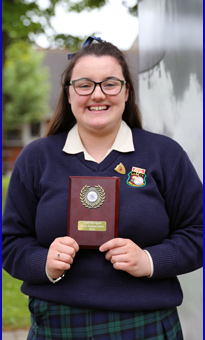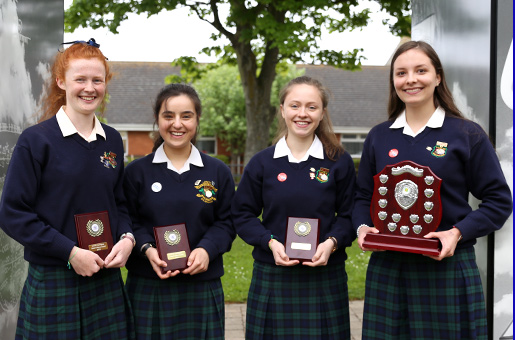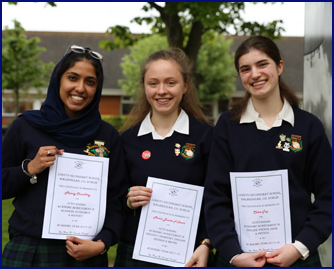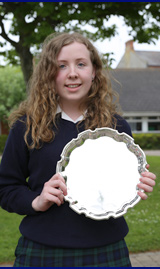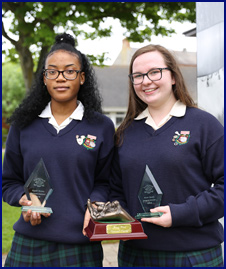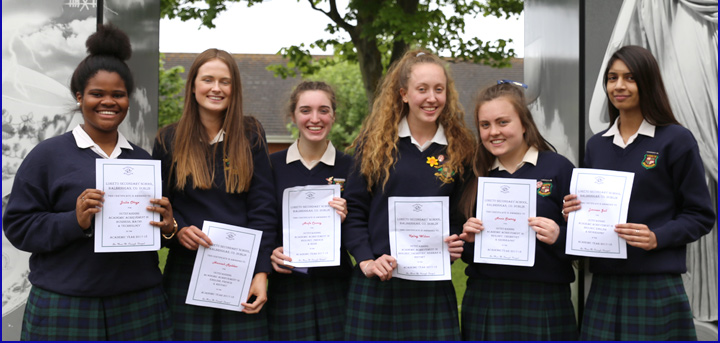 TY Student of the Year: Emma Dolan & Aoibha Mulhall
Outstanding Academic Achievement TY: Emily O'Sullivan, Sarah McKenna, Ailbhe Rogers, Caoimhe Davis, Rachel Durnan, Chloe Johnson
TY Sports Person Award: Amy Dowler, Nadine Patterson, Gráinne Skelton
TY Mary Ward Award: Benedicte Akemba.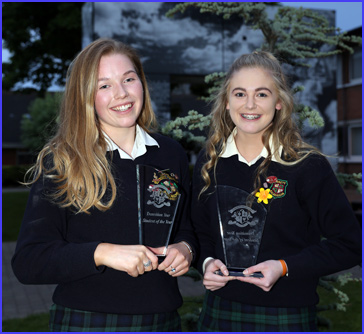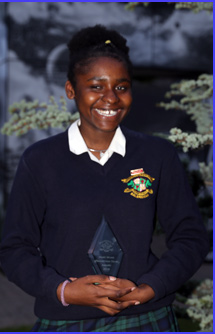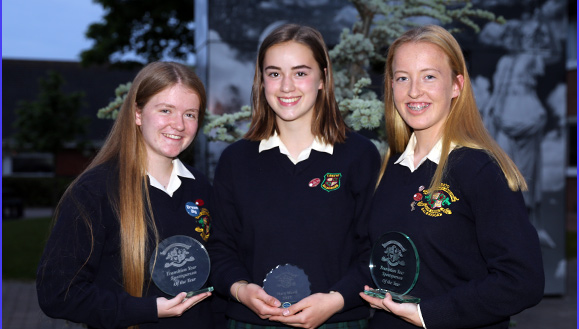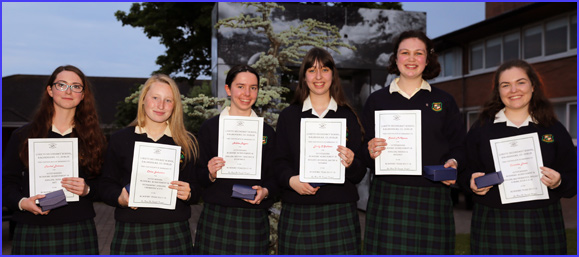 Junior Student of the Year: Sadhbh Mackey
Junior Sports Person of the Year: Tegan Gordon & Julia Szewczuk.
Junior Mary Ward Award: Molly Egan & Clodagh Finnegan.
Junior Music Student of the Year: Shauna Carroll & Caoilfhionn Ní Mhadagáin
Outstanding Academic Achievement, 3rd Year: Cleo Gallen, Hazel Austin, Willemijn Bosschaert, Zainab Shahid, Ella Shanahan.
Outstanding  Academic Achievement, 2nd Year: Ailbhe Horan, Ella McCarthy, Mizna Shahid, Doireann McCauley, Caoimhe Young, Sarah El Shamy.
Outstanding Academic Achievement, 1st Year: Marianne Casey, Katie Jones, Amy O'Connell, Hannah O'Connor, Olivia Brennan.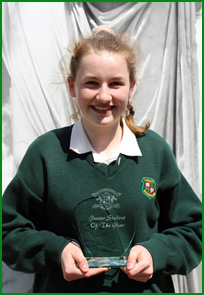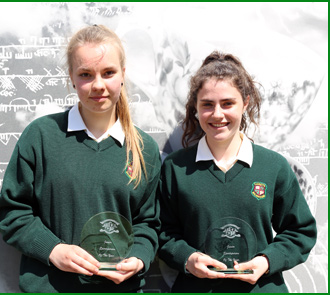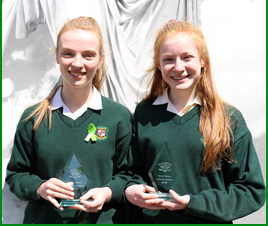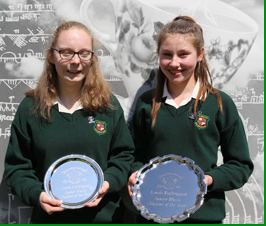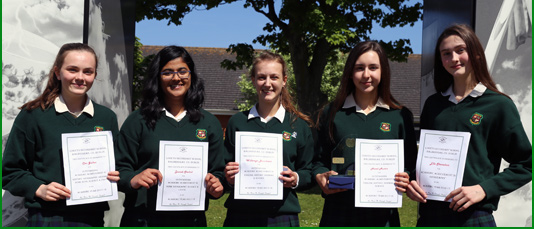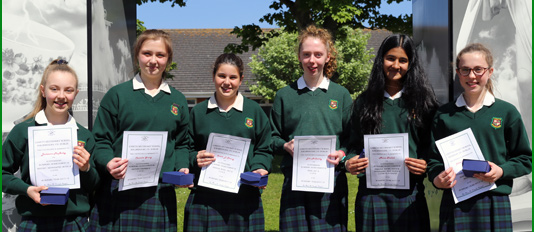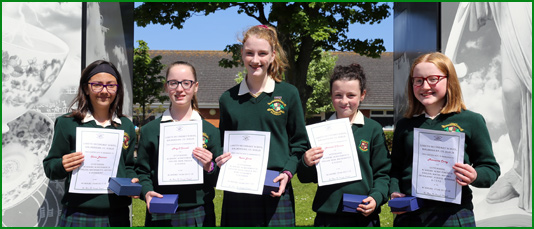 Congratulations to the U14 GAA Team who beat Loreto College, St. Stephen's Green, in the final of the Leinster League and are very worthy champions.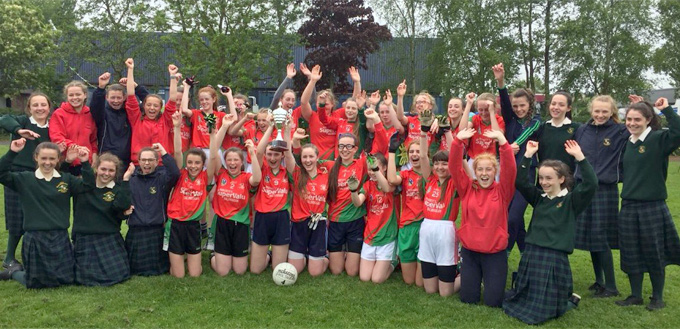 Congratulations to Katelyn O Brien who was elected Head Girl for 2018/2019. The deputy head girls are Emma Kleiser-Byrne, Alice Morgan and Anna Sowray. We would like to wish all the girls the very best for the coming year in their new leadership roles.
Academic Year 2018-2019
• Thur, 23rd August; School opens for 1st Year students.

• Fri, 24th August; School open for 1st, 2nd and 3rd Year students.

• Mon, 27th August; School open for 1st, 5th and 6th Year students.

• Tue, 28th August; School open for 1st, 2nd, 3rd, 5th and 6th Year students.

• Monday, 3rd September; TY students return.

TY Work Experience 2019; Mon, 28th Jan - Fri, 15th Feb, 2019