News Update, June 17th, 2016
Congratulations to our Young Scientists who had great achievements at the Northern Ireland Young Innovators in Jordanstown.
• Renuka Chintapalli – Overall Young Scientist winner

• Khadija Gull & Emily Tierney O'Hanlon won the Senior Category and the First Derivative Special Award

• Laura Cody & Tess O'Neill came runner up in the Senior Category

• Kate O'Driscoll, Jessica Conway McLaughlin and Aoife Kenny – won the Junior Young Scientists Category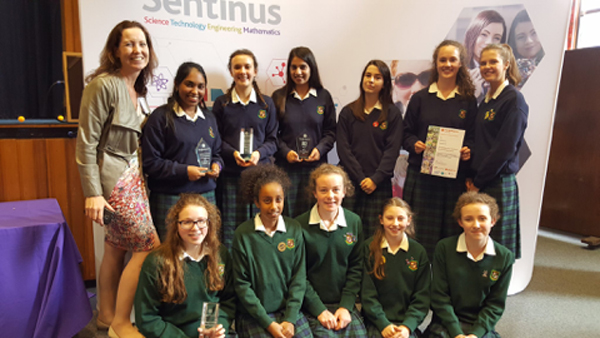 Ruth Guildea has also won the Poetry Ireland PDST award.
News Update, June 3rd, 2016
• We wish all our students the very best in their examinations.
• Mr. Fynes offers his thanks and gratitude to all students and parents for their kindness and generous gifts.
• Congratulations to all our prizewinners at Junior, Transition Year and Senior Prizegiving. They included;
Senior Students of the Year :
Senior Science Students of the Year: 
Sports Person of the Year:
Music Student of the Year:
Mary Ward Person of the Year:
Junior Student of the Year: 
Junior Sports Person of the Year:
Junior Music Student of the Year:
Mary Ward Person of the Year:
TY Students of the Year:
Mary Ward Student of the Year:
Junk Kouture Award:
TY Science Student of the Year:
TY Business Student of the Year:
Local History Winner:
Julie O'Connor & Megan Wilson Griffin.
Aoife M. Doyle & Cliodhna Redmond
Laura Brown
Saibhin O'Sullivan
Katie Howard (Senior)
Anna Sowray
Katelyn O'Brien
Dearbhla Mulligan
Claudia Andrea (Junior)
Ruth Guildea, Diana Bura, Maria Louise Fufezan.
Sarah Ryan (TY)
Dagmara Dobkowska
Diana Bura, Maria Louise Fufezan
Niamh Corry
Shivanee Cottacoopen