News update, Mar 23rd, 2018
• Our students had a very successful day at the Fingal Student Enterprise Awards which were held on Thursday. In the Junior Category, Tegan Byrne and Zara Stafford were awarded first place with their quirky, dog bandana company, "Barky Bandanas". Second place in the same category was awarded to Isabelle Grey, Helen Byrne, Amy O'Connell and Eliza Monaghan for their innovative earphone untangler company "Untanglerz". In the Intermediate category Maeve Joyce and Ella Walsh were awarded second place for their luxurious handmade soap company, "Savon Soaps". "Barky Bandanas" will now proceed to the National Final in Croke Park in May. Congratulations to all the girls on their fantastic achievement.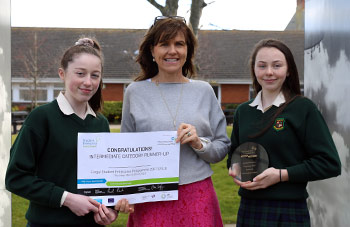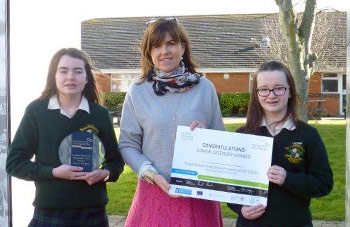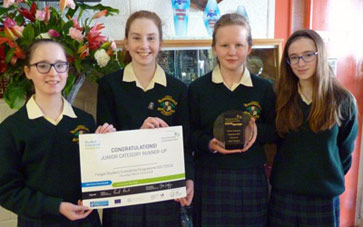 • Congratulations to all the students who took part in the Loreto Mace Debates. 4th years. Alessandra Grossariu and Emily O'Sullivan went through to the final round and were runners up. 5th years Aoife Conroy and Kate O'Kelly got through to the semi-final as did 2nd years Aisling Comiskey, Claire Liu, Éabha McLoughlin, and Sophie O'Sullivan. Well done girls.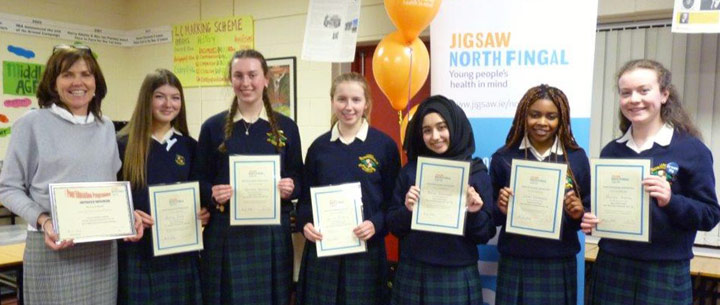 • On Wednesday our Jigsaw Peer Educators (above) attended the launch of the "Read Your Mind" book project at Blanchardstown Library. The HSE, Jigsaw and Fingal libraries have developed this project which centres on raising Mental Health awareness. This project is aimed at supporting young people in addressing challenges. It is a wonderful resource to have available locally.

• Congratulations to all the girls involved in the school production of "High School Musical". All the hard work of the previous few months certainly paid off and was very evident in all the performances this week. It certainly was a case of "we are all in this together".

• We celebrated French week this week with lots of fun activities, including a French breakfast.

C'était la journée de la Francophonie mardi et on l,a bien fetée dans l'école. Il y avait un tas d'activités organises  pendant toute la semaine y compris le petit déjeuner pour les premieres! On s'est tres bien amuse.

Vive La France!!
• Congratulations to the U17 soccer team who have progressed to the semi-final of their competition.

• Bon Voyage to all our 5th year students who are going on the ski trip to Norway over the Easter holidays.

• Today we said 'Au Revoir' to a very valued member of staff, Mary Wylie, who retired. Mary has looked after the staff for the past seventeen years. We will miss Mary's cheerfulness and joie de vivre. We would like to wish Mary a very happy retirement and all the very best for the future which we know will be full of fun and adventure.

• Today was Daffodil Day, the annual coffee morning in the staff room was held and also TY students held collections during the TY musical to raise much needed funds for this worthy cause. The total raised so far is €740.00.

• Some wonderful talent was on display today during the first year talent show (below). It was a delight to see such fabulous acts. The winner was Katie Tancock. Well done everyone.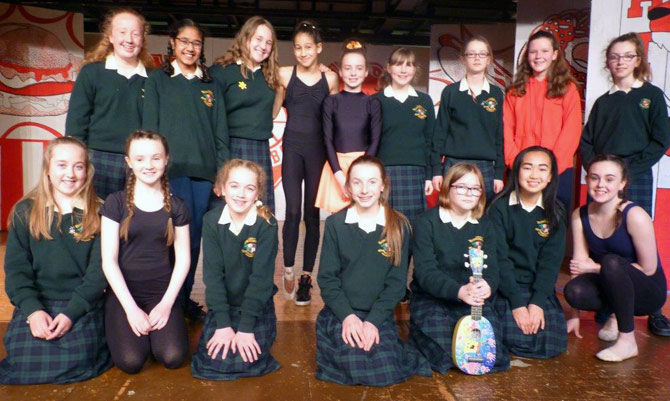 • The school will close today for the Easter holidays and will reopen on Monday 9th April @ 9.10am.
• We would like to wish you all a happy Easter.
Academic Year 2018-2019
• Thur, 23rd August; School opens for 1st Year students.

• Fri, 24th August; School open for 1st, 2nd and 3rd Year students.

• Mon, 27th August; School open for 1st, 5th and 6th Year students.

• Tue, 28th August; School open for 1st, 2nd, 3rd, 5th and 6th Year students.

• Monday, 3rd September; TY students return.

TY Work Experience 2019; Mon, 28th Jan - Fri, 15th Feb, 2019
Termination of rear access to school campus.
Letter for parents re. above

Parent Mailing List
We are currently compiling a mailing list for parents/guardians of students from 1st, 2nd and 3rd Year through which we can relay information about ongoing activities and events in your daughters year group. Your daughter should have brought home the form linked to below. If it was mislaid, and should you wish to be on this mailing list, please complete the form and have your daughter return it to her form teacher or the school office.