August 19th
19 August, 2021
Read 961 times
We look forward to welcoming staff and students back after the summer holidays. We hope that everyone had a lovely break and is looking forward to the new academic year. We would ask all parents/guardians please keep note of the following important dates
                                1st year Registration August  25th.
                                1st year: Orientation Programme August 26th and 27th. 09.10-13.20.
                                2nd year: Return to school August 26th. 09.10-12.00.
                                3rd year:  Return to school August 26th. 09.10-12.00.
                                5th year:  Return to school August 27th. 09.10-12.00.
                                6th year:  Return to school August 27th. 09.10-12.00.
Monday 30th August: Full school day for all years except 4th-year students.
Thursday 2nd September: 4th-year students return to school 09.10-11.20
Many of our students have been very busy participating in many activities over the summer.
Here in Loreto we encourage those with an interest in scientific inquiry and research to take part in SciFest as well as the BT Young Scientist Competition.
 This summer has been yet another successful year for the students at Loreto Balbriggan who participated in the SciFest@College competition. In spite of the challenges presented by the COVID-19 pandemic, our students have excelled in producing creative and inspiring scientific research projects. We are very proud of all the students who participated and congratulate them all for their achievements this year. Here are the results from the 2021 competition:
Claire Johnson won both the Intermediate Life Sciences 1st place award, and the 
SciFest Best Project
Award at SciFest@DCU and has 
qualified to participate as a finalist in the SciFest 2021 National Final which will take place in November 2021. Claire investigated the following research question: "Do Virtual Escape Rooms Help Students To Learn About Laboratory Experiments?".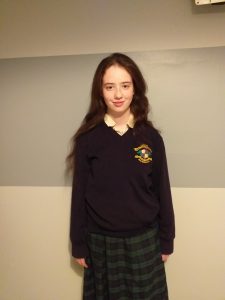 Niamh McManus and Jess Joy won the Environmental Award at SciFest@Dundalk IT for their project entitled: "Could Vertical Farming Be Used As A More Efficient Farming Method Than Conventional Arable Farming In Ireland?".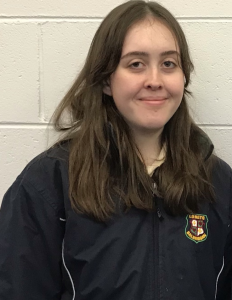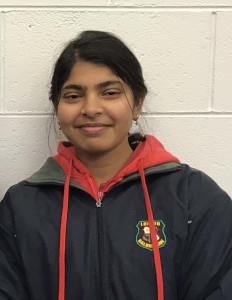 Adriana Ciot, Lily Anderson and Preethigaa Kumaresan won the Runner-up Best Project Award at SciFest@TU Grangegorman for their project entitled: "Would Exposure To A Virtual Interactive Story Have An Effect On How People Perceive Immunisation?".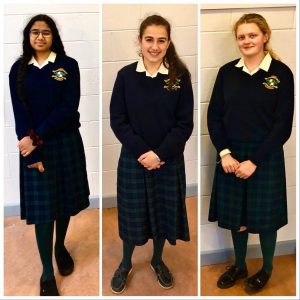 Isabella Watts and Hiba Shahzad 
won the 
Runner-up Best Project
Award and the 
Accenture Maths in Science Award at SciFest@Dundalk IT for their project entitled: "The Effects of ASMR On Stress Levels and Loneliness In Teenage Girls".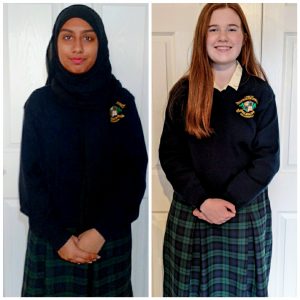 In other good news, past BT Young Scientist award winning students, Mizna Shahid and Zainab Shahid, receive
d an "Honorary Mention" in the Older Age Division of the International Poster Competition 2020-2021 for their research project poster entitled: 
"
Using Chitosan to Create a Biodegradable, Antimicrobial Plastic Alternative To Aid in the Reduction of Plastic Waste in Hospitals".
Please click on the link below to see the poster.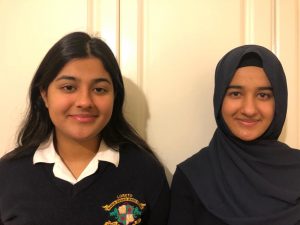 In sport, congratulations to Anna Gavigan who represented Team Ireland in Paris in July and came second in discus. Congratulations also to Caoimhe Colman who has been selected onto the Leinster U18  Rugby Training Squad.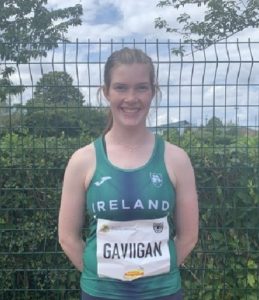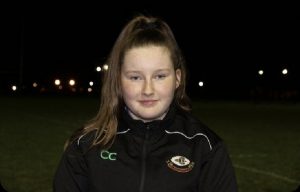 The school enjoyed success in the Leinster  Regional Final of the Junk Kouture Competition. The school was represented by Lily Anderson with her creation "La Guerra de Los Toros" Zosia Gozdzic, Aoibhe Hegarty and Giulia Simonato Soares with their  creation "Draconic Defender" Zosia,Aoibhe and Giulia will now go forward to the national finals in which will take place in the autumn.