December
8 December, 2022
Read 401 times
Senior French Debating
Félicitations to our Senior French Debaters, Lucy Kehoe, Eve Cottell, Grace Anderson, and Hannah Waters, who competed against Tullamore College on Friday evening. Unfortunately, they were not put through to the next round, but gave some star performances! Well done on all the hard work that was put into preparing for the debate.
Senior English Debating
On Tuesday TY and 5th year students participated in the annual Senior Inter-Loreto English Debate competition, debating motions such as 'This House Would Emigrate from Ireland'. They proved their strong arguing abilities and skill in composing persuasive speeches. Congratulations to all that took part!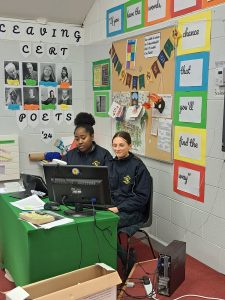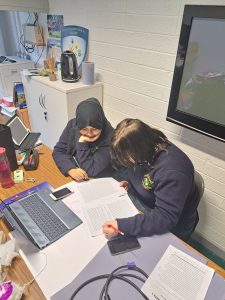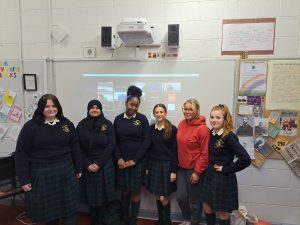 TY News.
TYs got into the festive spirit with a Christmas craft workshop on Thursday.  The students made Christmas tree decorations as well as Christmas logs.  Nollaig Shona daoibh go léir. Many thanks to Ms. Byrne and Ms. O'Connor for facilitating the workshops.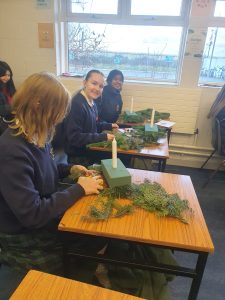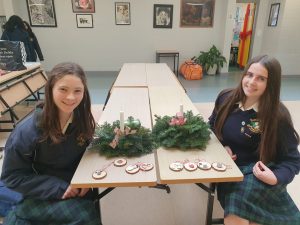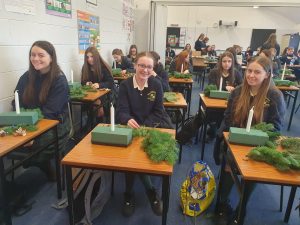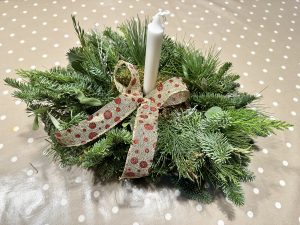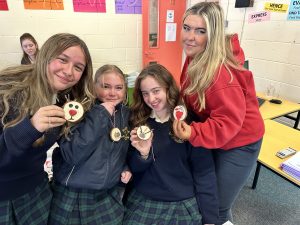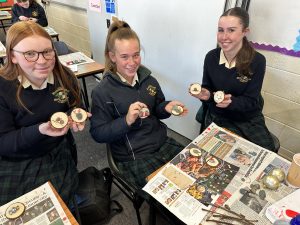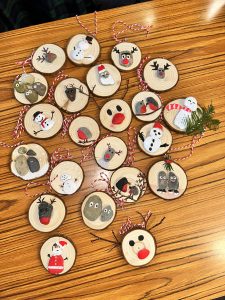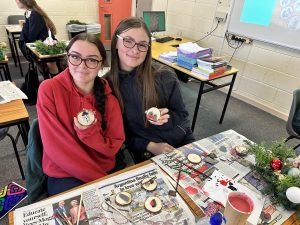 This week Ms. Darcy's 4H Community Links TY module invited  Prosper Fingal to the school and delivered  a presentation about life as a Loreto Balbriggan student.
The students discussed topics such as sports, transition year, extracurricular activities, school facilities and their favourite subjects in school.
The students also organised musical performances that ranged from trad music to signing Coldplay's "Sky Full of Stars" and a Samba performance. Everyone thoroughly enjoyed the day and  4H is very excited to be going to visit Prosper Fingal's "The Lodge" next week.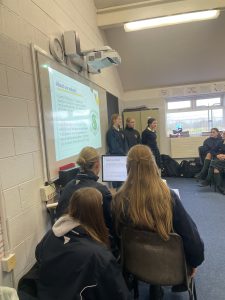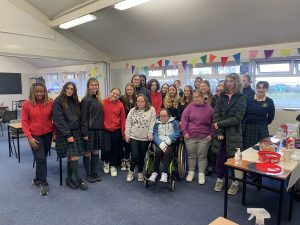 On Wednesday 25 TY students attended the recording element of the Tinpot Radio Transmission course in  the mobile recording studio. Students recorded their adverts and podcasts which were prepared during the whole day course in November. Stars of the airwaves in the making!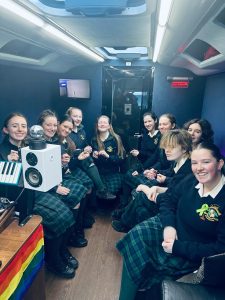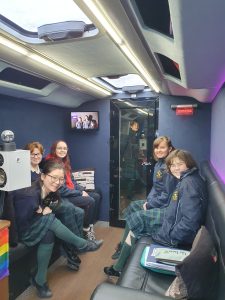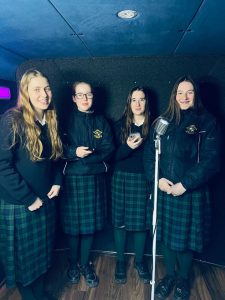 Market Day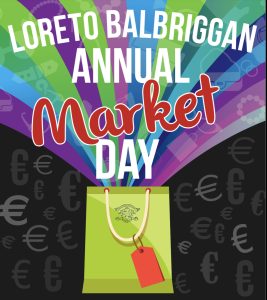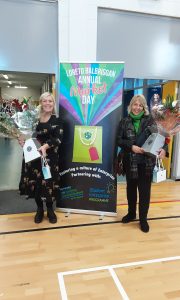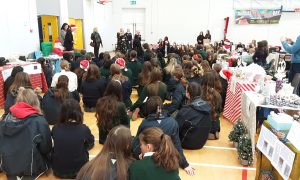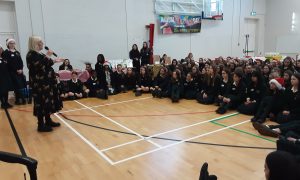 Market Day was back to full force today with over 65 stalls and 150 students participating. The gym was buzzing with innovation, teamwork and dedication from all 1st, 2nd and Transition Year mini-companies. We would like to commend the students on their work ethic and enthusiasm as they kept selling right to the end of business. The students left with empty bags and pockets full of profit. Earlier in the day our senior students got the opportunity to attend an inspiring presentation from Melanie Loughran and Tina Mc Cormack from local business Storm in a Tea Cup. Melanie and Tina are the owners and co-founders of the very successful ice cream business. The senior business, economics and accounting students enjoyed a very interesting talk on what it takes to turn an idea into a successful business. It was wonderful for the students to have a Q&A session and to hear all about the reality of being in business. Well done to all the winning mini companies who will go forward to represent the school at the Fingal Enterprise awards and the Foroige competition.
Extra Curricular
 Junior Hockey
Congratulations to our junior hockey team who had a convincing 5-0 victory over Ardgillan CC on Thursday. Congratulations to  Emily D'Arcy, Lauren McGreevy and Laoise Hodnett who were the goal scorers.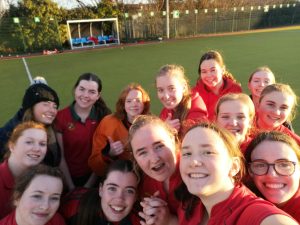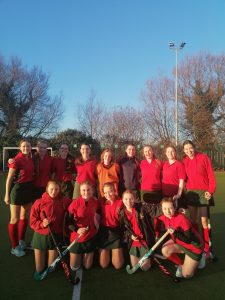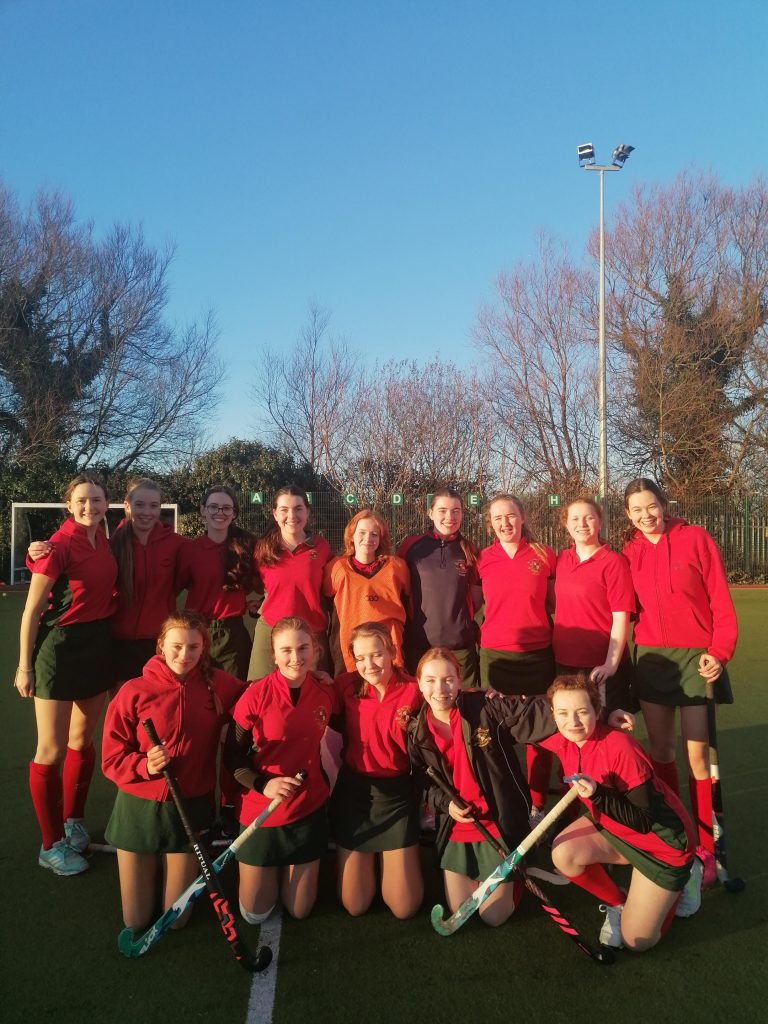 Guest Speaker
Sports correspondent, Jacqui Hurley of RTE visited the school on Wednesday. Jacqui spoke to 6th years on topics such as gender inequality and the importance of sport and exercise. The students really enjoyed Jacqui's inspirational talk.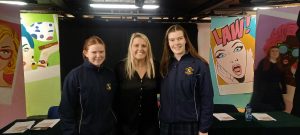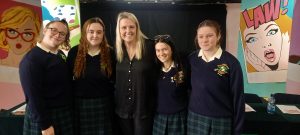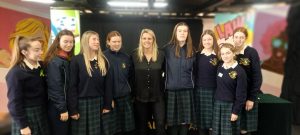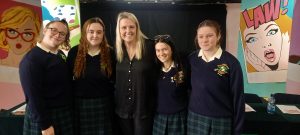 Staff Cake Decorating
There was definitely an air of competitiveness on Wednesday afternoon at the annual staff cake decorating workshop. 38 staff worked on their creations on campus while others tuned into the live stream. Each cake had been made at home and all that was left to do was to create 'Gnome Santa'. Many thanks to Ms. Ryan who put the staff through their paces, with fabulous results.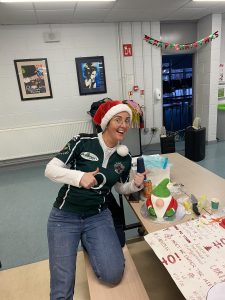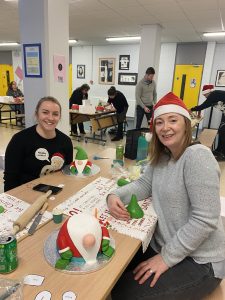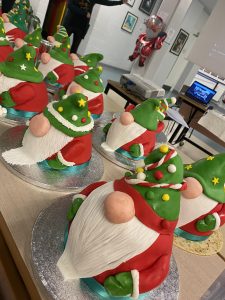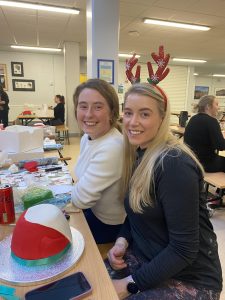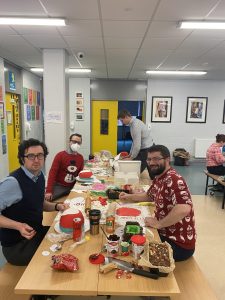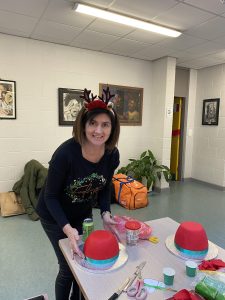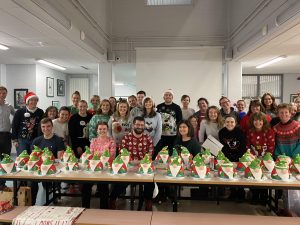 Up Coming Event
We are delighted to say that our Music Gala Evening for Christmas will take place next Wednesday December 14th. Auditions are currently taking place and we look forward to seeing all the performers.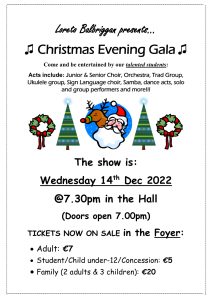 ADVENT
Advent marks the beginning of the Church's liturgical calendar. Advent is a time of waiting and preparation for the arrival of Jesus Christ. As we journey through Advent let us make time for reflection, prayer and pause.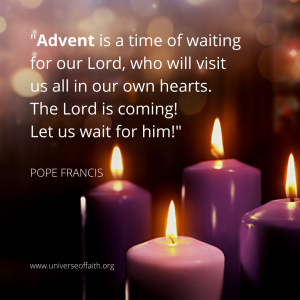 Please note that the school will close on Thursday, December 8th at 4 pm and reopen Monday, December 12th at 9.10 am.