EASTER
8 April, 2022
Read 666 times
Aladdin.
For the first time in three years, it was 'curtain up' for the TY musical, Aladdin. Since 1995 Transition Year students have produced a musical to a very high standard and this year was no exception. Congratulations to the whole year group who worked so hard to make this amazing spectacle come to life. From acting, costume and makeup, singing and dancing, to set design, PR, props and lighting, each student put her own stamp on the production. Of course, none of this would have been possible without the expertise of the drama team who encouraged and coached the girls to excel. Many thanks to Musical Directors, Ms. Mehigan, Ms.Kearns and Ms. Gaughan, Set Design, Mr. Kilgarriff, Costume and Make-Up, Ms.Byrne and Ms.Darcy, Props and Lighting, Ms.Russell. Without their commitment and support, such a fabulous show would not have been possible.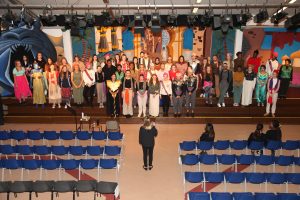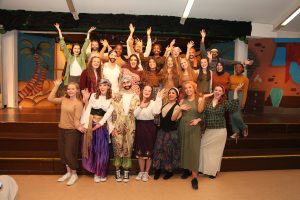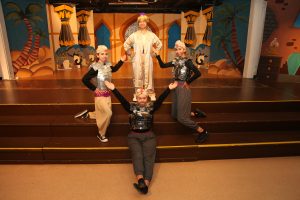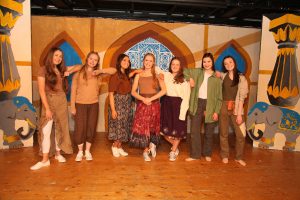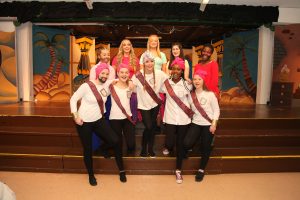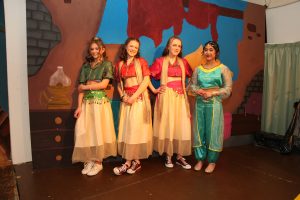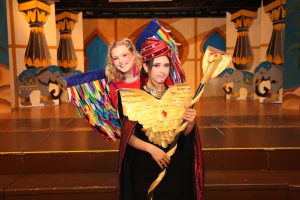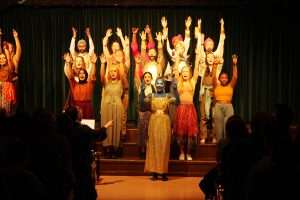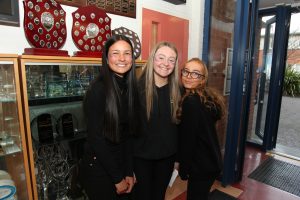 Transition Year Business Enterprise Success.
Congratulations to Cianna Flynn and Aoife Donoghue creators of 'Wear your Wings' who will represent Loreto Balbriggan in the Foróige NFTE Social Enterprise national finals in May. Thank you to Mr.stringer for all his encouragement and support.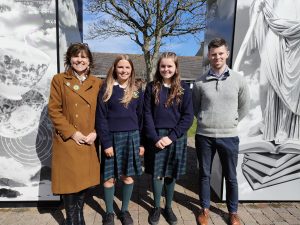 Senior Career Guidance
6th Year students enjoyed a very informative trip to DIFE (Drogheda Institute of Further Education)  on Friday. Students explored all the courses DIFE has to offer and the links to colleges in Ireland and the UK after completion of the level 5 course.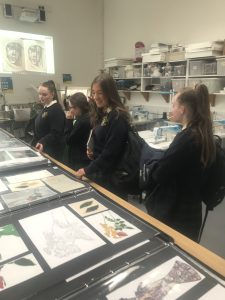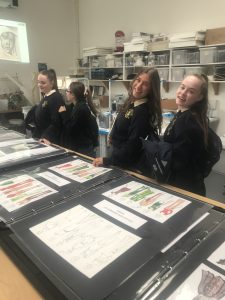 Faith Leaders.
Congratulations to three of our 5th year Ember students, Josica, Keeva and Rachael, who were commissioned as Eucharistic Ministers on Monday evening during Mass for Listening Lent in Balbriggan Church. The students gave wonderful input during mass as Ember faith leaders. Congratulations on your new role. Thanks to Fr Mc Namara and the Balbriggan Parish Team for all their support.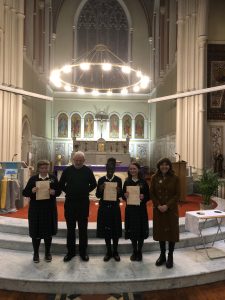 Extracurricular
U15 Soccer Leinster League Final
Congratulations to the u15 Soccer team on their 5-1 win on Thursday's League Final vs Clonturk CC, with four goals from Muireann Bagley and one from Aoife Russell  It was a superb overall performance from everyone involved. Two players were singled out, Muireann Bagley and Lucy Rooney  and were awarded player of the match awards for their efforts.
The team will now continue on to the Division 1 Regional Winners 1/4 finals!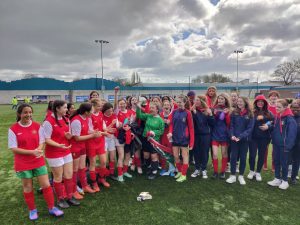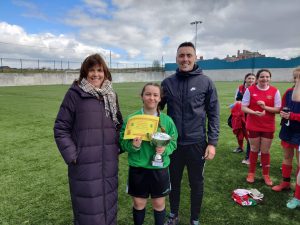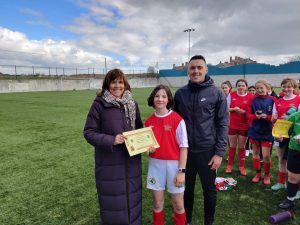 While it was a happy day for our U15 soccer players, we remember our wonderful student and teammate Rafaella Costin, who was very much an integral part of the team and whose love of soccer, inspired everyone. Rafaella's skill and talent played a very important part in the team reaching the final today. As a mark of respect, a minute silence was held in her memory before the game began.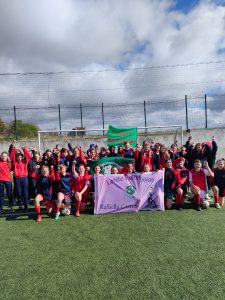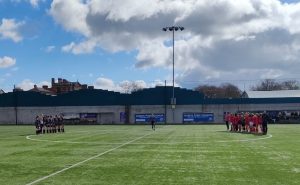 U14 GAA Championship.
Our under 14 Gaelic team had a brilliant start to the championship with two great wins over Colaiste Iosogain and Lucan Community College this week. We now top the group and are through to the next round. Well done girls.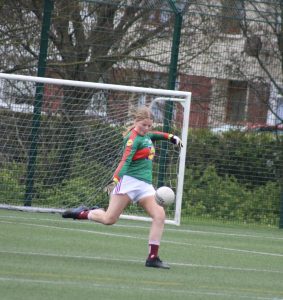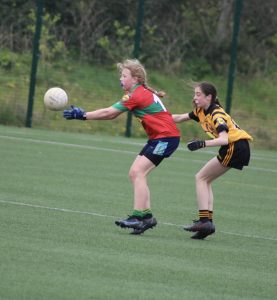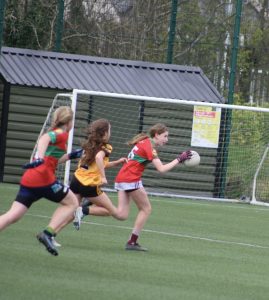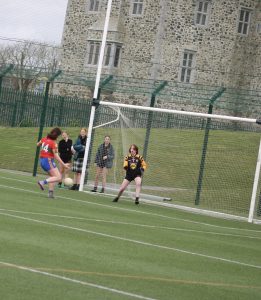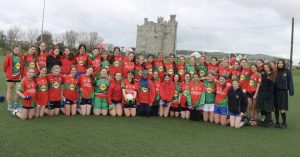 Basketball Finals
The minor and junior basketball teams played their semi-final and final matches against Loreto Dalkey this week. Both teams put up a gallant display but unfortunately were unsuccessful. The junior team had their medals presented by Principal, Ms. McDonough. The teams have been totally committed to training all year and have played exceptionally well in the league to reach the semi-final, for the minor team  and the final for the juniors.  The school is very proud of their achievement and we look forward to seeing them in all their glory on the court again next year.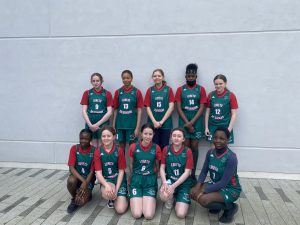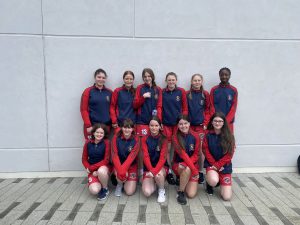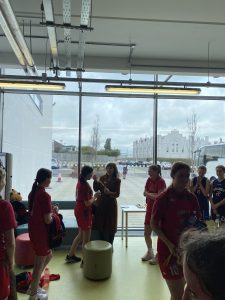 Ramadan
April marks the beginning of the holy month of Ramadan. Ramadan is one of the holiest months in the Islamic faith. During this time many people reflect on their faith and spiritual development.  As we embark on this religious month, let's be mindful of our Muslim friends who will be fasting.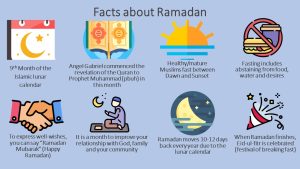 Easter
We are now preparing for an important time in the liturgical calendar, Easter. We are approaching Holy Week which celebrates the resurrection of Jesus on Easter Sunday. Easter is a time for reflection and is a sign of hope. This period can be looked upon as a breathing space when we reflect on our lives and on our world.
Easter is the season when Jesus triumphed over death and despair and rose from the dead, and at this time may we choose to be hopeful, above everything else.
Below is a reflection by
Joyce Rupp- An Easter Poem 
Sturdy, deep green tulip shoots.
How did they know
it was time to push up through the long-wintered soil?
How did they know
it was the moment to resurrect,
while thick layers of stubborn ice
still pressed the bleak ground flat?
But the tulips knew.
They came, rising strongly,
a day after the ice died.
There's a hope-filled place in me
that also knows when to rise,
that waits for the last layer of ice
to melt into obscurity.
It is urged by the strong sun
warming my wintered heart.
It is nudged by the Secret One,
calling, calling, calling:
"Arise, my love, and come."
My heart stirs like dormant tulips
and hope comes dancing forth.
Not unlike the Holy One
kissing the morning sun,
waving a final farewell
to a tomb emptied of its treasure.
The school will be closed for the Easter holidays on Friday 8th April at 4 pm and reopen on Monday, April 25th at 9.10 am. We hope that the whole school community has a very restful break after a very busy Spring term.