May 14th
14 May, 2021
Read 625 times
Congratulations to Emily Carroll, Hannah Barnwell and Lucy Barnwell founders of  'Bee Happy' Mini-Company who won a special merit award in the National Final (Intermediate Category) of the Student Enterprise Programme which was live-streamed on Friday.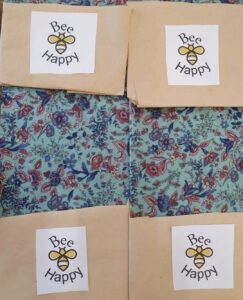 This afternoon the Ember Ignite Team graduated. The team have shown commitment, kindness, leadership capacity and compassion to others on their journey as faith leaders in the school.
The afternoon was attended by Fr John Mc Namara who kindly offered some words of blessing and congratulations to the students.  We would like to  congratulate  the Ember Ignite Team and thank them for their commitment to their role.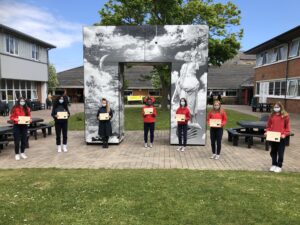 As part of the 'One Good School' initiative, all 1st year and 5th year students attended JigSaw Mental Health and Awareness talks over the last two weeks.
Feedback from students has been very positive. Five a Day for your Mental Health. Please click on the link below for further information
Prosper Fingal Ambassadors
 This week, 4 TY students were elected ambassadors for Prosper Fingal. Hannah Tighe, Nelly Okeranlen Iyere, Ellen Gahan and Emma McGowan from our Community Links Module met with members of Prosper Fingal Balbriggan via zoom to discuss their roles and responsibilities as ambassadors. The core purpose of Prosper Fingal is to support individuals with special needs to live the life they choose, in the same way, and same places as everybody else. As ambassadors, the girls aim to promote these core values and raise awareness within the school community on how we can support these individuals in their community. The girls have been working tirelessly to prepare a presentation to deliver to students in school this week.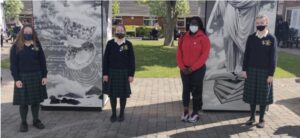 'This-Ability Awareness Week'
This week, 4G in their Community Links module have been raising awareness about visual, hearing, speech, physical and cognitive disabilities. Each day focused on a different disability and members of 4G put themselves in different shoes to try to understand what it is like to live and attend school. They evaluated their experiences and gave advice to the student body through announcements about how they could more effectively communicate with individuals who had a speech, hearing or sight impairment or a physical disability. Well done to all involved.
On Thursday the school participated in a global prayer event that has been taking place in all Loreto Communities across the world this week.  As an expression of unity and solidarity with all facing the Covid-19 devastation worldwide, the JPIC  ( Justice and Peace) Captains and Prefects led the school in prayer.  After lighting the Loreto Candle, which is present at all our whole school events, the school remembered all who are suffering, particularly those in our Loreto Schools in India.  Medics, researchers and health care workers were also remembered and the students asked for God's blessing and wisdom for Governments to make oxygen and health care freely available. The event ended with a prayer for justice and healing.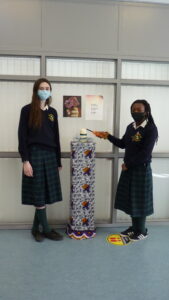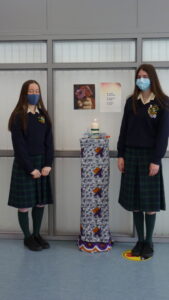 God of hope,
you are with us in every moment, every breath, every heartbeat.
Hear the prayers from the heart of our Mary Ward family.
May our prayers wrap the world this day with healing love.
May our prayers travel with the sun across the globe from east to west as it shines on all those impacted by Covid-19.
We make this and all our prayers in Your Holy Name.