The Final Weeks
12 May, 2023
Read 205 times
SciFest
Congratulations to Grace Allen and Aisling Ní Aonghusa who won the Irish Science Teacher's Award for their SciFest@College entry "How does the Stroop correlate reaction times to age, sleep patterns, and lifestyle choices"  The girls were participants in  SciFest@college competition which was held in Dundalk IT which on Tuesday where 137 projects were displayed across all areas of STEM.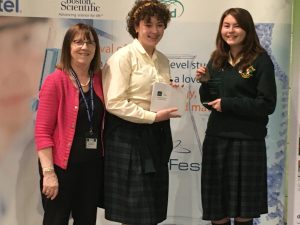 Evening Gala
Congratulations to our seven wonderful Music Captains who organised such a successful Summer Evening Gala. All their hard work and preparation contributed to a very special concert and their own group performance of "Falling Slowly" was a real high point of the evening. Well done to all students who performed on Thursday night. The audience was entertained by a wonderful array of acts such as the Orchestra, Iconic Dance Troupe, TY Samba, Junior, Senior and Sign Language Choirs, Trad Group and all the individual vocal & instrumental acts. There was even a magician who enthralled the audience with some amazing magic.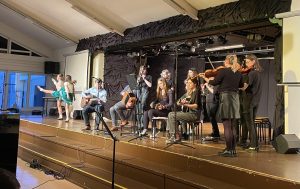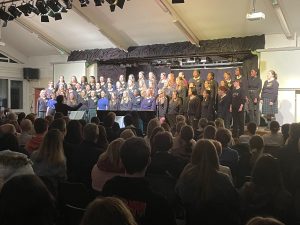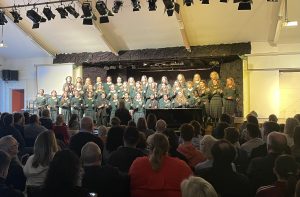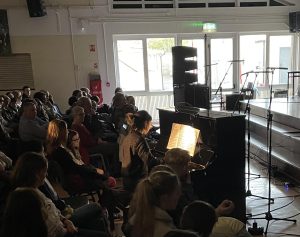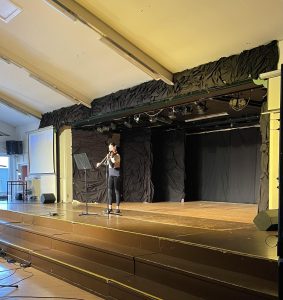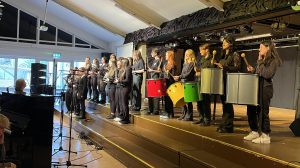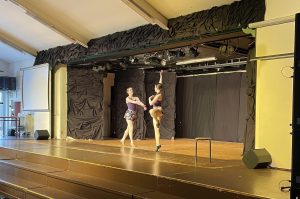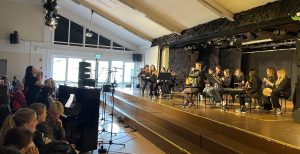 6th Year Sports Day
Thank you to the 6th year Sports Captains and Head Girls for coordinating the 6th Year Sports Day on Tuesday. The morning included some classic sports day races, capture the flag, a huge dodgeball game and a water fight to finish off!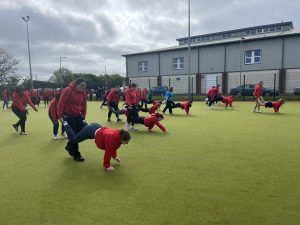 Senior Technology

On Thursday senior Technology Students visited the Irish Manufacturing Research factory in Mullingar. They had an insight into how technologies such as virtual reality, robotics, and 3d printing are used in the manufacturing industry as well as witnessing future technology and their use in the health sector.
Senior Music
On Friday, May 5th Loreto Balbriggan music students and their teachers had the amazing opportunity to attend the sound check in the 3 Arena before the Einaudi Concert. They got a lovely surprise when Ludovico then came front of stage to talk to them and he was really interested in how they were involved in music. He really connected with the students when he played some of his compositions that our piano players have enjoyed playing too. He really inspired the girls.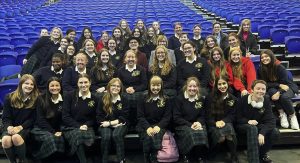 TY News
On Monday our  TY no students took part in an EU50 debate competition organised by Fingal County Council and held in the Bracken Court Hotel. They competed against other Balbriggan schools on the advantages of Ireland's 50 year membership of the EU and came joint third. Well done to Alana O'Connor who was awarded Best Speaker on the day.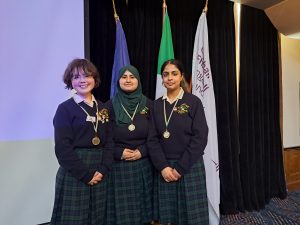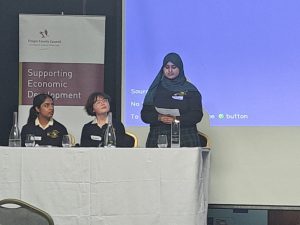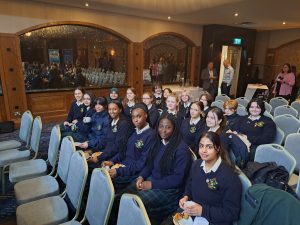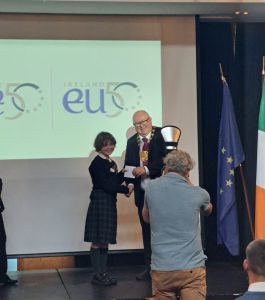 Community Links
On Monday, TY Community Links class was hard at work today painting with the Tidy Towns committee!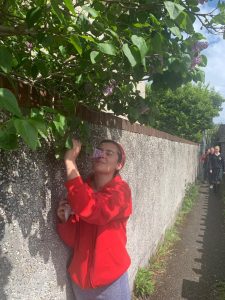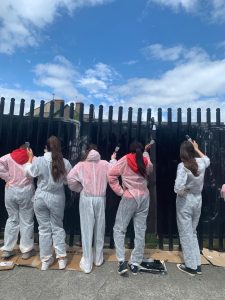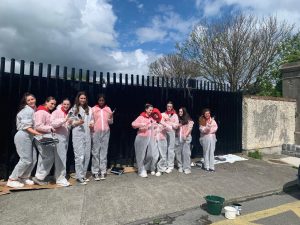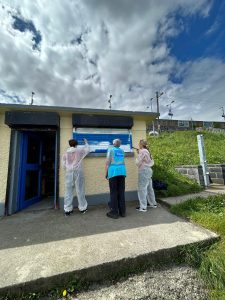 Extracurricular
Tennis
Congratulations to our Minor A team who is through to the Leinster tennis finals! The girls had a fantastic victory in the semi finals over Holy Child Killiney on Thursday. The girls played superbly and now will play in the finals on Monday in Landsdowne tennis club. The Junior A team won on Fiday  in the semi finals against Teresians to secure a place in the Junior tennis finals also to be played in Landsdowne on  Monday. This is a huge achievement for the school: two tennis teams into the finals! We wish them all the very best! done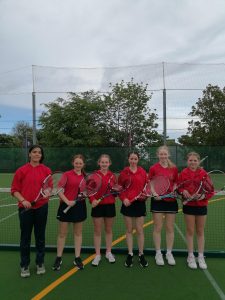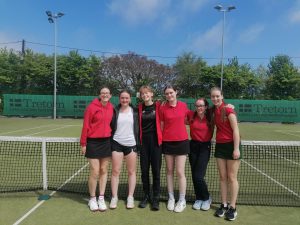 .
On Wednesday, senior students competed in the annual Loreto Schools' Tennis Event hosted by Loreto St Stephen's Green in Landsdowne tennis club. They enjoyed a great day of competition, followed by a prize ceremony and some chocolate with the other Loreto schools.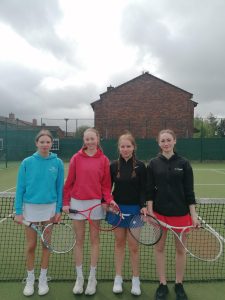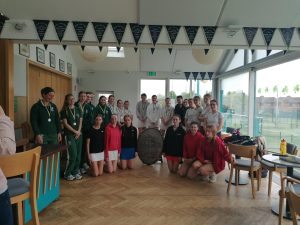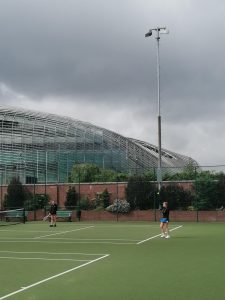 Hockey.
Some of our 1st and 2nd year hockey players who were chosen to attend the Leinster hockey development blitz last Sunday pictured are Sophia Folco, Shóna McCann, Nessa Farrell, Sinéad Van Den Berg and Niamh Rowney. This is a huge achievement for the girls. Well done! We are already looking forward to the next season!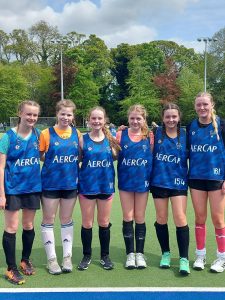 Rugby
On Tuesday, first years had lots of fun playing in the rugby blitz.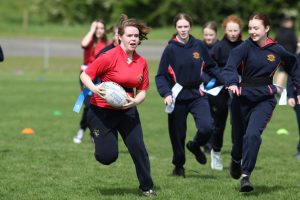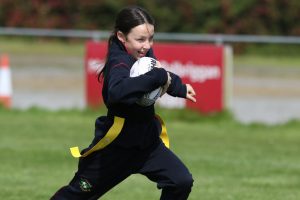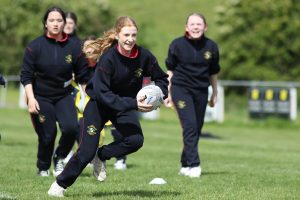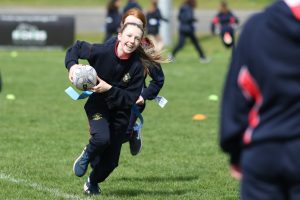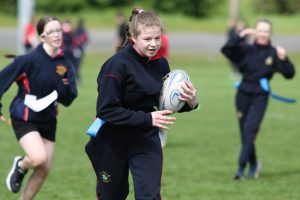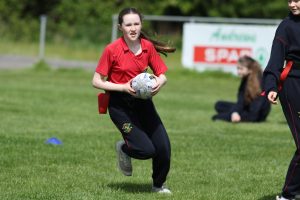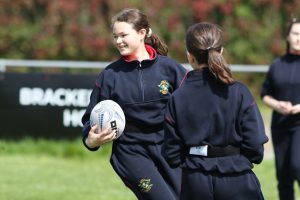 Amber Flag
Congratulations to the Amber Flag Committee who received their 4th Amber Flag to date for the school. The Amber Flag represents our efforts to promote positive mental well-being in the school. Thank you to the large number of student and teachers on the committee who made this happen!!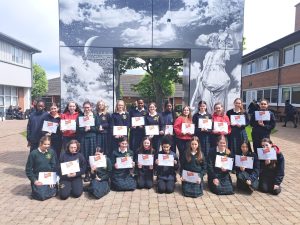 Intercultural Dance
Balrothery National School kindly invited our intercultural dancers to their school on Friday. The girls entertained the pupils with their amazing routines.