A Blessed Chistmas
21 December, 2022
Read 309 times
On Tuesday we held our annual Carol Service. It was an opportunity for all students to reflect on the true meaning of Christmas and it was lovely to welcome the sisters from the convent to the service.  The theme for this year's ceremony was " Star of Wonder". Wonder' is a feeling of amazement and joy. The star of Bethlehem tells us the amazing and joyful news that Jesus is born for us, bringing hope, justice and love. The brilliant star also reminds us of all the lights and decorations we use at Christmas. They light up our houses and streets and bring light to the dark winter nights. In our world, often dark and divisive, we hope each person will shine their unique light in ways that can make a difference for someone else. Light has the power to illuminate our hearts and dispel the darkness and guide our path to more hopeful days to come.  We hope this Star of Wonder shines for all of us to see.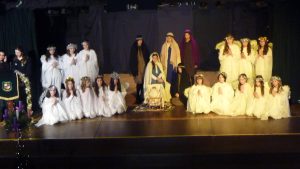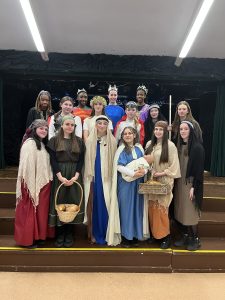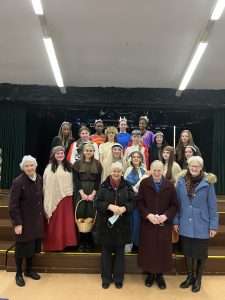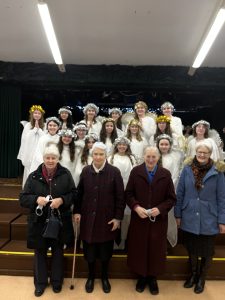 Teachers' Show
The first term came to end with the annual teachers' show. After a three year gap there was much anticipation and excitement from the students and they were not disappointed. From 'Lip Sync' battles to Tik Toks, Dance Routines to Rock Bands singing Christmas anthems…….. the staff entertained the students. Many thanks to the fabulous 6th years who organised and coordinated the entire event.
We would like to wish staff, students and their families a very Happy Christmas and Peaceful New Year.
We especially remember those who are grieving the loss of a loved one this Christmas. May they find solace in being with each other and in shared memories.   May the Christmas message of the light that overcomes the darkness bring relief to the brokenhearted and may the light of heaven shine on those who have gone before us.
Ar dheis Dé go raibh a n-anamacha uaisle.
The school will be closed from Wednesday at 12.30pm and will reopen on Thursday 5th January at 9.10 am.
                                                                        Nollaig Shona