Armistice Day 2023
10 November, 2023
Read 50 times
This Saturday, the 11th of November is Armistice Day and each year in London a remembrance service takes place at the Cenotaph to mark the cessation of hostilities in World War I.
In 2014, the Irish Ambassador to Britain at that time, Dan Mulhall, was invited to the service to lay a wreath in memory of the Irish soldiers. This was the first time in over 60 years since the Republic was declared,  that an Irish person has laid a wreath to remember the Irish soldiers.
It will be a proud moment for Loreto Balbriggan on  Saturday when four of our 5th year students: Hannah Goode, Lucy Rooney, Alex Smyth and Ruby Gilmurray will travel to London to place a wreath at the Cenotaph to remember the soldiers from Ireland and especially the soldiers from Balbriggan who participated and died tragically during World War I. The
students from Loreto Balbriggan will make history, by becoming the first Irish students ever to lay a wreath at the remembrance service. They were invited to do so because they won a competition in June called the Malcolm Doolin Award.  The girls won the competition outright against very stiff competition from schools in England, Scotland and Wales. Their projects were judged by professors attached to the UK Western Front Association. By winning this very prestigious competition, they became the first Irish winners and also the first Irish students ever to be invited to attend and participate in the wreath laying ceremony at the Cenotaph.
 It is a great honour for the girls, their families, the school, and the Balbriggan community to have those who died so bravely remembered.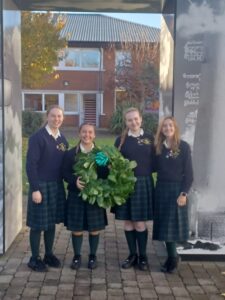 The service is live-streamed on the day and is then available on YouTube.It can be accessed in two ways:
 Details to view the event are as follows:
1. Go to the YouTube channel of the Western Front Association.
2. At the top you should see "Armistice Day 2023"
3. Click notify me… Which should generate an email. It would probably help if they subscribe to the channel
That is the best way, but you can also go via Facebook: https://www.facebook.com/events/725123776301802
We wish the girls the very best of luck for Saturday on a very momentous occasion.