December 11th
11 December, 2020
Read 507 times
On Thursday we held our annual 'Market Day'. Yet again the students were very astute with their business ideas and have been very busy over the last few weeks developing their proposals, researching their target audience and marketing their products. Jewellery companies such as 'An Siopa Seodra' making jewellery incorporating the Irish language,  'Lil Hoodies' making custom tie-dye hoodies proved to be very popular. Planet friendly companies such as 'Bees Wraps', making handmade reusable food wrap and 'Hydra8', compostable bottles kept the green flag flying. The technology sector was also to the fore with companies such as 'Keyify' and 'Visualise  Me'.  However, the annual Christmas market day would not be complete without the ever popular stocking fillers, well represented by 'Drippy Socks', 'Butterfly Effects'  and 'Tús Nua' candle company, supporting the Irish cancer society. These were just a few of the many successful companies to sell their wares on Thursday. Keeping within the guidelines all customers availed of the 'click and collect' system.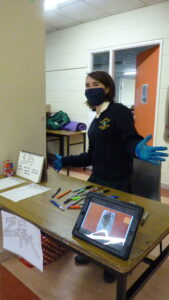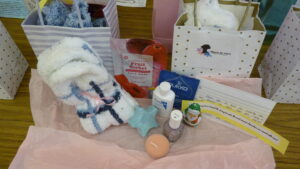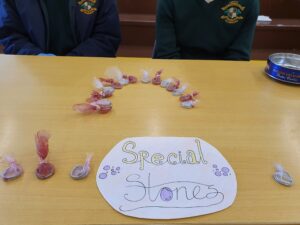 On Friday morning   TY business students had a virtual presentation from our celebrity guest speaker, Sonya Lennon co-founder of fashion brand 'Lennon Courtney'. Sonya gave insights into the worlds of business, fashion, branding, TV and social enterprise initiatives that she's involved with. Sonya's talk was inspirational for our students empowering them for future success and to be confident to achieve their full potential.
On Monday TY students were invited by An Garda Síochána to participate in 'Stepping out of Lockdown Challenge' in support of the charity Jigsaw, which provides support services for teenagers. The girls walked an incredible 971,488 steps. Thanks to An Garda Síochána for inviting the school to participate in such a positive initiative.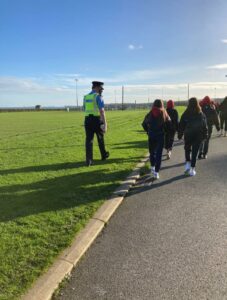 Friday was 'Christmas Spirit day and the whole school certainly got into the Christmas spirit by wearing fabulous Christmas jumpers, hats, trousers and accessories. Due to the ongoing pandemic, we could not hold our annual food drive for St Vincent De Paul so our very active student council organised a gate collection for St Vincent De Paul and raised a fantastic € 5,500 for this very worthy cause. Many thanks to everyone who contributed.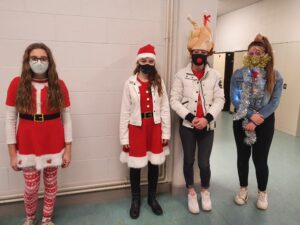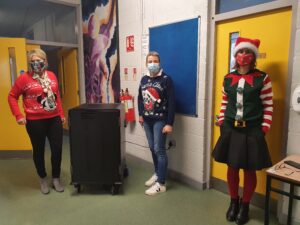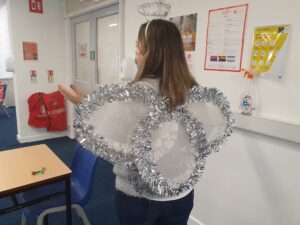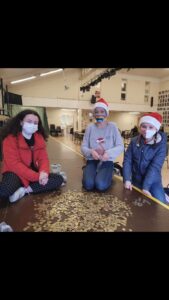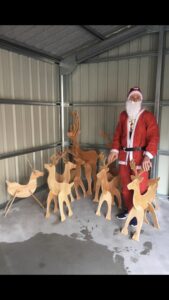 Generally on  Wednesdays, the school is very quiet as we have a half day. However, on Wednesday 9th, there was a definite Christmas vibe in the atrium as some of the staff took part in our annual Christmas cake decorating afternoon. Some staff even joined in from home via Google classroom. Many thanks to the Home Economics department for organising a wonderful, socially distant afternoon, with amazing results.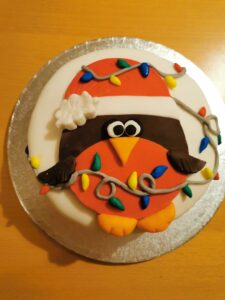 Last month saw the unveiling of our new art space. The idea behind the art space is that it will become a place for a variety of artworks that are temporary, seasonal and topical. The first exhibit was the pride mural with the rainbow flag and beautiful butterfly. For December the Art captains, Holly McCarney, Tara White, Laura Masterson, Deborah Asare, Róisín Wearen, Eirinn Ryan and Clodagh Leavy have created a festive snowflakes installation made from disused hangers.
"Snowflakes"
Turning coat-hangers into snowflakes is an excellent example of creativity.
A creative mind-set will enable you to see all the wonderful possibilities in the world around you.
You can learn to be more creative by saying to yourself "What if…"
Starting a train of thought with the words "What if…" allows you to imagine, dream and think creatively.
It is the creative people who will come up with solutions to all of our challenges.