December 4th
3 December, 2020
Read 651 times
During this time of Advent we would like to invite you, and the whole school community to join us on an Advent Prayer Journey as we begin our countdown to Christmas. This year, more than ever we need to make time to nourish ourselves and allow 'Time for Grace' to work in our lives.
We have put together a short prayer service for the final three Mondays of the term:
  Monday 30 November
7th and 14th of December.
Each prayer session will begin at 8.15 a.m. and finish at 8.30 a.m. The time was chosen for two purposes:
To make time before we begin our day and week to centre ourselves in prayer and actively participate in our Advent Journey.
To allow time for you to prepare for your school day.
We hope you will make time in your diary for this short prayer time and join with us as we pray for each other and our school communities in this season of Hope.
Pope Francis reminds us that "Prayer is powerful not because it changes God or God's plans, but because it changes individuals and communities, one heart at a time".
Please click on the link below if you would like to join the service.
https://us02web.zoom.us/j/81252057993?pwd=SHQvY1Jwck4xU1RLaVlRc0lRcThPZz09
We are very lucky in Loreto Balbriggan to have three talented elite athletes on the teaching staff and on Thursday they spoke to  TY students on the topic of 'Women in Sport.' Intercounty players Ms. Muireann Atkinson (Monaghan) Ms.Sarah Rowe (Mayo) and international rugby player Ms. Michelle Claffey shared important and inspiring messages with the girls. The talk was followed by a skills session. The Podcast will be available on the TY blog before Christmas.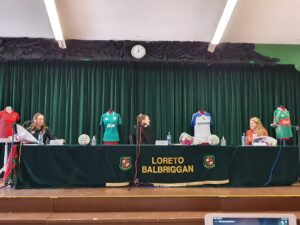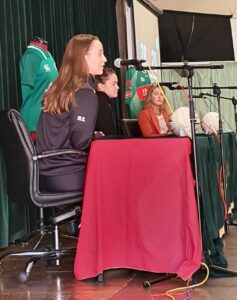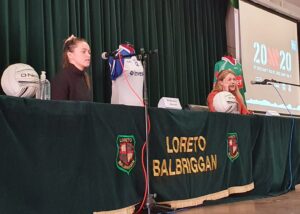 Congratulations to Jessica Chen, Junior Student Enterprise winner 2020 with her Mini Company  'Compo de Fiori'. Jessica designed and produced  handmade sustainable flower hair accessories.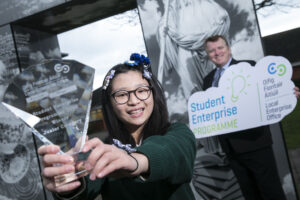 Students this week were treated to some festive surprises this week. On Wednesday Mr.Garvey and Ms.Lennon decorated the trees in the courtyard ably assisted by some TY students. Also making an appearnce were some beautiful wooden  reindeer, which were designed and created by transition year Art and Technology students. On Thursday 'Storm in a Tea Cup' were invited to visit with ice cream for the whole school. The 6th years were also treated to a 'Koffee Kart' afternoon where they enjoyed some delicious  hot chocolate, coffee and baked treats.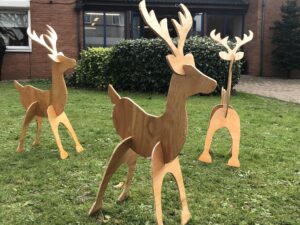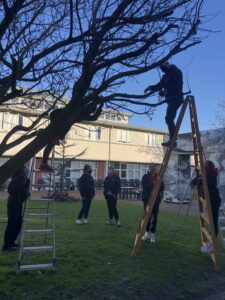 In 2008 the Loreto sisters established a school for girls in South Sudan. Each year Loreto schools throughout Ireland fundraise to support their sister school as they endeavour to educate girls in a country that prior to this did not value the education of  young women. The newsletter in the link below gives us an insight into the incredible work that is carried out daily  in  Loreto Rumbek and how the lives of many girls will change for the better.