Discovering New Horizons
14 October, 2022
Read 383 times
Junior Cycle Geography
On Wednesday 164 third year Geography students set off for two days exploring Co Antrim. Staying in Belfast the girls thoroughly enjoyed the wonders of the Titanic Experience and on Thursday followed in the footsteps of legendary Fionn Mac Cumhail as they explored the Giant's Causeway.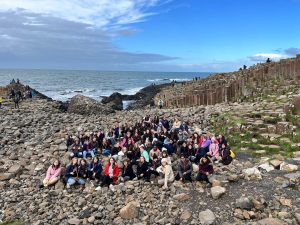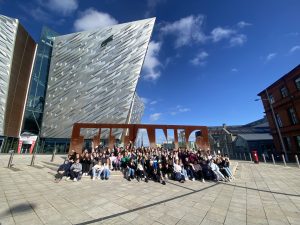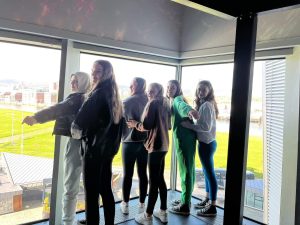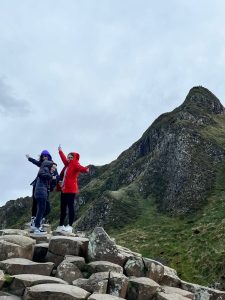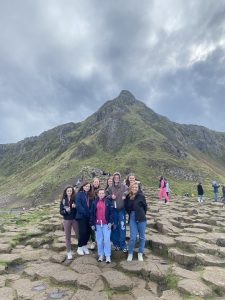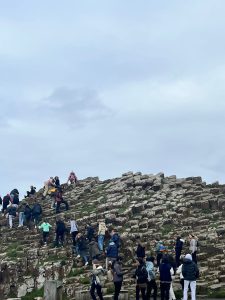 Senior Politics and Society
Senior Politics and Society students were delighted to welcome Regina Doherty, Leader of Seanad Éireann,  to  Loreto Balbriggan today. The students had the opportunity to interview Regina on her career in politics and gain an insight into her views on online activism for their Citizenship.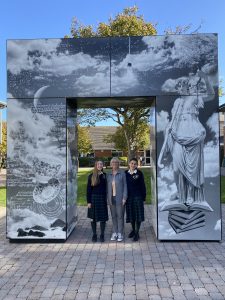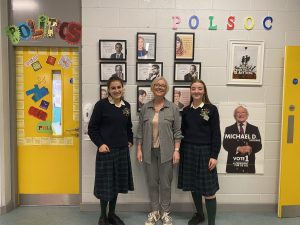 Transition Year News.
Junk Kouture
Loreto Balbriggan has enjoyed a lot of success over the years in the Junk Kouture competition. This week saw the start of the creative process with students busy making manipulations of various items to upcycle and start creating amazing costumes for our Junk Kouture fashion showcase in December. We look forward to seeing the finished pieces.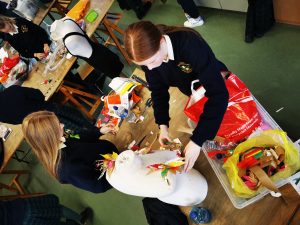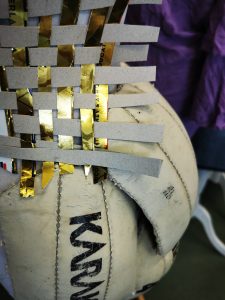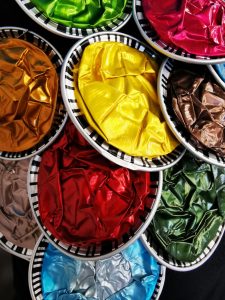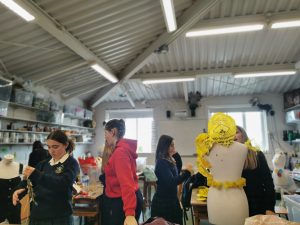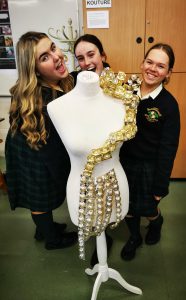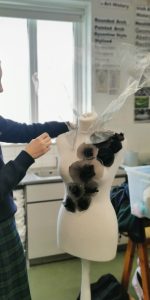 Community Links
4C Community Links class had their final 'Reimagining Elderhood' workshop with Laura and Ciarán from Islander Architects and the gentlemen from Balbriggan 'Men's Shed' on Thursday. It was a great experience for our students who have discussed future-orientated neighbourhoods that foster communities for all ages. The students even explored and proposed inter-relational public seating designs.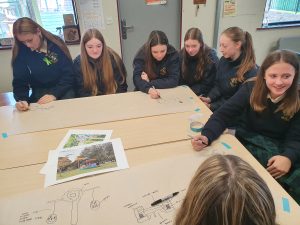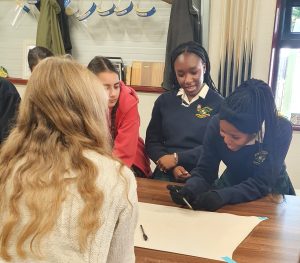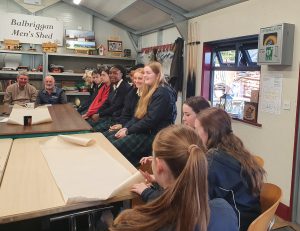 Orienteering
On Tuesday, TY students went to Malahide Castle where they enjoyed an orienteering morning. The students had the opportunity to hone their navigational skills while using a map and compass to navigate from point to point at speed.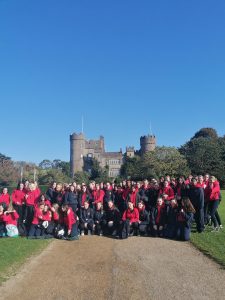 Wellbeing
5th Year 'Run-a-Mile'
5th Year students rose to the challenge on Tuesday  as they took part in our annual 'Run-A-Mile" event. Well done to all participants and to the top three runners, Hannah McGinnis, Daisy Pereira and Grace Anderson. There is a saying  'A Healthy Mind in a Healthy Body'  and it is wonderful to say that many senior students are participating in the couch to 5K initiative in the school with great success.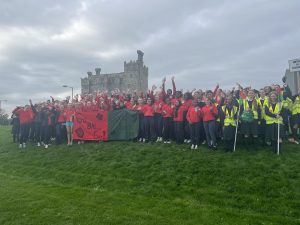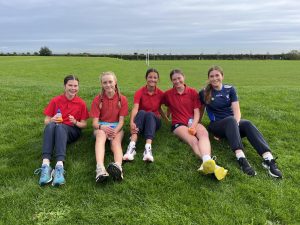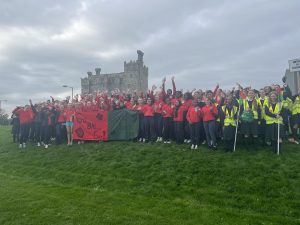 InkTober
All students for the month of October have been encouraged to get creative and produce ink drawings, no matter what their artistic skills are. This week's theme was 'The Moon' we look forward to the next spooky installments over the coming weeks.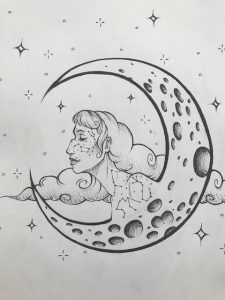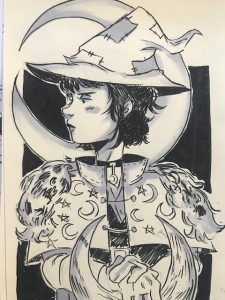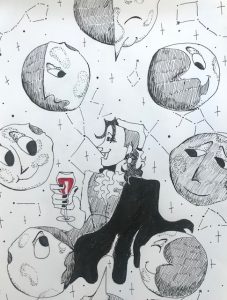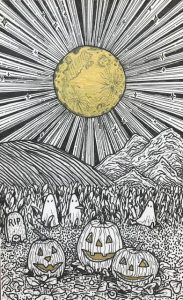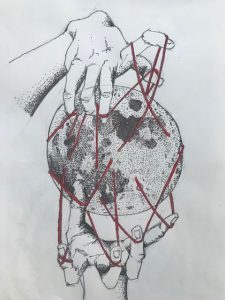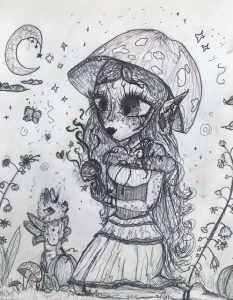 Think Languages Competition
Congratulations to Isobel Murphy in 5th year whose wonderful languages mural design won first prize in the 2021 #Think Languages competition. Isobel's prize was to have her mural painted by professional artist Heather Gray. This detailed and inclusive mural is now proudly displayed in the school courtyard where it can be enjoyed and admired by the whole school community.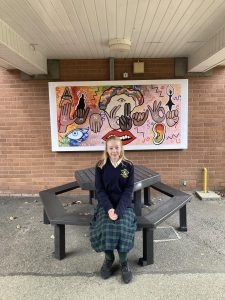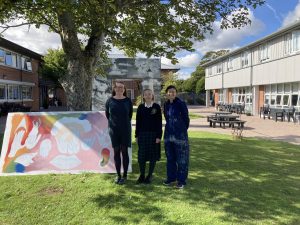 Isobel with  Nellie Tattersall from Languages Connect and artist Heather Gray during the painting process of Isobel's mural.
Student Voice
JPIC Senior Prefects, Eniola Alabi and Isobel Murphy marked the International Day of the Girl 2022 (11th October) with an intercom announcement on this year's theme:
 'Our time is now – our rights, our future'.
The aim of the day was to shine a light on the great work being done to promote girls' empowerment and the fulfillment of their human rights. Moreover, it was to highlight areas where much more needs to be done.  Girls are the worst affected group when it comes to poverty, hunger and even climate change.  Girls around the world also continue to face enormous changes to their education.  Approximately 32 million girls around the world do not go to primary school. Educating girls improves their lives giving them skills, knowledge, agency and opportunities.  But educating girls also improves the lives of everyone in their community. As the saying goes, 'Educate the girl and you educate the village'.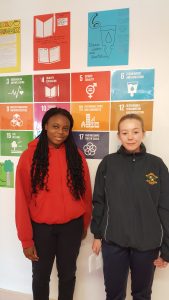 Extracurricular
Sailing.
Well done to Kayla Duggan, Laura O'Brien, Chloé Kelly, Iris Frazer, Sophie Duggan, and Gemma Curran who represented Loreto Balbriggan at the Inter Loreto Sailing Regatta, Pico class in Dún Laoghaire today. All the competitors performed really well and were placed 3rd over all
.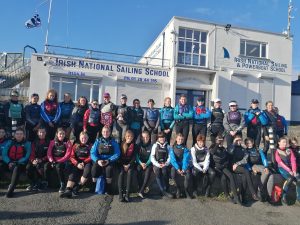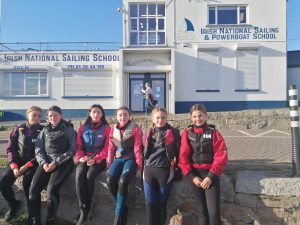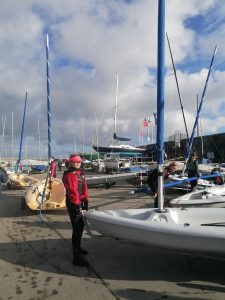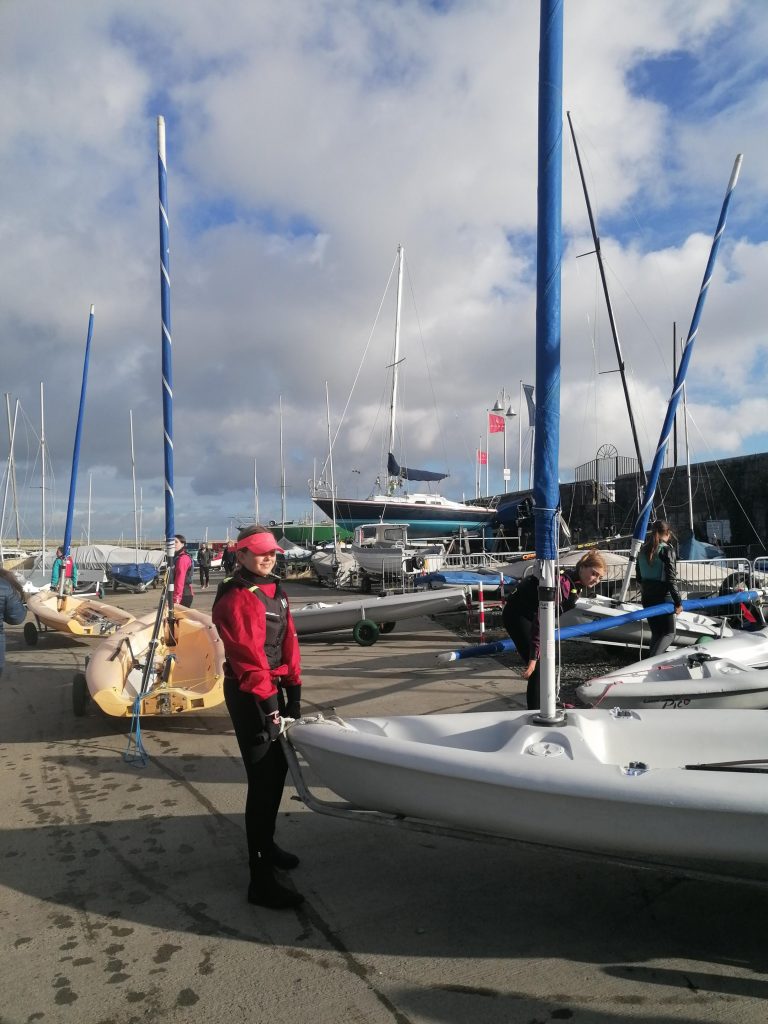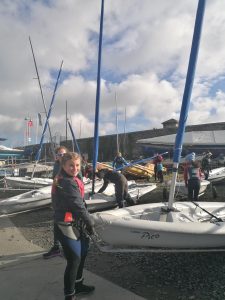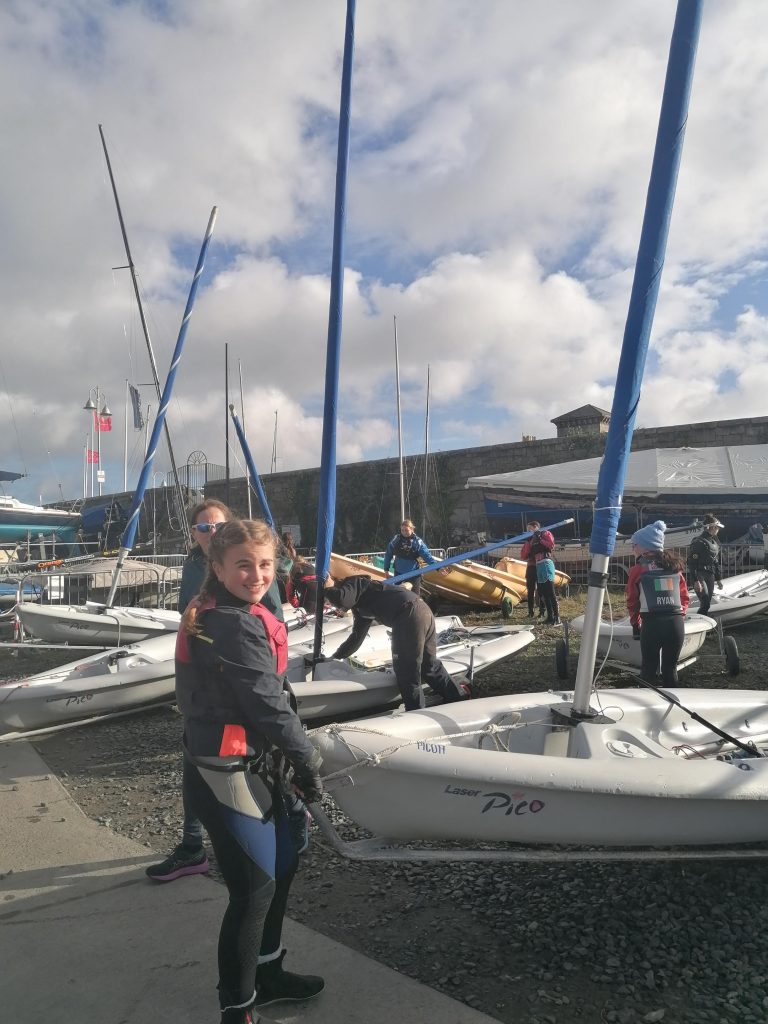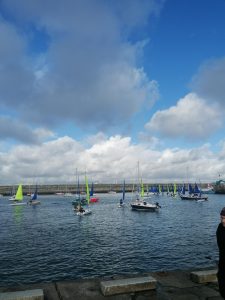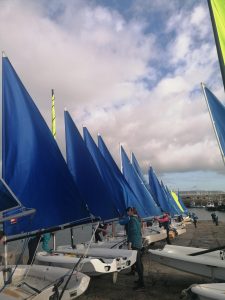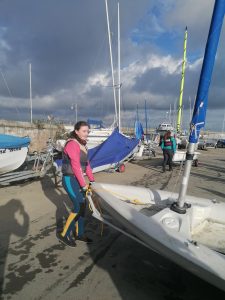 Senior Hockey
Congratulations to our Senior 1A team who began their Leinster 1A campaign with a 4-0 win against Mount Temple. It was a very strong Mount Temple side that had several shots on goal. However, it was Loreto Balbriggan's accuracy and tenacity that triumphed. Well done to our squad of 16 who all played their part in today's win. A special  thanks to Ross from @PortraneHC who gave an excellent halftime chat to help our team be more clinical on the ball.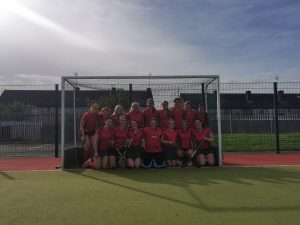 Minor Hockey
Hard luck to our minor hockey team who were narrowly defeated 2-1 by Loreto Beaufort on Thursday.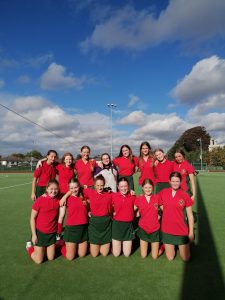 Senior Debating
Congratulations to our senior debaters Lauren and Lucy who participated in and won the Literary and Historical  Senior MACE debates on Saturday in UCD. The girls debated topics such as 'This House Would flip a switch to turn off all emotions'
Well done also to Jessica and Ana Maria who acted as judges on the day and gained some valuable insight into the marking and adjudication process!

Past Pupils.
 It was indeed a great moment for sport in Ireland this week when the women's soccer team qualified for the world cup to be played in Australia in 2023. We are very proud of past pupils Hannah Tobin Jones and Orla Haran who both played their individual roles in the team's success. Hannah is a certified athletic therapist, while Orla is the equipment and kit manager. Both Hannah and Orla have been with the team since
2019. We wish them and the team all the very best for future games.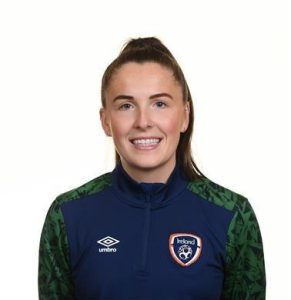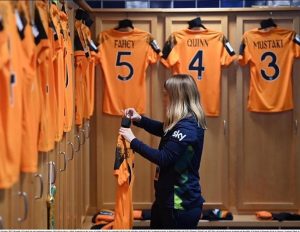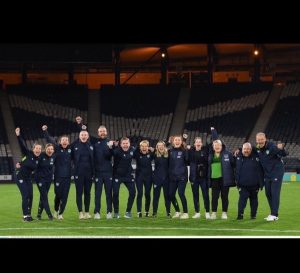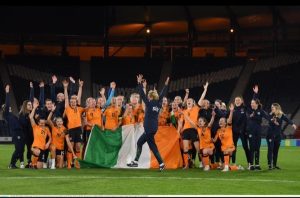 Reminder to parents and guardians that applications are now open for first-year enrolment 2023. Please click on the link below for further information.
https://www.loretobalbriggan.ie/for-parents/admissions/   Please note that applications will close on October 22nd at 4 pm.