Easter
31 March, 2023
Read 376 times
UCD Entrance Scholars
Congratulations to our past pupils, Anna-Maria Albu, Robyn Buckley, Emma Daughton, Bairbre Logue, Doireann McAuley, Lia Mulcahy, Ellie Mulhall Walsh and Ella Walsh, who were recognised as UCD Entrance Scholars at a ceremony in the O Reilly Hall on Thursday last to celebrate this achievement. To be recogognised as a scholar of the university students must obtain 560 points or more in the Leaving Certificate. The school is extremely proud of each of these students.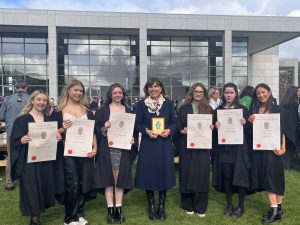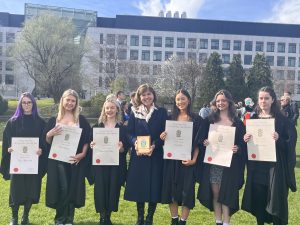 Junior Cycle Home Economics
Congratulations to all 3rd Year Home Economics students who completed their third practical assessment this week with some very creative results.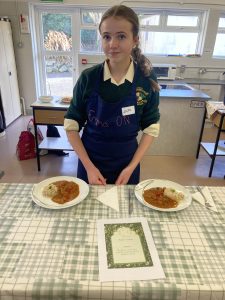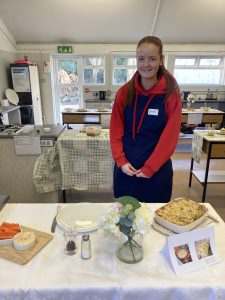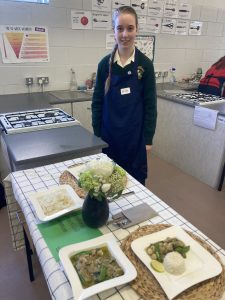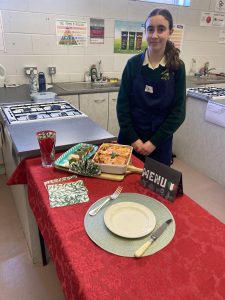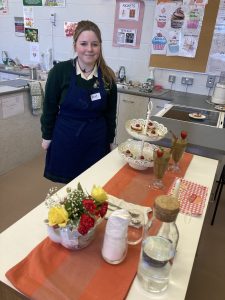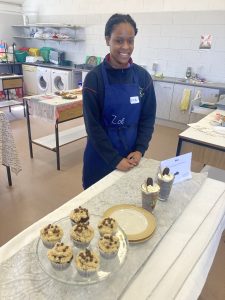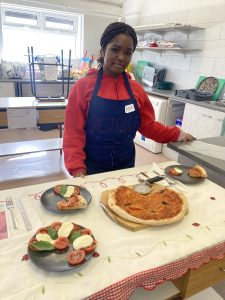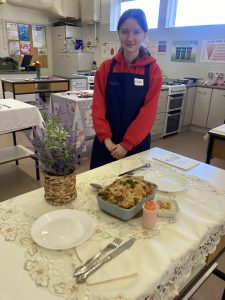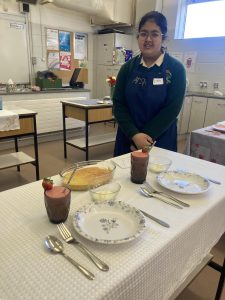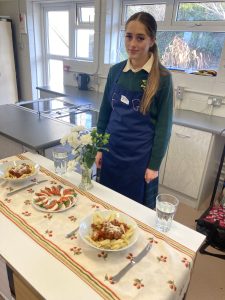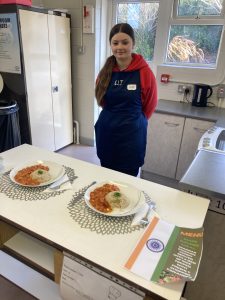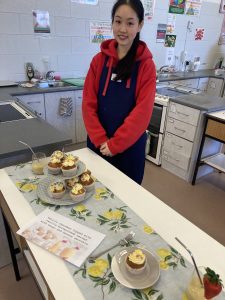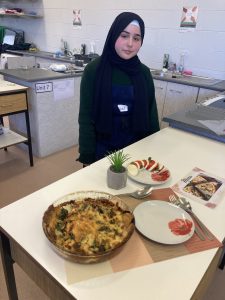 Legally Blonde
On Tuesday, March 28th after months of preparation and rehearsing, it was curtains up for our TY musical 'Legally Blonde'. It truly was a whole year effort with 90 cast members and a further 100 students bringing Harvard Law School to life with their amazing work creating the set, props and costumes. The cast played in front of packed audiences, over six shows. Congratulations to everyone who worked so hard to create such a wonderful spectacle. Special thanks to the team of teachers Ms. Fagan, Ms.Gaughan, Ms. Hunt, Ms. Byrne, Ms. Mulligan, Mr. Kilgarriff, Ms. Russell, Ms. Greham and Ms. Kearns whose expertise and encouragement brought out the very best in all the students.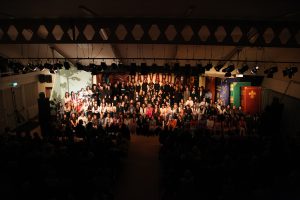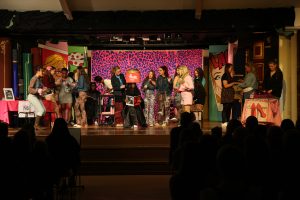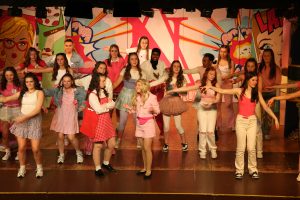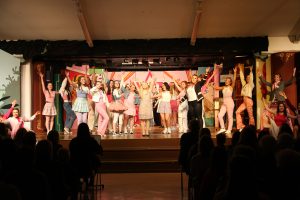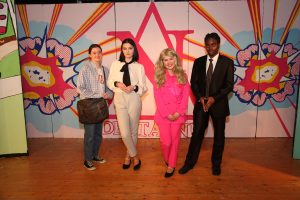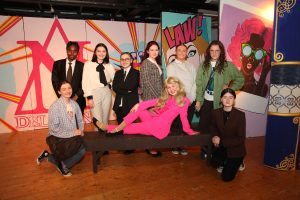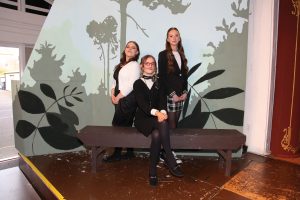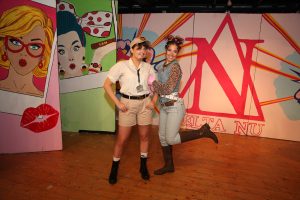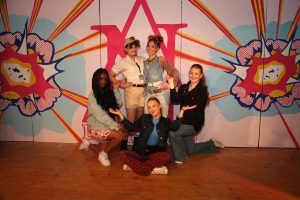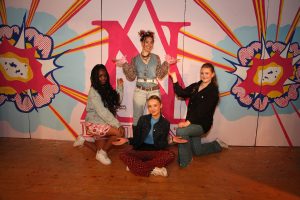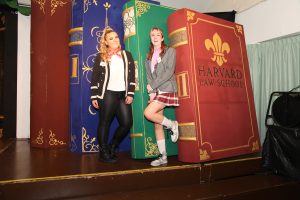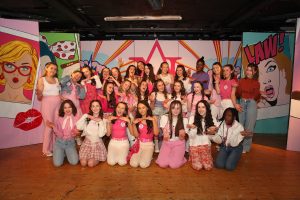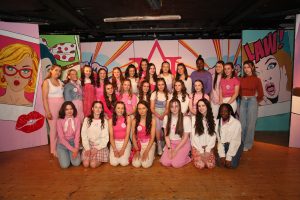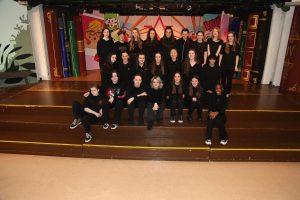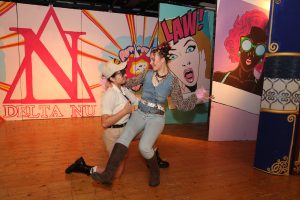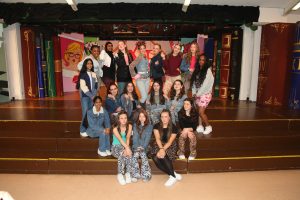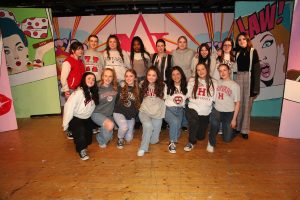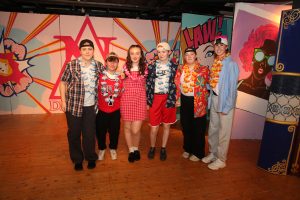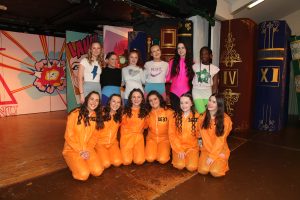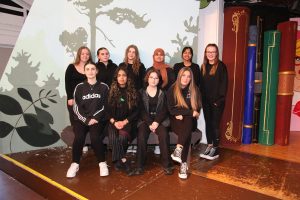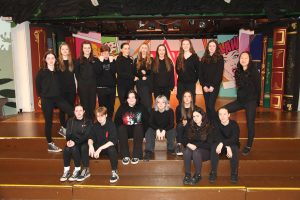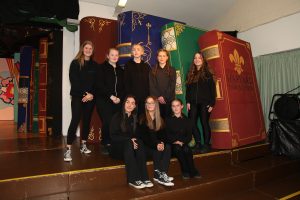 Intercultural Week.
Intercultural Week 2023 began on Monday 27th March bright and early with the Intercultural World Cup, this event happened every morning culminating in the world cup final between Scotland and England on Friday 31st March. Fourteen teams competed and there was such a sense of enjoyment and fun all week. Well done to those students who played and also to the staff members who managed the individual teams. Scotland and England made it through to the finals. After a pulsating 2.2 full-time result, the match went to penalties and England was victorious. Congratulations to Cara Birney, Caoimhe Devane, Grace Miller, Georgia Gibson  Grace O Neill, and Rachel Turner.
The Intercultural students provided lunch for the school on Thursday 30th March. The baked goods from all around the world delighted the students who got a taste of many ancestral delights.
Intercultural Week ended on a very positive and energetic note with the Intercultural fashion show and dance troupe. The very talented students who dressed in their native country's colourful traditional dress walked the catwalk with confidence and pride. They also danced with energy and enthusiasm that left the crowd wanting to take to the floor themselves! Special thanks to our intercultural captains and senior prefects along with Ms.Caffrey, Ms.Ryan and Ms.O'Rourke and Mr. Cox who organised a very enjoyable week.
The whole event was spectacular, we are already looking forward to Intercultural Day 2024.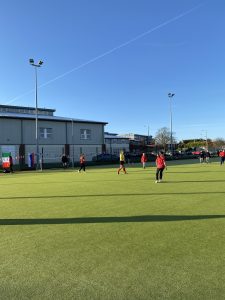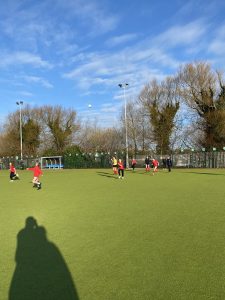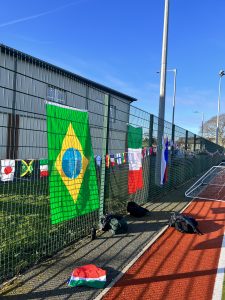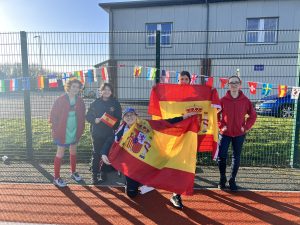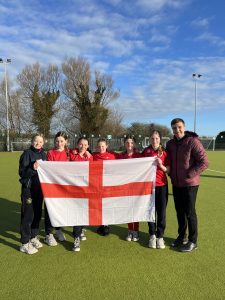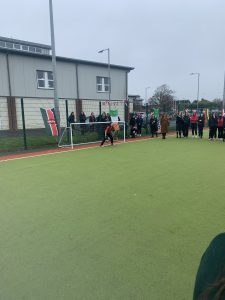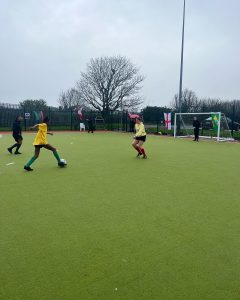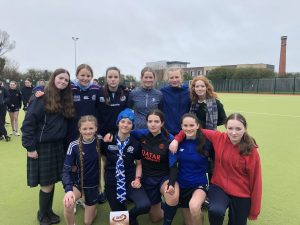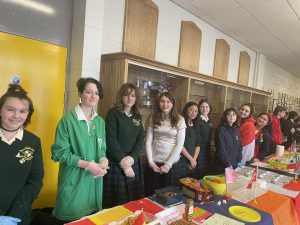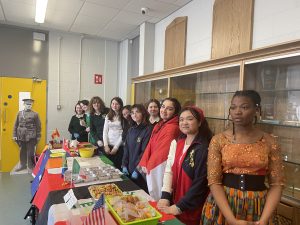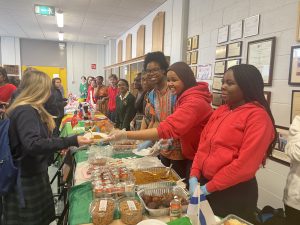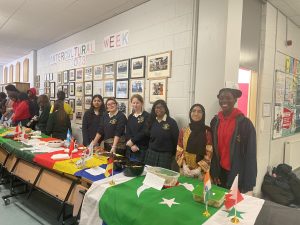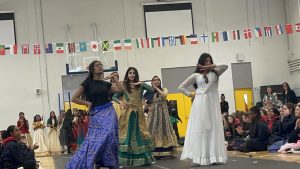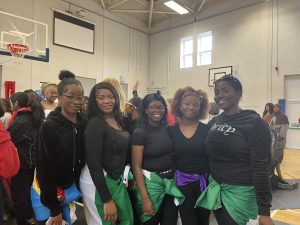 JPIC
On Tuesday, 10 TY students participated in a national conference on issues of social justice. The conference was organised by WWGS (WorldWise Global Schools). The theme of the day was ' Under the Surface'. Topics covered included panel discussions on media literacy, an insightful video on the 'Story of Stuff' and a discussion on Allyism and Activism. Various in-class activities took place including a Kahoot quiz on climate Activism with prizes. It was a very enjoyable and inspiring day.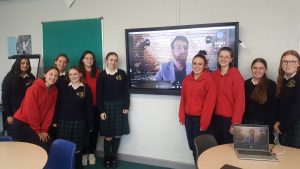 'Our Balbriggan'
Wonderful collaboration and discussions between TY and 5th Year students from the local post-primary schools at the 'Our Balbriggan Loves Learning' event in the Bracken Court Hotel on Thursday.
Students discussed their favourite places in the town and spoke about what they would like to see in the area.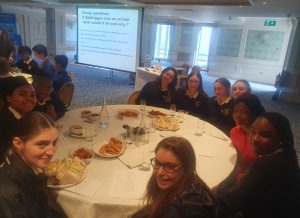 PE Expo
Congratulations to all our TY PE Xpo representatives who presented their projects on Wednesday in DCU. The students have spent the last number of weeks perfecting their projects and all their hard work certainly paid off Congratulations to the following students: Aggie Vergani, Eldine Nkumu , and Anastasia Syrbu who presented in  The Power of Sport category. Ali Donohue, Aoibh Doyle, Kari McPhail, and Anna Livesey who presented in the Sport Psychology category, Siofra Maynes, Aoibhin Moynihan, and Anna Kilbride in the Sports Psychology category   Isabelle Coogan, Jessica Coogan, and Hilary Gargan in the Wellbeing category.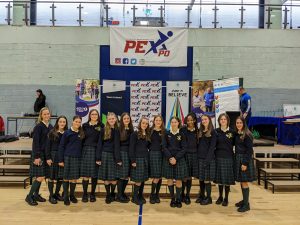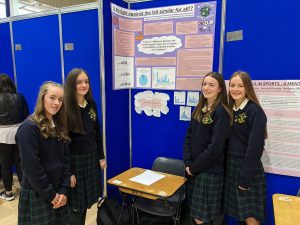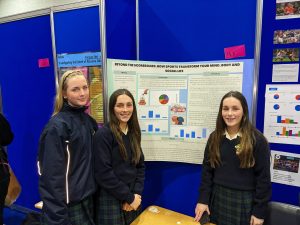 Wellbeing
This week 1A had a poster competition, where students designed posters of letters to their past selves, giving advice that any incoming first year might need to know. Thanks to their senior prefects, Abi and Loren, for judging the competition.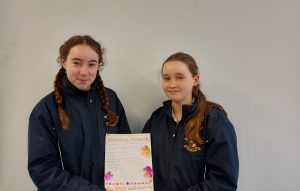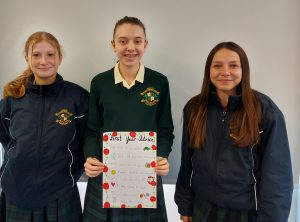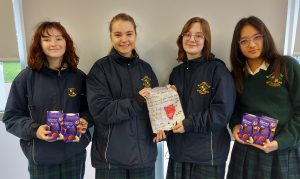 Extracurricular
Art
Congratulations to TY students Alexandra Smyth and Jessica Chen who have been placed in the top ten in a competition organised by the Munster Technological University. Each student had to reimagine a marine vessel to make it more sustainable. There were over 200 entries from 51 schools.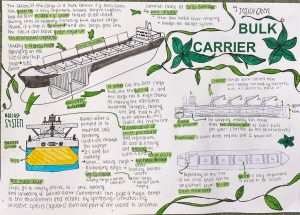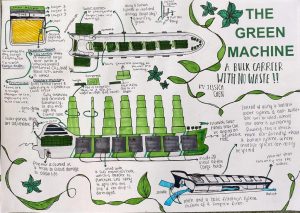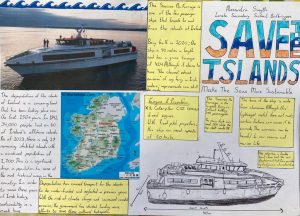 Hockey
The final games of the hockey season concluded on Wednesday with the 1st year players narrowly beaten in a great match. There has been some brilliant hockey played throughout the season. There is a bright future ahead for the 1st years!
Congratulations to the Senior B team also showed great passion and enthusiasm to win the Northside League with a golden goal in added time.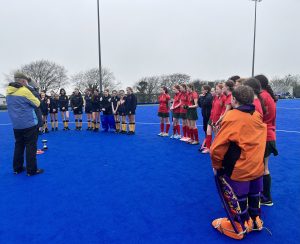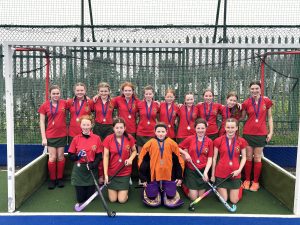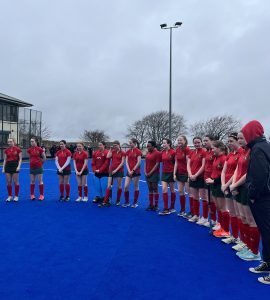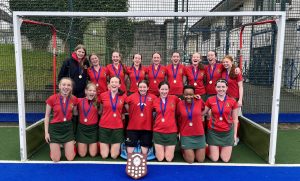 Soccer
Congratulations to 1st year  Caoimhe Devane and her Stella Maris soccer team who were invited to train with ROI Women's International Áine O'Gorman to promote the AVIVA Soccer Sisters – a programme aimed to increase the number of girls playing soccer.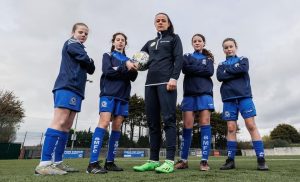 Volleyball
On Thursday our senior Volleyball team played a friendly tournament against Loreto Swords. The girls had a great time with a few wins along the way!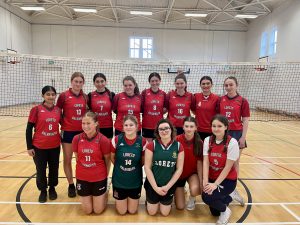 On Sunday, April 8th,  we celebrate Easter, the principal festival of the Christian church. It is a time when we commemorate the resurrection of Jesus Christ three days after his crucifixion.  For many, it is a joyful end to the Lenten season of fasting and reflection. The school will close for Easter on Friday, March 31st at 4 pm and reopen on Monday, April 17th at 9.10 am.