February 14th
14 February, 2020
Read 2057 times
This year we are delighted to have 10 fantastic costumes representing Loreto Balbriggan in the Junk Kouture Eastern Regional Heats in The Helix, Dublin.  This will take place on Monday 2nd March and will be a wonderful opportunity for the students to show off their creative prowess once again. These costumes are the culmination of many hours of creative work where an initial idea is taken through a process of experimentation, development and problem solving before it takes on its final form.  A selection of 80 costumes from each regional final will then go on to compete in the Grand Final which will be held in The 3 Arena on Thursday 30th April 2020.  We would like to take this opportunity to wish all the students involved in the modelling and creation of these costumes the very best of luck. We also have the video of our own Junk Kouture 'Showcase Night' for you to view and experience again the array of wonderful costumes that this year's Transition Year students created.
Mock Exams concluded this week for 3rd and 6th year students.
TY students completed their final week of work experience
5th year students will leave on Saturday 15th to New Hampshire on the annual ski trip.
5th year attended a Wellbeing Assembly on Thursday. Afterwards the girls enjoyed a cup of tea and a chat.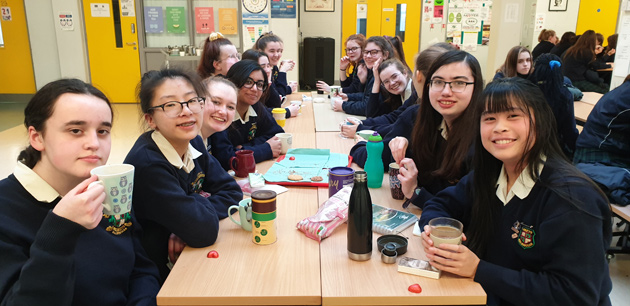 The 5th Year parent teacher meeting will take place on Tuesday, February 25th, 4.15-6.45pm. Students will finish classes at 3.45pm.
The school will be closed for midterm break from Monday 17th – Friday 21st and will reopen on Monday 24th at 9.10am.