First Year Prize-giving
19 May, 2023
Read 263 times
Academic Achievement Award.
It is very important for us to acknowledge academic achievement in school, as it is the essence of our day to day work. This award acknowledges academic excellence and recognises those students who have excelled in their subject area. On Friday a number of students from each subject area were awarded an academic award. In addition, a certificate of outstanding academic excellence was awarded to those students who have won more than two individual subject awards.
Outstanding Academic Award
Niamh Dillon English, History, Geography
Oliwia Jedrasik English, Technology
Freya Flavin Anderssen Science, French, Maths
Sophia Falco History, French
Julia Kisiel Science, Art
Abbie Tierney Music, German
Caoimhe McCarthy Home Economics, Science.
Academic Award.
English: Sadbh Finegan
Maths: Maria Kozak , Maiya Maguire
Geography: Sienna Drumm, Eilis Florita
Art: Ellie Dempsey
Business: Emer O'Leary, Agata Dziuzanska
Spanish:Erin Amparo,Lucia Killoran
Home Economics: Evelyn Varghese, Anna Ledwith
Technology: Jalwa Akbar
Academic Endeavour
This award celebrates and recognises the commitment and hard work of a particular student in your class. This student has demonstrated a positive attitude and displayed an excellent work ethic. This student has worked to the best of their ability and is very much a positive force within the class.
Students who have received outstanding endeavour in more than one subject-
Rida Al Zahraa Ebrahim Technology: Maths
Emer O'Connor CSPE, Home Economics, Maths
Holly Fitzgerald: History, Maths
Aoife Bolger:Maths, English
Neena Samuel: English, SPHE, CSPE
Ziggy Lovemore: English, Irish, PE, SPHE
Hannah Buckley: Geography, Irish
Brooke Redmond: Irish, History, Geography
Nadia Kucherova : CSPE, History
Maeve Lavin: Geography, PE
Annelise Farrelly: Home Economics, Geography
Deborah Odunlade: CSPE, Science
Abigail Leonard Home Economics, Religion
Shona McCann Home Economics, Religion
Orlaith Ferguson CSPE, Home Economics
Emily White CSPE, Music
Lauren Beattie Home Economics, Geography
Abbie Tierney English, Irish
Freya Flavin: Anderssen English, PE, Business
Oliwia Jedrasik :Geography, Science
Sophia Falco: Science, Irish and PE
Lucia Killoran: Religion, Science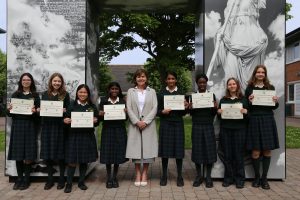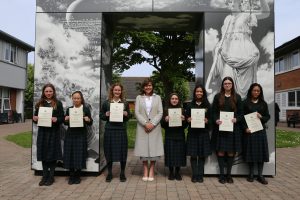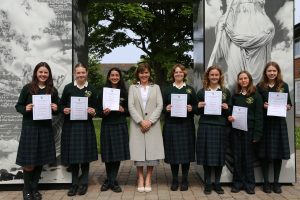 Sports Awards
This has been a really successful year in the sporting life of Loreto, Balbriggan. Many of our teams played at the highest levels and we reached many finals. A very large number of students have participated in a wide variety of sports. Many thanks to all the teachers and student coaches for the time and commitment that they gave to their teams.
Congratulations to our U- 14 Gaelic and soccer teams who qualified for their respective Leinster Finals. Congratulations also to our first year hockey team who play for the first time in the Premier League with great success and to our first year basketball team who won the Loreto League.
The following students were awarded for their commitment and hard work throughout the year.
Athletics: Anna Ledwith
Basketball: Niamh Dillon
Camogie: Caoimhe Bissett
Gaelic Football: Heidi Macken
Hockey: Gabrielle Gallagher, Lucia Killoran
Soccer: Caoimhe Devane
Equestrian: Emily White
Golf: Freya Carrick