High expectations
4 February, 2022
Read 516 times
Mock Exams
Sixth year students will commence their mock exams on Monday 7th February and will continue until Friday 18th February inclusive.
Transition Year News.
Work Experience
The first week of TY Work Experience 2022 began this week and will run to 18th February. This year, TY students will participate in a combination of – Work placements on site of business of Employers / Working from home for Employers / Charity and Non-profit organisations / Career related Online training Courses and our own TY Alternative Work Experience Programme for each week.
Alternative Work Experience Content will include Work Experience Related Skills, Courses and Workshops such as: Time management / HSA Safety in the Workplace Courses / Career Investigations (Public Jobs) / Touch Typing Course / Skills Summary Certified Courses plus many more. It will also involve personal challenges and physical (GAISCE coursework) and recreational activities.
All TY students will create a Google Sites e-portfolio to record their experiences and achievements. Students are excited for work placement opportunities and we are already getting very positive feedback from Employers about many students for their first week.
Road Safety Module
Well done to transition year students who made this video as part of their road safety module to highlight the correct use of seatbelts!
Wellbeing
Last week saw the latest installation of art, our new wellbeing 'Wordle' in the school. Loreto Balbriggan was delighted to be involved with the initiative to help promote wellbeing . Eight schools in the Dublin region participated and our students were surveyed and made suggestions that led to the development of the wordle. It is a beautiful addition to Gracefild House and has been warmly welcomed by staff and students alike.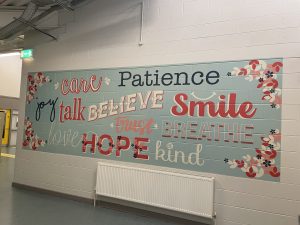 Extra-Curricular Sport
Camogie All Ireland Quarter Final.
Congratulations to our Junior B camogie team who played against St Kilian's College, in the all Ireland Quarter Finals of the league on Wednesday. The match was played in Cushindun, Co Antrim. Commiserations to our valiant team who gave their utmost and who were so gracious in defeat. We would like to wish St Kilian's all the very best as they progress in the competition.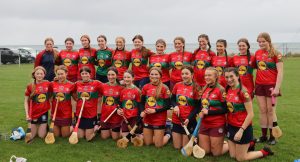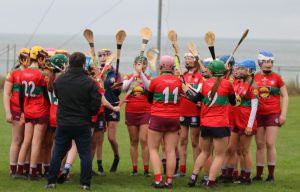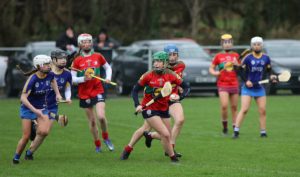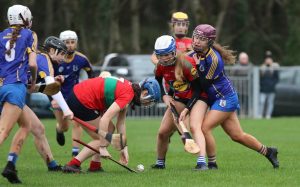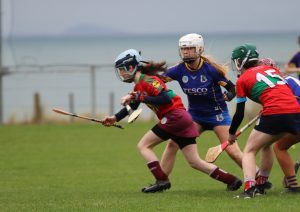 Athletics
On Friday 28th January 17 students travelled to the Phoenix Park to compete in the North Leinster Cross Country competition on Friday 28th January.Congratulations to 6th year student Heather McGloughlin who has qualified to represent the school in the Leinster schools cross country competition.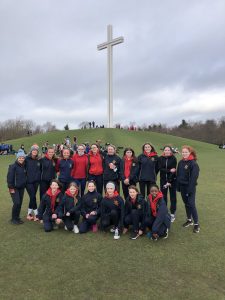 Basketball
Our minor basketball team had a very successful week winning both their matches. The team who won against Loreto Bray after a very tough game, the end result was 28-26. x They were also victorious against  Gaelcholáiste Reachrann winning 24-14  the Juniors won 30-20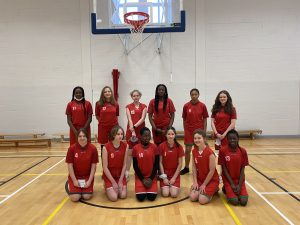 The Junior team also played this week against  Gaelcholáiste Reachrann also won 30-20. Well done to all the players. Maith Sibh!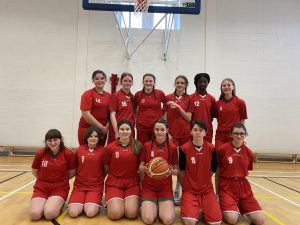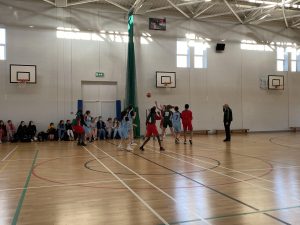 Soccer
Well done to the 1st Year soccer team who won their first game 4-1, on Tuesday against St. Olivers Drogheda.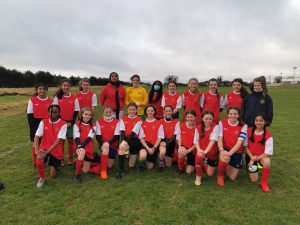 Senior Hockey
Congrats to our Senior A Team  who have qualified for the Leinster League 1A Semi-final against Mount sackville.
6th Year County Honours
Congratulations to Megan McAuley and  Robyn Buckley have both been called up to join their county teams in Gaelic and  Camogie. Megan has been selected to join the Dublin Minors Gaelic squad while Robyn will join the Dublin Seniors Camogie squad. It is a great honour to be selected to play for your county. We are very proud of the girls' achievement and wish them well all the very best for the future.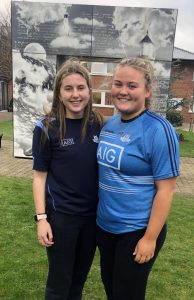 Song Writer of the Future
Congratulations to Kasia Emeh 6D who recently won a songwriting competition that was run by the  Institute of Art, Design and Technology (IADT).  Kasia won time in a recording studio to record and produce her song as her prize.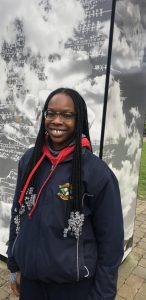 Lá Fhéile Bríde.
Students enjoyed making St Brigid crosses on Tuesday February 1st to celebrate the feast day of St Brigid, marking the end of Winter and the arrival of Spring.