In Grateful Appreciation
21 December, 2021
Read 1029 times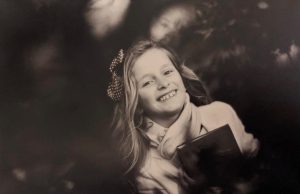 The family of the late Rafaella Sofia Costin, Park Way Grange Rath, who passed away suddenly on 5th December 2021, would like to express our sincere thanks and appreciation to all those who sympathised with us on this devastating loss and to acknowledge the many expressions of condolence shown to us. We greatly appreciate the many phone calls, messages, mass cards, letters, flowers, condolences on rip.ie etc…
We wish to thank Father Mladen for a beautiful service, Ms Angie Flynn and Ms Katherine Kearns for the lovely music at the reposing and every single friend, student, teacher, coach, water polo player and swim club member that attended the guard of honour. Thank you to our neighbours and friends for showing us so much love and support in these weeks.
We would also like to express our heartfelt thanks to all those who came out to show their respect and sympathy at both the reposing and the funeral. It is clear that Rafaella touched the hearts of many, many people during her short but significant 13 years with us.
As it is impossible to thank everybody individually, please accept this acknowledgement as an expression of our heartfelt appreciation.
"Perhaps, they are not stars in the sky,
but rather openings where our loved ones,
shine down to let us know,
that they are happy
When you look into the sky tonight look for the brightest star, as there isn't a star that would shine as brightly as her".
– as written so beautifully by Loreto Balbriggan newspaper, that Rafaella herself wrote for.
We ask everyone that knew our angel, to forever remember her. To remember her contagious smile, charisma and kindness. Keep her alive in everything you do and remember she is with you. When you swim, when you read, when you paint, when you write, when you learn, when you laugh. Be as kind and as generous to each other as she always was. Talk about her and share with others everything you loved about her. Tell those that never had the opportunity to meet her, how truly amazing she was. We will follow her footsteps and live life with the love that she did herself. This is how we will keep her legacy alive for the rest of our days.