January 15th
15 January, 2021
Read 519 times
As the end of the first week of the latest school closure comes to a close we would like to commend all students on engaging with their teachers in all their classes as they adjust, once again to online learning.
However,  school is about more than just academic subjects. Here in Loreto, our holistic approach to education provides support that looks at the whole person not just their academic needs but also their physical, emotional, social and spiritual wellbeing. We have always had a strong sense of community in the school and it is our priority that the school community stays connected to each other, albeit virtually. Therefore, the school has put in place various measures to support students' wellbeing.
The Religion, PE, SPHE, SEN and Careers departments have worked collaboratively to provide various classes that will support students' wellbeing. Classes will focus on positive mental wellbeing, coping with online learning and the importance of physical activity. There will be an opportunity for students to regularly check in with their teachers where they can chat and practise techniques to destress. Wellbeing resources will also be provided to all students in their Google classrooms each week. 6th year students can also avail of one to one careers meetings either virtually or via telephone.
During this week full year group assemblies were held for 6th, 5th and 3rd Year groups. The theme was that of 'Hope' The remaining year groups will have an assembly next week. The students' year heads spoke about the importance of maintaining good routines, staying in contact with the school. Students were also reminded about being mindful and aware of what is within their own control to enable them to develop and grow over lockdown.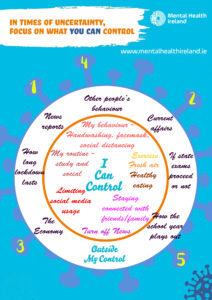 In this time of uncertainty, it is important to have hope. When we are faced with challenges we have to try and keep hope alive in our hearts and minds. The following words from the new Archbishop of Dublin, Dermot Farrell helps us to pause and reflect.