January 25th
25 January, 2020
Read 1623 times
Mock Exams will begin for 6th Years on Friday 31st January and for 3rd Years on Monday 3rd February. The exams will continue until February 14th. Students are advised to check their timetablewhich is available on the website and around the school.
Congratulations to all our TY students who received their Junior Cycle Profile of Achievement on Thursday. We were delighted to welcome back past pupil Róisín Doyle-Bakare, as guest speaker, who inspired the girls with her speech on academic achievement and its place in learning for life.
All TY students were busy this week as they prepared to go on work experience starting next Monday, January 27th and finishing on Friday February 14th. The students will be in a variety of work settings from primary schools, to law firms along with a myriad of other locations. We wish them well as they embark on a journey which may guide them to their future careers.
Niamh Ward-O'Brien and Doireann Comiskey have qualified for Round 3 of the prestigious Leinster Schools Debating competition organised by debating societies in Trinity and UCD.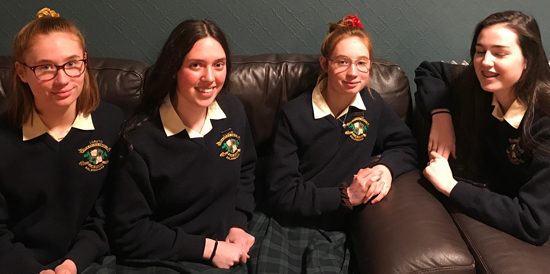 On Tuesday a team of TY students participated in the Green Schools Ireland Water Ambassador program. The girls visited a Water Treatment Plant and also participated in a beach clean-up.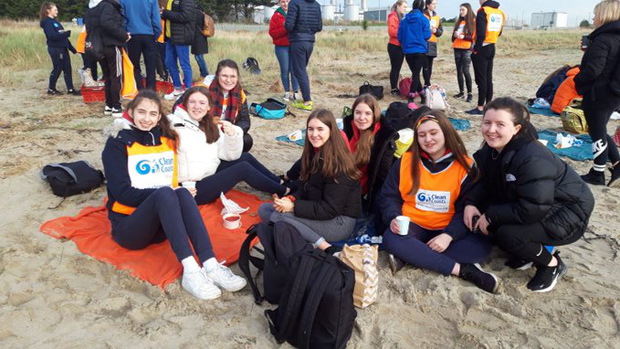 On Tuesday 4G were invited to participate in a Fingal County Council EU URBACT Network event. A delegation from Portugal attended the event to learn about Balbriggan's local economy, community groups and initiatives. Along with business owners and council members, our Transition Year students had the privilege of attending this event and having their voices heard. The girls were asked a variety of questions about the local amenities and supports. They were highly commended on their honest and informative responses that will help in the 5year development plan for the future of Balbriggan.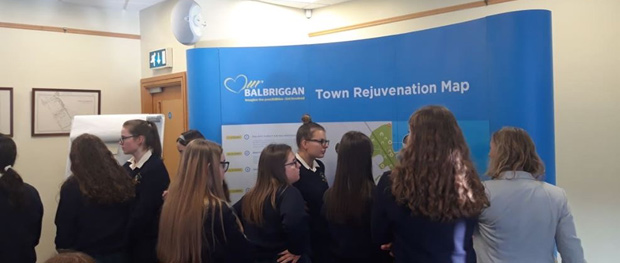 Congratulations to 3rd year student Adrianna Ciot and 2nd year students Sophia Foley and Roisin McCormack who represented the school in the Octo-Finals of the UCD Junior Schools debating Competition on Thursday evening. The girls debated to a very high standard on the motion "This House regrets the rise of volunteerism".
Ms. Gaughan's 2nd Year English class enjoyed a fantastic creative writing workshop on Thursday. The girls worked with the team from the renowned ' Fighting  Words', founded by  writer Roddy Doyle. The girls created wonderful stories on the day, surprising themselves with the emergence of their imaginative and creative flair. The students developed their skills in team work, oral expression and narrative expression in a fun, inclusive and welcoming environment. We may just have unearthed some budding novelists of the future.
• Commiserations to our valiant U16 GAA team who were defeated by Kilcullen in the Leinster Final. The final score was 3:12 to 1:15.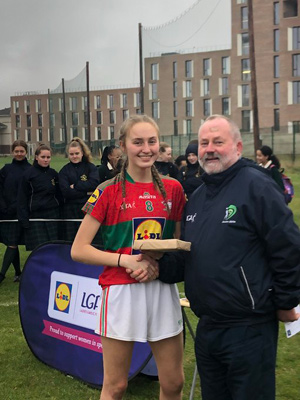 • This week the whole school embraced 'Healthy Living Week'. Each day this week students went back to their early years by playing school yard games such as Hoola Hoops, Skipping and Hop Scotch during their lunchtimes.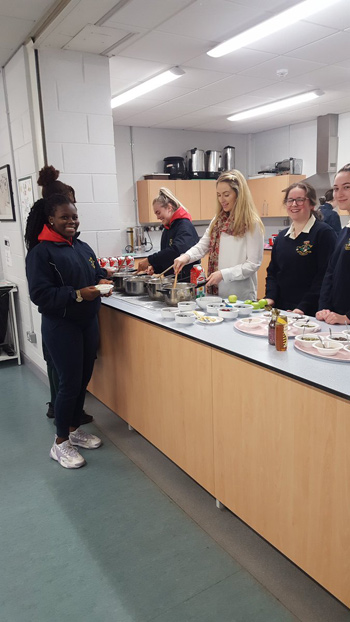 On Friday it was 'Bring a Bowl for Breakfast' morning. Students availed of a tasty healthy breakfast of porridge, topped with berries, seeds nuts and fruit. Many thanks to Supervalu who sponsored the event. The staff also participated in 'Healthy Living Week' taking part in a step challenge. The aim was to surpass last year's target of 1,000,000 steps…. the final number achieved was 3,511,959 with the Science Department taking 1st place.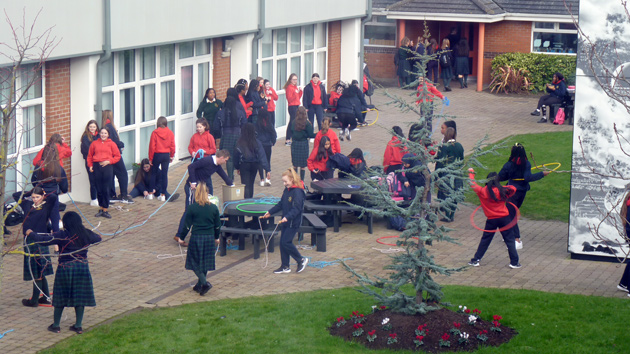 Venerable Mary Ward
This week we celebrated the birth of our foundress Venerable Mary Ward. Mary Ward is an inspiration in today's society because of her incredible courage and passionate belief in justice, fairness and truth. Even though at times Mary Ward struggled greatly she never lost her vision or compassion for others.What is unique about a Mary Ward school is that Loreto students have been inspired by the way Mary Ward went about her business of living in a world that is so often unjust, dishonest and unfair. She felt deeply about these things and then, in her own way, challenged, fought and kept her vision alive.
To celebrate Mary Ward Week and Catholic Schools Week we will had daily thoughts for the day and themed assemblies for 4th and 1st years. There were be lessons focused on Mary Ward's values and life.