Junior Prize Giving
25 May, 2023
Read 78 times
Junior prizegiving was held on Wednesday. Prizegiving has been an integral part of our school calendar since the establishment of the school in 1857 and this whole school occasion provides an opportunity for the school to recognise both the academic and extracurricular efforts and achievements of students.
3rd Year Mary Ward Award: Aisling Davey.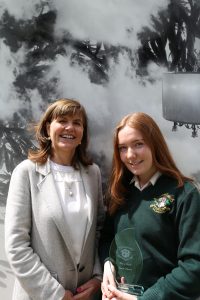 3rd Year Sports Person: Emer Fanning.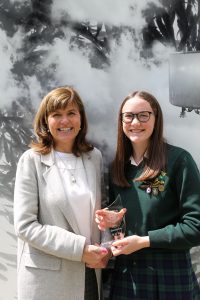 2nd Year Spirit Award: Muireann Bagley.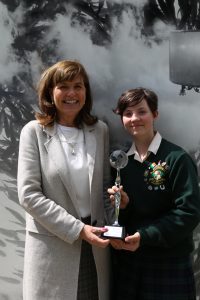 Academic Achievement Award.
It is very important for us to acknowledge academic achievement in school, as it is the essence of our day to day work. This award acknowledges academic excellence and recognises those students who have excelled in their subject area. On Wednesday a number of students from each subject area were awarded an academic award. In addition, a certificate of outstanding academic excellence was awarded to those students who have won more than two individual subject awards.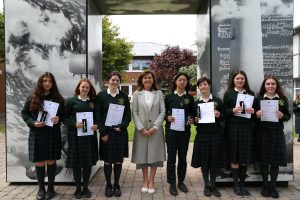 2nd Year Outstanding Academic Excellence Awards
Unain Browne-Donnan: Irish, English, History, Business
Katie Mallon: Irish, German
Jayla Farrel:l English, German
Aoibheann Prendergast:English, Home Economics
Aoife Zhang: Maths, Music, Science
Muireann Bagley: Geography, Business, French, Science, Technology
Katie Bryans: French, Home Economics
2nd Year Academic Excellence Awards
Irish: Olivia O'Sullivan
Mathsv Marie Claire Delaney, Emma Kearney
Historyv Nikola Bodrova, Grace Allen
Geography: Olwyn McCabe, Hannah Nearing
Business: Aisling Murphy
French: Aisling Ni Aonghusa, Emma Tusamba
Home Economics: Becca Sheahan
Science: Chloe Ricart.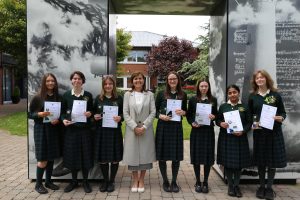 3rd Year Outstanding Academic Excellence Awards
Aoife Boylan: Irish, Maths, Business, French, Home Economics, Science
Cara McDonagh Irish, English, Business & German
Olivia Ennis:Irish, Home Economics
Cara Mullen: English, Maths, Geography, Technology
Emer Fanning: English, History
Juwarai Baquer: History, Geography, Business.
3rd  Year Academic Awards
Maths: Emma Dowling
History: Julia White
Geography: Natalia Brys
Art : Ashleigh Harrison Kacy Ebbs Julia Gwizdala Miszewska
French: Paige Walsh Larkin Amelie Dubos Yusra Madane
Home Economics: Reethekka Koodalinjan
Music: Ella Finnegan
Science: Victoria Gluszkievicz, Tara Hickey.
Academic Endeavour
This award celebrates and recognises the commitment and hard work of a particular student in your class. This student has demonstrated a positive attitude and displayed an excellent work ethic. This student has worked to the best of their ability and is very much a positive force in the class.
2nd Year students who have received outstanding endeavour award in more than one subject.
Sophie Skilling: Maths, English, Religion
Delmia Deleep: Geography, Maths, French, Science
Anu Olubajo: P.E., Science
Lily Byrnev P.E., Maths, Geography
Faith Moriarty:Technology, English, German
Sarah Farrell: English, Irish
Aoife Alagba: Irish, Home Economics
Ena O'Connor: Irish, Home Economics
Sinead Van Den Berg: Irish, Business, Home Economics
Yumna Iqbalc Geography, Religion
Hannah Dziuzanskav:Religion, CSPE, Business
Rebecca Pop Buia :Home Economics, Religion
Claire Heffernan: PE, History, German
Mya Lynch: Science, SPHE
Whitney Ebelegbe: CSPE, Science
Julia Bueck :Art, CSPE
Nimo Saleeiman: Geography, CSPE
Lucy O'Brien: Geography, CSPE
Daniella Gomina: Science, History
Lauren Rafferty: Art, Home Economics
Aisling Murphy: PE, Maths
Jayla Farrell:Religion, SPHE, CSPE
Katie Byrans: History, PE
Isabel O'De: Maths, P.E.
Akshi Singh: History, French
Kate Munro: Irish, Science.
2nd Year Individual Endeavour Awards
Maths: Lily Byrne, Anna Watters
English: Alicja Wyrzykowska-Curran, Julianne Diskin, Olivia O'Sullivan, Niamh Culleton, Olga Medina Laguna, Aoife Zhang,
Irish: Alisia Tshuman, Maria McGuinness, Iris Frazer, Muireann Bagley
Religion: Shanzay Amir, Pascale Morgan, Hanna Dziuzanska, Sarah Pop Buia,
P.E.: Leah Brennan, Phoebe Macken,
SPHE: Kamanpreet Singh, Joanne Alaba, Eabha Reilly,
CSPE: Emer Dawson, Eibhin Colman
History: Raina McFadden, Hazel Larkin, Sophie Malone, Maya Ojikutu,
Geography: Faye Hardy, Chloe Kelly, Sumeia Lloyd
Art: Eve Callaghan Kelly
Business: Ilaria Hatch, Chloe Ricart, Olwyn McCabe, Grace Nicholson,
French: Chiamaka Uchegbu, Sophie Dunleavy, Meabh Lee
Home Econ: Rebecca Pop Buia, Manaal Garana, Aine Alagba, Abbie Leonard, Hollie Leech, Danielle Eugene
Music: Carla Vergani
Science: Pulari Saji, Lucy Loughrey-Grant Rogers,
Technology: Ella Nicholson.
3rd  Year students who have received outstanding endeavour award in more than one subject.
Ana Negry Mcgrath: English, PE, History
Lacy Bent:Science, English
Caitlin Clarke: German, English
Melinda Dakurrah: English, Religion, Science
Elle Roche Hardy: English, History
Cera Shinto : Irish, Science
Kate Hussey: Science, Maths, Irish
Amy McGuirk: Irish, Religion, PE
Mia Lambert: Maths, Art
Jorja Halliganv SPHE, Maths
Tess Doherty: Religion, CSPE, SPHE, Geography, French
Ava McDonnell: Art, Religion
Aoife Curley: PE, Business, German
Emily Darcy: Science, PE
Darcy Wright: CSPE, SPHE
Toni Noble: Geography, CSPE, SPHE
Hailey Lyons: Home Economics, History
Elyse Jones: PE, Geography
Sofia Gilewska Maldonado: Geography, Technology
Rachel Kennedy: Maths, History, Music
Jill Flynn: Home Economics, Business
Julia White: Home Economics, Maths
Cara McDonough: Maths, German, SPHE, CSPE
Emma Dowling: PE, SPHE, CSPE, Business.
3rd Year Individual Endeavour Awards.
English: Hana Murphy, Jessica Barugh
Irish: Ava Harte, Evelyn O'Leary, Emma Grant, Ava Morrissey
Maths: Amy Rose Lynam, Ally Bell,
Religion: Heather Dredge, Naoise Delves
CSPE: Ciara Byrne
History: Aoibheann Hegarty, Caoimhe O'Brien
Art: Bronagh McCormack, Ruby Rose Carberry
Music: Laoise Hodnett
French: Kate Brennan, Sailha Iqbal, Amelie Dubos, Paige Walsh Larkin
German: Anneliese Clarke, Neha Maria Lins,
Home Economics: Sophia Maguire
Science: Chloe McDonald, Megan Nolan, Arsh Hasan
Technology: Mayum Imaan
Sports
This has been a really successful year in the sporting life of Loreto, Balbriggan. Many of our teams played at the highest levels and we reached many finals. A very large number of students have participated in a wide variety of sports. Many thanks to all the teachers and student coaches for the time and commitment that they gave to their teams.
The following students have shown great commitment and energy in their given sport.
2 nd Year
Athletics: Robyn Foster
Basketball: Whitney Ebelegbe
Camogie: Faye Hardy
Gaelic Football: Aoibheann Malone
Hockey: Ella Nicholson
Soccer: Nayeli Ruvalcaba
Equestrian: Ailbhe Hartford
Golf: Muireann Bagley
Sailing: Gemma Curran
Tennis: Marie Clare Delaney
Volleyball: Zofia Marek
Badminton: Aida Avdyli
3 rd Year
Athletics: Ashley Guinan
Basketball: Ruby Chidgey
Camogie: Rachel Kennedy
Gaelic Football: Emma Dowling
Hockey: Emer Fanning
Soccer: Georgia Ford
Equestrian: Lile Tully
Tennis: Emily D'Arcy
Volleyball: Sophia Gilewska-Maldonado
Badminton: Natalia Brys.
3rd Year
Athletics: Ashley Guinan
Basketball: Ruby Chidgey
Camogie: Rachel Kennedy
Gaelic Football: Emma Dowling
Hockey: Emer Fanning
Soccer: Georgia Ford
Equestrian: Lile Tully
Tennis: Emily D'Arcy
Volleyball: Sophia Gilewska-Maldonado
Badminton: Natalia Brys