November 15th
15 November, 2019
Read 1304 times
This week was National Science Week and our students enjoyed a host of activities throughout the week, some of which included: 5th year Chemistry students attended " Careers in Chemistry " talks hosted by the Royal Society of Chemistry and Trinity college. Our Science Captains presented a selection of demonstration experiments around the theme of Climate Change to some 1st year classes. Two teams of 6th Year students took part in the ISTA Senior Science Quiz in Trinity College on Thursday evening. All 1st year students were given the opportunity to experience the Big Bear Planetarium on Friday. Students observed the wonders and opportunities of space travel without having to leave the school hall!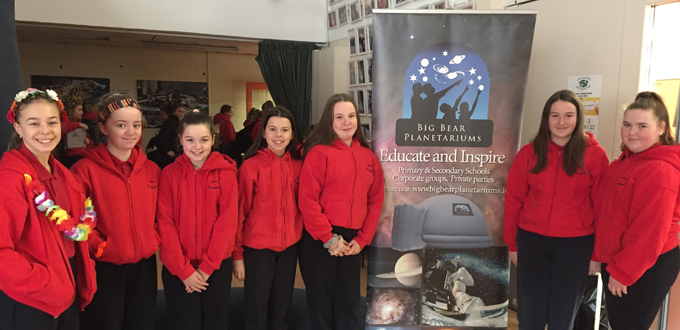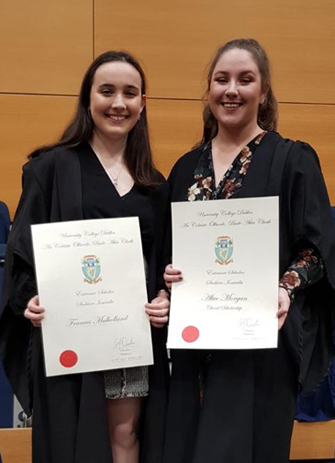 Congratulations ot Frances Mulholland and Alice Morgan who were awarded entrance scholarships on Thursday by UCD on the basis of their excellent Leaving Certificate results.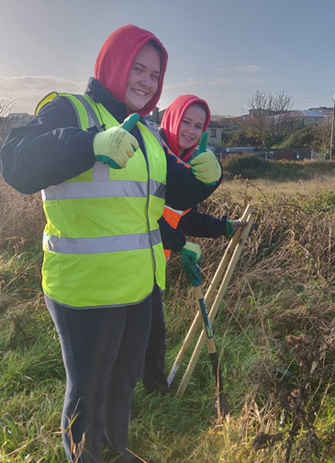 On Monday, TY Community Links students were out and about with Balbriggan Tidy Towns planting trees in an effort to combat climate change. The girls planted native trees around the town to help counteract carbon emissions. This initiative was kindly facilitated by Easytrees.ie and Coillte.
Congratulations to Doireann Comiskey, Éabha McLoughlin, Aisling Comiskey and Niamh Ward O'Brien who all qualified for the next round of the Leinster Schools Debating Competition in UCD this week.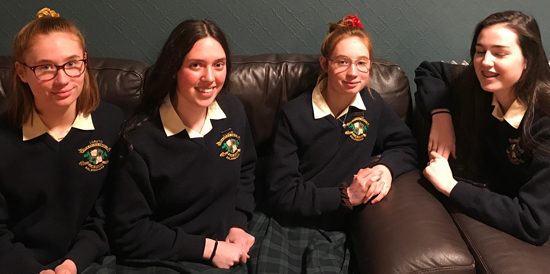 4E participated in a workshop on Wednesday designed to encourage students to think about and get involved in Action Projects for the Young Environmentalist of the Year competition. Many thanks to Kieran from Eco UNESCO who facilitated the day.
Seven TY students attended a Trocaire Cluster meeting in Clonliffe College on Thursday. Along with five other schools they attended workshops on issues of Justice & Human Rights. Interactive games on climate change and role playing the journey of a refugee proved popular. The group tested out a new game on climate justice and oil exploration.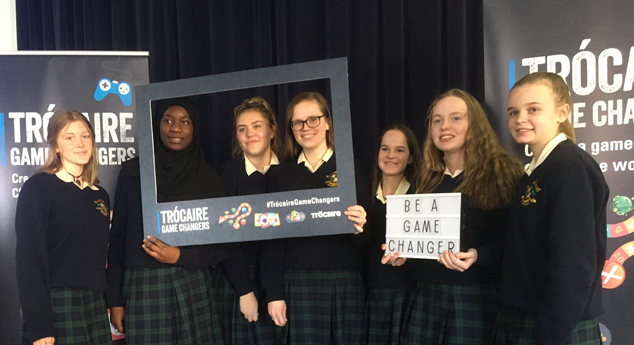 Our annual Remembrance Evening took place on Tuesday evening in the hall. It was an evening of poetry, music and reflection as we remember all those who have died in our Loreto community.
On Thursday evening Dr. Siobhan O'Higgins and Sinead McGrath from NUI Galway gave a presentation to 6th Year parents on the SMART Consent programme. Smart Consent Workshops were developed at the School of Psychology, NUI, Galway, as a response to student survey results during 2015. It allows participants to explore in a safe, peer-supported environment, what consent means in the context of human sexuality. Participants are guided through interactive, participatory exercises. This includes, at the outset, a definition of consent being produced by the group, as well as suggestions for what helps and the barriers in communicating consent; that is revisited then at the end, enabling a reworking of initial concepts. 6th year students will take part in the workshops in December. The School of Psychology is currently doing research to develop SMART Consent workshops for senior second level students.
Well done to our second and third year debaters who competed in UCD Junior Schools Debating Competition last night. All participants debated to a very high standard and were highly commended by the judges.  Special congratulations to Roisin Mc Cormack and Sophia Foley (2nd year) who placed first in their debate.
Congratulations to all of our students who competed in the final of 'School Stars Performers' in Drogheda on Wednesday night. The sign language choir won 'Best Choir' category, while 'Most Creative Act' was awarded to Unite Dance Crew.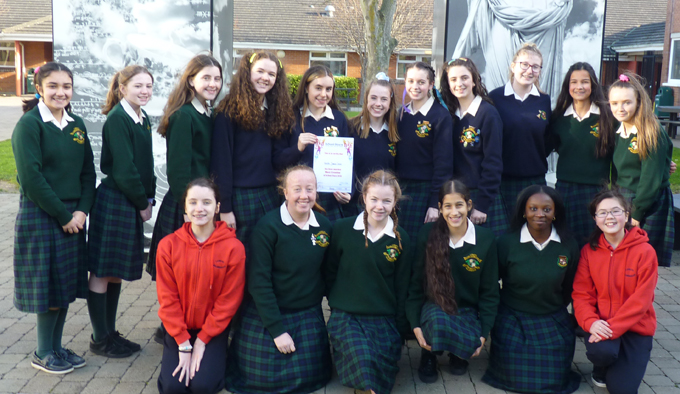 Well done to our Senior Gaelic team who beat Mullingar in the Leinster Championship. They will now play Ballymahon in their final group game.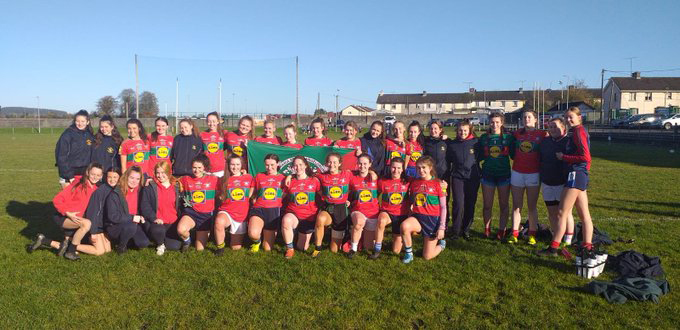 This week was Stand Up Awareness week, which promoted inclusivity in our school for LGBTI+ students. Well done to all our colorful students, in particular those with the rainbow wigs/accessories on Friday.
Due to staff training in the school next Tuesday 19th Nov, students will have no classes.
3rd Year Parent Teacher meeting will take place next Thursday 21st Nov, students will finish classes at 2.40pm.