October 23rd
23 October, 2020
Read 1004 times
On Thursady we held our senior student leadership  ceremony, during which  the Head Girl, Deputy Head Girls, Co-0rdinators and Captains received  their leadership badges. Students are strongly encouraged to take up leadership roles within the school. Senior students in leadership positions play an important part in school structures and are very positive role models for other students throughout the student body.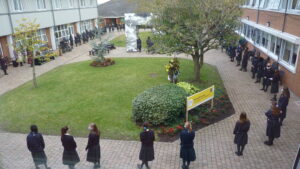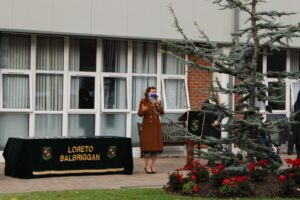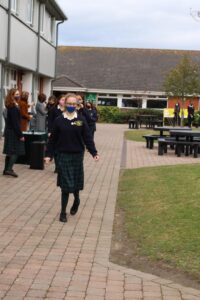 Congratulations to the following students who have qualified for the BT Young Scientist Competition. Everyone of the seven entries has qualified  and we wish them all the very best of luck with their projects in the competition.
2nd Year
Jessica Chen and Alana O'Connor ' Can Relative Pitch Affect A Person's Ability To Reproduce and Pronounce Languages?'  .
Category:
Social and Behavioural Sciences.
Transition Year.
Jess Joy and Niamh McManus TY 'Could Vertical Farming Be Used As A More Efficient Farming Method Than Conventional Arable Farming In Ireland?'
Category:
 Biological and Ecological
 Claire Johnson ' Do Virtual Escape Rooms Help Students To Learn About Laboratory Experiments?'Hiba Shahzad and Isabella Watts 'The Effects of ASMR On Stress Levels and Loneliness In Teenage Girls. Category: Social and Behavioural Sciences
Lily Anderson, Adriana Ciot, Preethigaa Kumaresan ' Would Exposure To A Virtual Interactive Story Have An Effect On How People Perceive Immunisation?, Category: Social and Behavioural Sciences
Natalie Arachchige, Sophie O'Leary, Nikolet Serbezova 'Are People With A Strong General Belief In Conspiracy Theories, Less Likely To Have Confidence In The Safety and Efficacy of Vaccinations?' Category: Social and Behavioural Sciences.
Eliza Monaghan and Jane Oakley 'An Investigation On Mask Etiquette Amongst Girls and How It Is Influenced By Social Factors'. Category: Social and Behavioural Sciences.
' My wish for you is that you continue. Continue to be who and how you are, to astonish a mean world with your acts of kindness'  Maya Angelou 1928-2014
As we approach the midterm break we would like to take its opportunity to commend all the students on how they have come together as a school community and  have remained strong in the fight against COVID19. Wearing of masks,  regular washing and sanitising hands  are now the new normal and it must be said that we are very proud of the way all the students have taken to this new way of life in Loreto. On Friday there was a fantastic atmosphere around the school as both students and staff decorated their masks in keeping with the Hallowe'en theme. The student council also organised a special 'Trick or Treat' collection  for  Temple St, Childrens' Hospital. They raised €1819.5.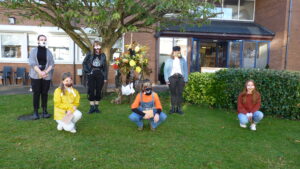 Winners of the Hallowe'en mask competition. Eirinn Campbell 6th year. Doireann Comiskey 5th year. Zosia Gozdzik 4th Year. Katarina Haidurova 3rd year. Alannah Cassidy 2nd year and Hayley Lyons 1st year.
Reminder to all 6th year students that information regarding to studying in NUI Maynooth, NUI Galway,Mary Immaculate College Limerick and Higher Options conference  is now available on this website under the careers tab.
Applications for 1st year enrolment for August 2021 is now closed.
We would like to wish everyone a restful midterm break. School will reopen on Monday November 2nd at 9.10am