October 2nd
2 October, 2020
Read 1868 times
Application forms for students starting in 1st year in 2021 will be available for completion online from September 25th or for download (and in hard copy on request) from that date.
The school will commence processing applications for admission on 1st October.
The school will cease accepting applications for admission on  October 22nd, at 4 pm.
Applicants will be notified in writing of the decision on their application by 12th November.
Applicants must confirm acceptance of an offer of admission by 26th November.
Failure by an applicant to accept an offer by the  26th of November 2020 may result in the offer being withdrawn.
Please refer to the school's website under the 'For Parents' tab for further information on the school's admission policy and application procedures.
On Tuesday TY students had their virtual assembly with regard to work experience. The TY committee went through all procedures with the students on how to secure work experience placements.
The whole of TY is participating in the GAA Future Leaders' Programme. The year-long module will afford the girls the opportunity to participate in five different short courses which include event management, wellbeing, nutrition, journalism, performance analysis and photography. On completion of the course, all participants will receive an overall 'Future Leaders Award' from the GAA and the PDST (professional development service for teachers). We look forward to seeing the results of this fantastic programme.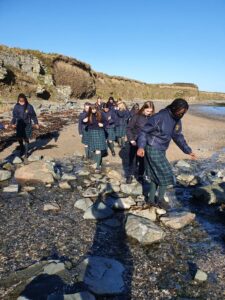 On Friday all the students who participated in the BT Young Scientist and SciFest competitions received their awards. Congratulations to the students who won in the following categories and to all the students who received certificates for their outstanding achievements in their individual categories.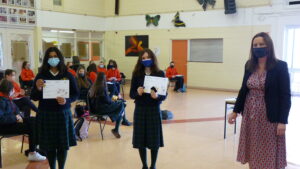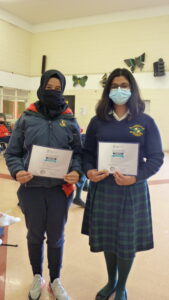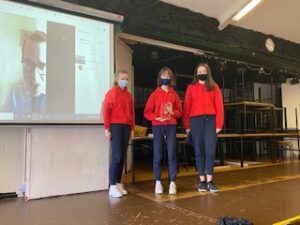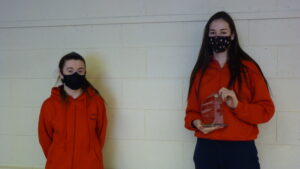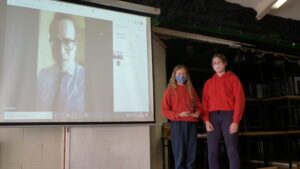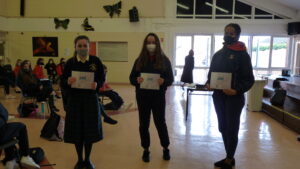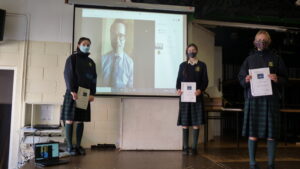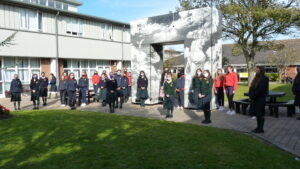 International Science and Engineering:  Winners, Zainab Shaid and Cleo Gallen. The girls were to represent Ireland at the international competition in Anaheim, California in May. However, due to COVID 19, the competition was cancelled.
Berlin Long Night Science Award: Winners, Eva Connolly, Ella Shanahan and Willemijn Bosschaert. The girls were unable to attend the European competition representing Ireland due to the ongoing pandemic.
Boston Medical Device Award: Winners, Éabha McLoughlin and Sinéad Clarke.
John Hooper Statistic Awards: 2nd place in Ireland, Mizna Shaid and Zainab Shahid.
SciFest Maths and Science Award: Winners, Grace Kodia, Hannah Cullen and Sophie O'Sullivan.
SciFest Behavioural Science Award: Runners up, Amy Geraghty, Ciara Harrison and Aoife Farley.
Intel Technology Award: Winners, Muirne O'Connor and Katie Maroney. Many thanks to Ms Mc Nally, Mr Higgins and Ms White for all their time, help, encouragement and guidance that they continually give to all the students.
This week the staff and students said goodbye to Mr.Ray Friel, Business, Ms Jane Woodlock, Science, Sr Rosaleen Hayes, Irish and Geography and Dr Niamh McNally Science. Mr Friel, Ms Woodlock and Sr Rosaleen are retiring from the teaching staff. We would like to take this opportunity to thank them for their dedication and enormous contribution to the education of the students and to life in Loreto Balbriggan. Their talents and wisdom will be greatly missed. We would like to wish them health and happiness in their retirements.
Dr Niamh  McNally has been appointed to the position of Deputy Principal in Loreto Beaufort.  During her time in Loreto Balbriggan, she has been a valued member of the Science and Maths Departments and has established the school's involvement and headed up the talented team of teachers who have co-ordinated all the school's entries into the BT Young Scientist and Scifest competitions. The school has enjoyed many successes in these competitions over the years with many entries going on to compete on the international stage. Dr.McNally's legacy will continue in Loreto Balbriggan, as the dedicated science teachers have already begun to work with this year's entrants. We wish Dr McNally every success in her new position.