Transition Year Prizegiving and Celebration Evening
27 May, 2022
Read 618 times
Transition Year students have been very busy this week attending their prizegiving ceremony and rehearsing for their celebration evening. Prizegiving has been an integral part of our school calendar since the establishment of the school in 1857 and this whole school occasion provides an opportunity for the school to recognise both the academic and extracurricular efforts and achievements of students.
Academic Endeavour Award.
Congratulations to the following students who received an outstanding endeavour award in more than one subject:
Ciara McGuinn- English, P.E. and Biology.
Ellen Gavigan- Music, Art and Maths.
Sophia Foley-English, P.E., History and Home Economics.
Sienna Graham-English, Maths, Geography.
Yasmin Rasheed-Irish and German.
Isabelle Lynch-Irish and Maths.
Ella Cox-Art and Maths.
Martina Merdevdovska-Business and Home Economics.
Rebecca Lyons-LCPE and Chemistry.
Tara Hoey-Irish and Religion.
Dorina Rahlin-Maths and Biology.
Congratulations to the following students who received an outstanding endeavour award in the following subjects.
Emma Scanlon, Sophie Creighton- Troy, Holly Fitzsimons-Mulhall, Ellie Webster Loren Florita- Irish.
Olivia O'Shea, Kamila Merfeldaite, Sophie Coombes, Tara O'Leary, Kate Ball, Aisling Rowney- Religion.
Kayan Butt, Alexia Puiu, Orlaith Griffen, Lucy Maxwell, Zofia Plucinska, Nicole Hannon-French.
Peyton Clarke, Pauline Juerczko, Grace Anderson, Lucy Andrews, Melissa Asare-Biology.
Davina Gomina, Brooke Sabatini, Isobel Murphy-English.
Róisín McCormack, Saorise Gaynor-Politics.
Julia Lachacz, Avril bunker-Home Economics.
Daisy Pereira, Aoife McAfee, Grace El Shamy- PE.
Hannah Watters, Aoibheann Davis- Business
Eva Brasier, Sania Santosh-Maths.
Sidra Shazad, Katie Lloyd-Chemistry.
Abigail O'Brien-Murray-Physics.
Deborah Emeh-Applied Maths.
Síofra Keane-German.
Caitlin O'Dea-Technology.
Labhaoise Hall-History.
Sophie Conmy-Economics.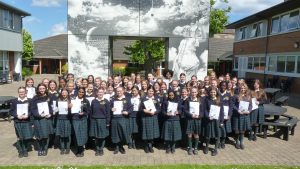 Sports Awards.
This year has been a very successful year in the sporting life of Loreto Balbriggan. Participation in extracurricular sport plays a very important part in the life of the school and the following students were recognised for their commitment:
Lucy Andrews-Basketball.
Tara Brady-Camogie.
Grace El Shamy- Gaelic Football.
Lauren Fanning-Hockey.
Zara Farrell-Soccer.
Amber English-Equestrian.
Julia Lachez-Volleyball.
Aisling Song-Badminton.
ROLL OF HONOUR
We would like to take this opportunity to acknowledge those students who have achieved great success throughout the year and have given generously of their time to the school community. These students have contributed greatly to the school community.
BT Young Scientist Competition 2022
This year our school had great success in both the BT Young Scientist and the Scifest Competitions.
The girls did the school incredibly proud, and their enthusiasm and energy has inspired many more students to enter next year.
We want to extend our congratulations to
BT Young Scientist Competition 2022
 Erica O'Brien Murray, Deborah Emeh, Divine Eugene, Clarisse Kanku, Grace Anderson, Kayan Butt, Melissa Asare, Laetitia Nouaha, Sidra Shahzad.
SciFest Competition 2022
Abigail Murray O'Brien, Olivia O'Shea, Melissa Asare, Laetitia Nouaha, Sidra Shahzad, Lucy Andrews,
Congratulations to those students who received perpetual trophies at prizegiving
Transition Year Sports Person of the Year. Hannah McGinnis.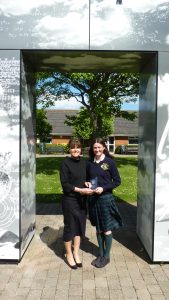 Mary Ward Person of the Year. Peyton Clarke.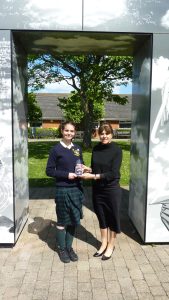 Prosper Fingal Community Links Award: Ellie Webster.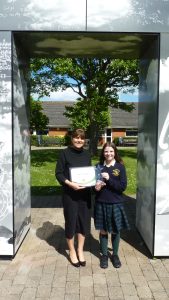 Outstanding Transition Year Student Award: Erica O'Brien-Murray, Emma Parkes, Daisy Pereira.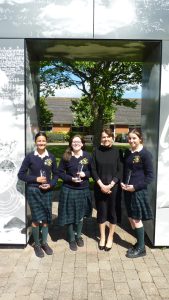 Celebration Evening
On Thursday evening TY students along with their teachers, parents and guardians celebrated a wonderful year which was full of new experiences and opportunities. The students entertained the audience with a mixture of music, sports demonstrations, film making and much much more to showcase their involvement in what was truly an amazing time for all. Of course, all of this was made possible by a team of teachers, Ms McCabe, Mr Kilgarriff, Ms Sheridan, Ms Lynch, Ms Kearns and Ms Ryan who organised so much for the girls and who encouraged them to step out of their comfort zones and get involved. All students appreciated the time and effort given to them by their teachers to make their transition year so memorable.
Please click on the link below to get a glimpse of the many activities that the students participated in.
https://drive.google.com/file/d/1SE89z1j6Jz-eQy9gjpe4hyMoqoT90R15/view?usp=drive_web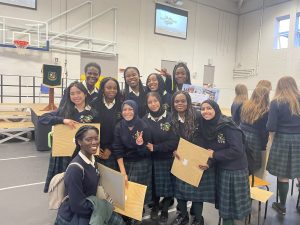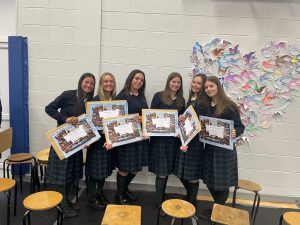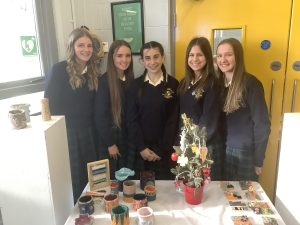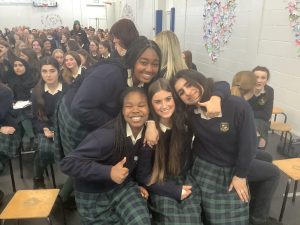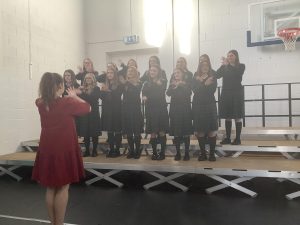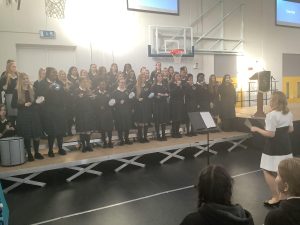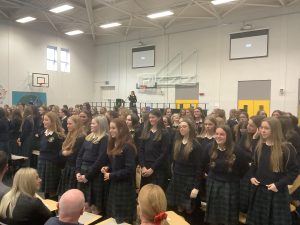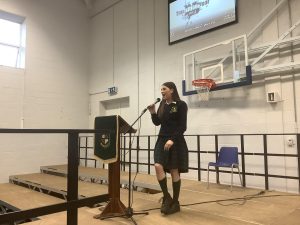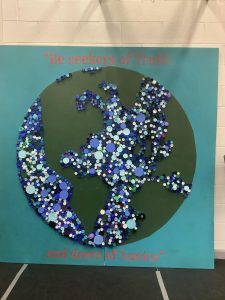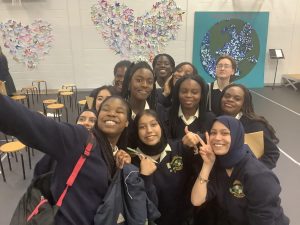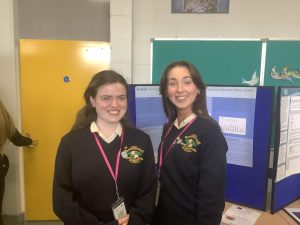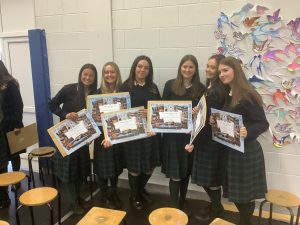 We hope that all TY students have a very happy and safe summer and that they all return refreshed and ready for 5th Year.