Transition Year Prizegiving
18 May, 2023
Read 318 times
Transition Year students have been very busy this week attending their prizegiving ceremony and rehearsing for their celebration evening. Prizegiving has been an integral part of our school calendar since the establishment of the school in 1857 and this whole school occasion provides an opportunity for the school to recognise both the academic and extracurricular efforts and achievements of students.
Academic Endeavour Award.
This award celebrates and recognises the commitment and hard work of a particular student in your class. These students have
demonstrated a positive attitude and displayed an excellent work ethic. These students have worked to the best of their ability and are very
much a positive force within the class.
Students who have received outstanding endeavour in more than one subject-
Tegan Hand – Accounting, English and Maths
Rebecca Noorlandt – English and History
Kennedi Tiernan – Maths, English and Irish
Amy Davis – English and Irish
Amy Higgins – English and Irish
Aoife Langley – French, Chemistry and Applied Maths
Cara Brady – French & Business
Grace Cohen – Maths and French
Grace Branagan – Irish and Chemistry
Kayla Redmond – French and Business
Keeva Killeen – English and Maths
English: Anastasia Syrbu, Emer Cleary
Irish: Siofra Keane, Alex Smyth, Cara Ramsay, Lucy Cassidy, Ava Lattimore
Maths: Caitlin Elliffe, Aishling Kirwin, Lucy Rooney, Isabelle Tanner, Milla Alagba
Business: Emily Carroll
Economics: Ella Fogarty
Biology: Melissa Abodunrin, Roisin Canavan, Angie Dunne, Merija Lasa Lasa, Isabel Farrell, Halle Grainger Brennan,Rosanna Alabi
Physics: Reece Moriarty
Art: Hannah Boughton, Sophia McKenna, Tyra Bailey
History: Leah Edgeworth
Geography: Katie O'Brien, Eva Tuckey
French: Ruby Gilmurray, Hollyann Robinson
German: Lucy Caulfield
Politics: Grace Markey, Menaal Shahid
LCPE: Aoibh Doyle
Technology: Dominika Banas
Computer Science: Rejoice Agbator
Music: Susan Masterson
ROLL OF HONOUR
We would like to take this opportunity to acknowledge those students who have achieved great success throughout the year and have given
generously of their time to the school community. These students have contributed greatly to the school community.
Attendance Good attendance is promoted in Loreto Balbriggan by a culture of high expectations: each student is encouraged to take
responsibility for their own learning and achieve their full potential. To celebrate and reward 'excellence in attendance' this year, the
following individual students are invited to the stage to receive their 'excellence in attendance' award as a result of missing zero days this
year:
Rejoice Agbator, Teagan Linehan, Oge Nmoh, Poppy Smith, Alex Smyth & Aggie Vergani.
Sports Awards.
This year has been a very successful year in the sporting life of Loreto Balbriggan. Participation in extracurricular sport plays a very important part in the life of the school and the following students were recognised for their commitment.
Athletics: Maria Ferguson
Basketball: Emily O'Connor
Camogie: Lucy Caulfield
Gaelic Football: Aoibh Doyle
Hockey: Clodagh Buttimer
Soccer: Anastasia Syrbu
Equestrian: Eimear Keogh
Sailing: Kayla Duggan
Tennis: Angie Dunne
Volleyball: Angie Dunne
Badminton: Emily Ryan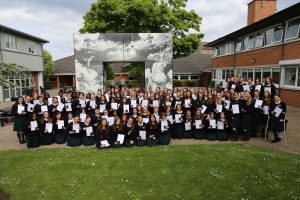 TY Sportsperson of the Year: Ali Donoghue.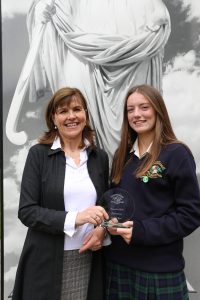 Mary Ward Person of the Year. Mia O'Connell.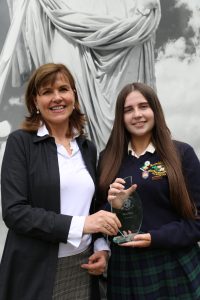 Outstanding Transition Year Student Award. Grace Cohen.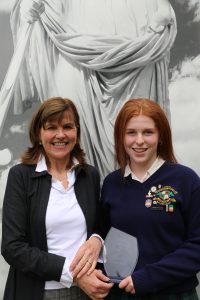 Transition Year Celebration Evening will take place on Thursday 25th of May at 7.30 pm.