WellFest
28 April, 2023
Read 143 times
On Friday we held our inaugural 'Wellfest' day. The aim of this day was to raise money for Pieta House and have tons of fun while doing it! Pieta House is a mental health charity and they run an initiative called Amber Flag which aims to promote positive mental wellbeing in schools and businesses – Loreto Balbriggan has been participating in Amber Flag since 2018 and have 3 flags to date. The day began with a visit from up and coming music artist Saibh Skelly. Saibh recently opened for Hosier and will play The Academy on May 20th. She entertained the entire school with a mixture of cover songs and her own material. After the concert, the festival of fun began. Bingo Loco, Zumba, Hip Hop, Obstacle Courses, Colour Run, Tie Dye, Play Dough, School Yard Games and so much more was organised for each year group. During lunch, some brave teachers faced the students who threw wet sponges at them! The ever popular ice cream company 'Storm in a Tea Cup' also dropped by and kindly donated all their takings to Pieta House. The fun day concluded with whole school quiz. Special thanks to SuperValu Lusk, Eamonn Mulligan, Building Contractor and Garry Ryan of Street Sweep who generously donated popcorn and crisps for the 5th year picnic on the beach. Of course, all of this would not have been possible without the Wellbeing team and the Amber Flag Committee who coordinated all the activities.
Saibh Skelly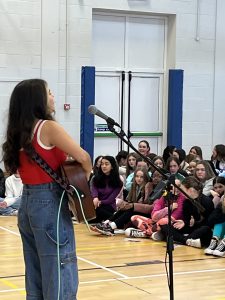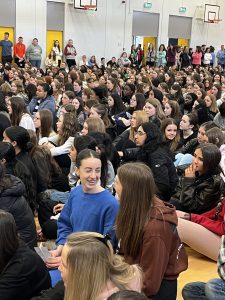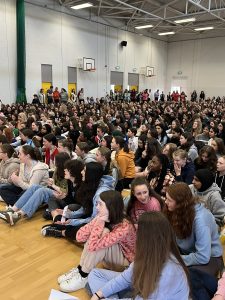 5th Year Colour Run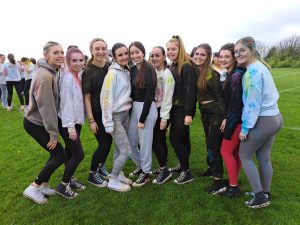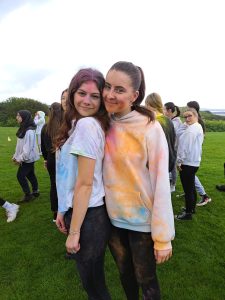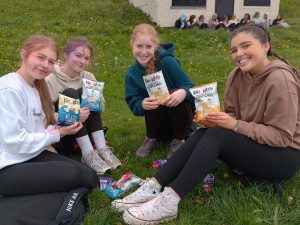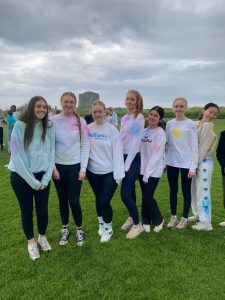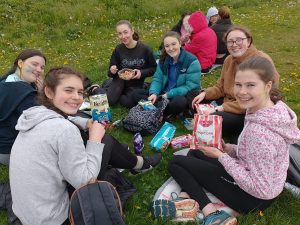 3rd YearTie-Dye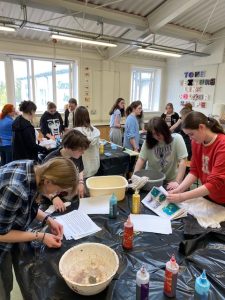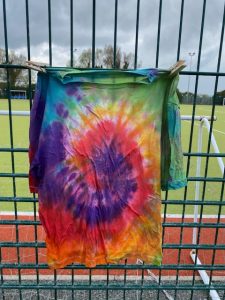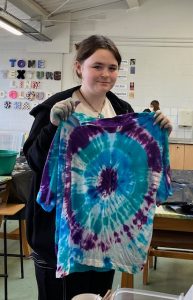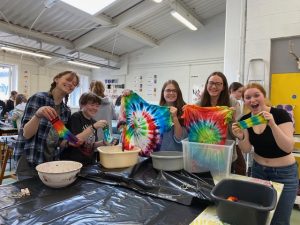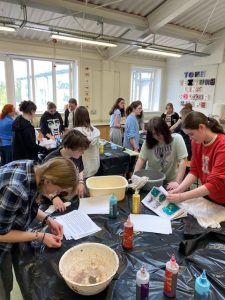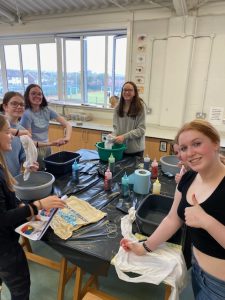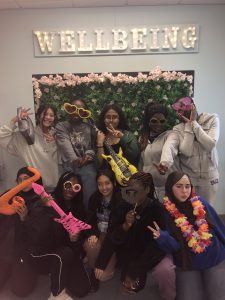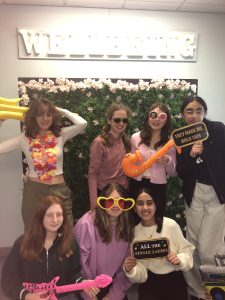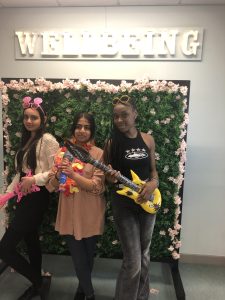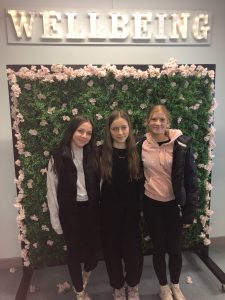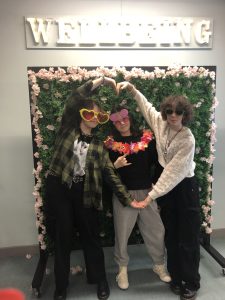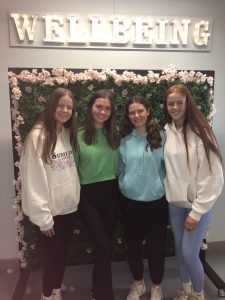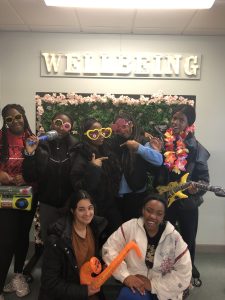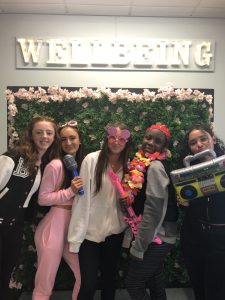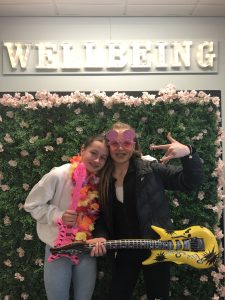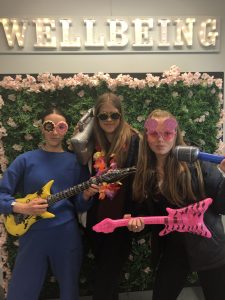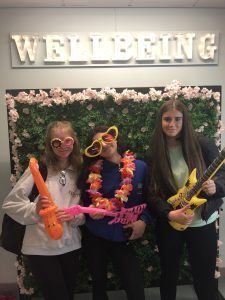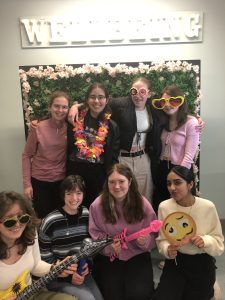 Quiz Winners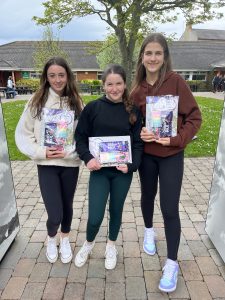 Lifting Ireland's Future Together
On Thursday Loreto Balbriggan was delighted to welcome founder Joanne Hession and Sara-Lyn McKenna from LIFT Ireland.  Joanne spoke to the 5th yrs & 2nd yrs who were involved in LIFT roundtables this year. She commended them for volunteering to undertake the leadership program during their lunchtimes. The students gained great insight into what it takes to be a great leader. They also learned first hand the challenges faced when you lead. 'If you fail seven times doing something, do it eight'. There was a question and answer session, where the students asked really pivotal questions about leadership.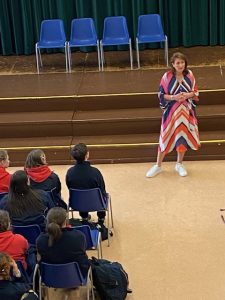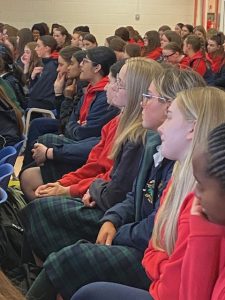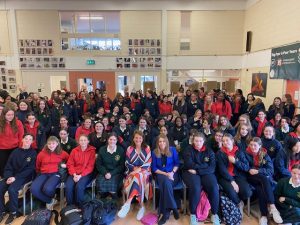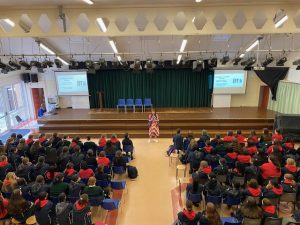 TY News
Cúrsa Gaeltachta
Dé Luain chuaigh grupa daltaí ón idirbhliain go Ráth Chairn igCo na Mí agus is fíor a rá gur bhain siad  an-taitneamh as adturas sa Ghaeltacht! Bhí cluichí, craic agus a lán caint as Gaeilge  gach lá.
 On Monday a group of transition year students went to Rath Cairn in county Meath and it is true to say that they really enjoyed their trip day to the Gaeltacht! There were games, fun and lots of Irish spoken every day.
Dé Céadaoin, bhí an-spraoi agus craic go deo acu ag tabhairt cuairte ar Chnoc na Teamhrach, Caisleán Troime agus an rud is tábhachtaí, an t-ionad eachraíochta! B'iontach an deis í Gaeilge a chleachtadh agus a labhairt i suíomh chomh taitneamhach agus beomhar sin  Míle buíochas @cnabhf  Coláiste na bhFiann!
On Wednesday the students had the most fun visiting the Hill of Tara, Trim Castle, and most importantly the adventure centre. It was such a wonderful opportunity to speak and practice Gaeilge in such an enjoyable and lively setting many thanks to Coláiste na bhFiann!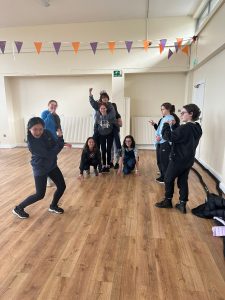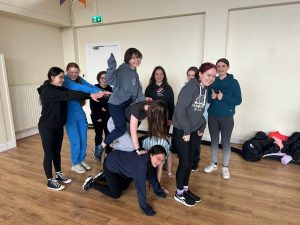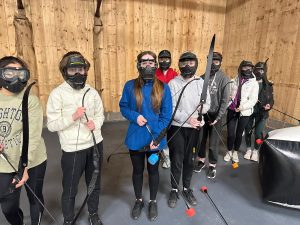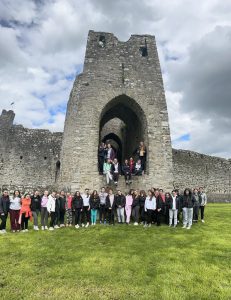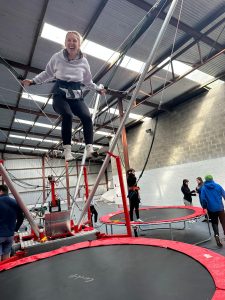 New Sports
On Monday we welcomed Cricket Ireland and Rowing Ireland to the school 4A and B were put through their paces playing cricket with Cricket Ireland while  4C and D were inside learning how to row.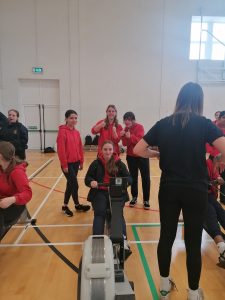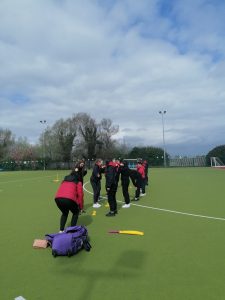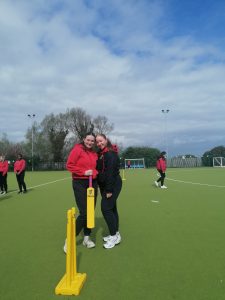 TY Zoo Trip
On Tuesday TY students had a great day out at Dublin Zoo. Everyone enjoyed the lovely sunshine and visited all the main attractions including the African Savanna, the Orangutan Forest and Zoorassic World. Biology students also attended fun and informative talks on evolution.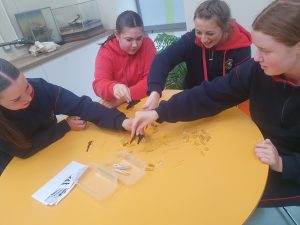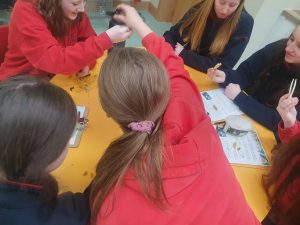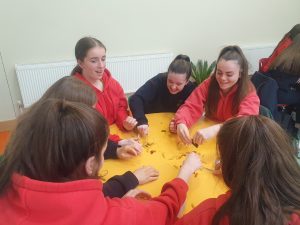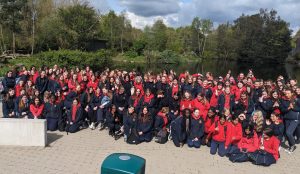 Community Links
On Tuesday TY Community Links students worked very hard at the beach with our local Tidy Towns committee to prepare the beach hut & gate for painting.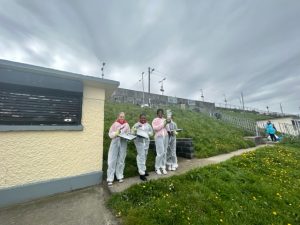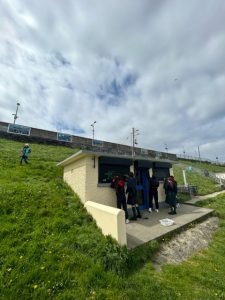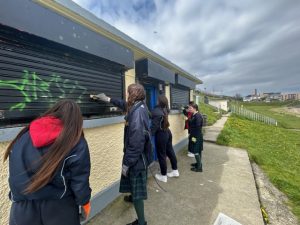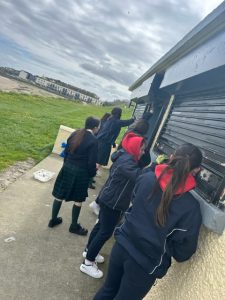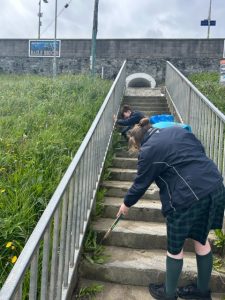 Driving Course
On Thursday over 40 TY students took part in our second Driving Course at Whiteriver Park. It  was a fantastic day and everyone learned valuable road safety lessons as well as getting the chance to drive around the 2km track.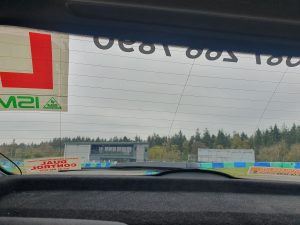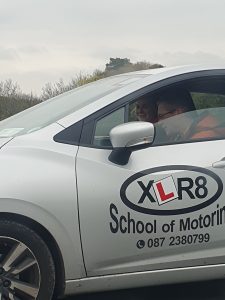 Extracurricular
Public Speaking
Sophia Foley (5th Year) and Grace Allen (2nd Year) participated in the inter-Loreto public speaking competition in Loreto Foxrock on Tuesday. They made powerful speeches on 'If I Could Only Give 3 Pieces of Advice' & 'The 3 Things That Matter Most to Me'. Congratulations to Grace who came first in the Junior competition!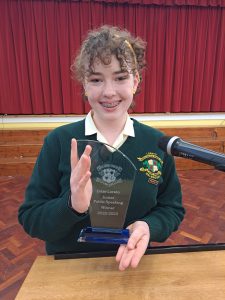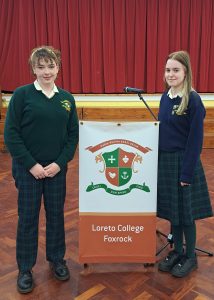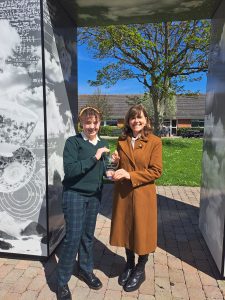 GAA U14 Leinster Final
Thursday was a memorable day in the history of GAA in Loreto Balbriggan as our U 14 girls claimed the Leinster championship. The team defeated Saint Leo's of Carlow on a score line of 7.09 to 3.10. Both teams were very well matched at half time as both went in level. However, Loreto showed superb leadership led by Aoibheann Malone and Faye Hardy, and with great determination, broke down the opposition's defense in the second half. A special mention must be paid to player of the match Caoimhe Devane and hat trick scorer Phoebe Macken,  both of whom had superb games. This team has trained since last September and developed a strong bond. Special thanks to three TY students, Ali Donoghue, Kari McPhail and Aobh Doyle whose commitment and encouragement to the team throughout the year was remarkable. It is a great achievement to win a Leinster title and we believe that this is only the start for this very talented group of players. The future of GAA looks very bright in Loreto Balbriggan.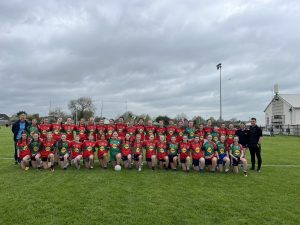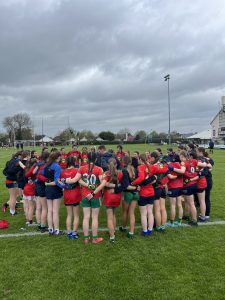 Tennis
Congratulations to the Minor A tennis team that beat St Andrews in the Leinster league on Thursday It was such a close round! With Nessa Farrell and Julie Collins winning in a championship tiebreak 13-11. The team is now through to the quarter finals!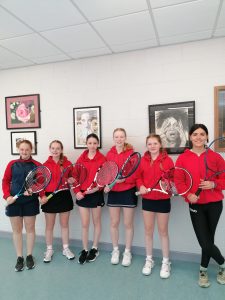 Reminder to TY,5th and 6th year students their parents and guardians that there will be a careers fair in the school on Wednesday, May 3rd, 7-9pm. We are very pleased to say that we have over 30 universities and colleges attending. Representatives from An Garda Síochána, The Air Corps, Aer Lingus, Dublin Fire Brigade and DDLTB Apprenticeships will also be present.
However, we are particularly pleased to have a further 145 speakers, mainly past pupils who are coming that evening to talk about their careers what they studied and how they got to where they are now. There are some very interesting career path journeys in which we feel that the students will have a real interest. It is a fantastic opportunity for students to speak to people who have gone through different experiences and discover the different entry routes to various careers.